Free Write Journal #163
October 1, 2021
Free Writes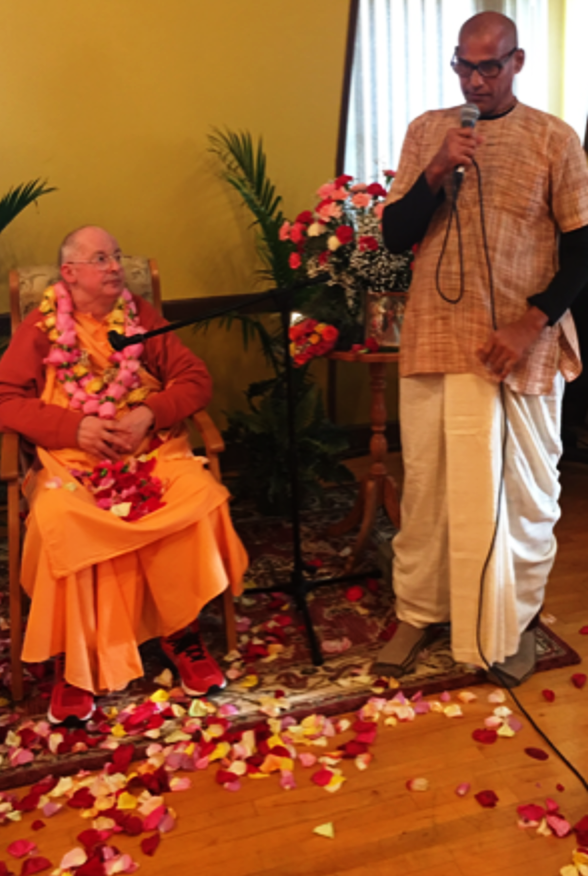 Visit with Baladeva (Trinidad)
I went yesterday to Trinidad Baladeva's house and read to him. He has been drinking only water for about a week, and his condition has gone down quickly. He could stop breathing at any moment. I read from the Krsna book, "The Killing of Putana." He couldn't speak, but he could hear everything, and I held his arm. Several times during the reading it seemed he wanted to speak but he couldn't. Some old friends of Baladeva who knew him in Trinidad but who now live in Queens, New York were there just to be with him and cook for the visitors. This was the first time I saw someone in a hospice condition since the passing away of Srila Prabhupada. Baladeva's right arm, leg and foot were swollen, just like Prabhupada's feet were swollen. But Prabhupada was much thinner and emaciated because he had been fasting from all food for months. But being with Baladeva reminded me of the very last days of being with Prabhupada. I asked Krsna dasi how she was holding up, and she said, "All right so far." I was concerned for Baladeva and hoping the medicine he was taking prevented any extreme pain. I will miss him emotionally and in practical ways. He has been the one who has always organized my Vyasa-puja event as well as other festivals, but this year he won't be here to do it, and I don't know who can take his place. I know he will go to a brilliant spiritual destination because he has always been such an excellent and faithful devotee. But it's we who survive him who suffer a great loss.
***
Baladeva was dearly beloved to all the neighbors in Stuyvesant Falls. He formed close friendships with them and gave them vegetables from his garden and also krsna-prasadam. They were delighted by his exotic treats. The service he rendered them is eternal. Near the very end of his life, neighbors came and visited him and paid their last respects. The passing away of a devotee is sorrow for those who knew him, but it is joy for the spirit soul who passes away and goes to the spiritual world, where there is no more pain and anxiety. Baladeva passed away in lucid consciousness, surrounded by devotees chanting kirtana for him. So it was most auspicious.
His Passing Away
It was fortunate that the hospice nurse was present exactly when Baladeva passed away. She officially confirmed his death, and was able to have closure on the whole hospice episode, completing all the paperwork and getting rid of the medical supplies and leftover medicine. In a group effort the devotees closed his mouth and tied it with a cloth and closed his eyes. They bathed the body with scented water and put on a fresh dhoti and tilaka and harinam chaddar in preparation for him to go to the funeral home and then on to the crematorium. On Monday there will be final samskaras and kirtana performed before he goes to the crematorium and the chapter is closed. The body may be gone, but his service is forever.
Celebrating Last Rites
Tomorrow we are having the last rites for Baladeva. It will be held in the Veterans for Foreign Wars hall. Along with other devotees, I've been asked to speak. I'm going to begin by giving a list of dates of Baladeva's progress in Krsna consciousness. He first visited the temple at St. Augustine in 1979. He moved into the temple in 1980. His first initiation was in June 1980. I became his diksa-guru. I think this was my first visit to Trinidad. Baladeva's second initiation was held in February 1982 on the occasion of the new temple opening and Deity installation (Sri-Sri Radha-Gopinatha). He was legally married to Krsna dasi in 1984. He was married in a temple ceremony in Guyana in July of 1985. Bala's father died in 2012. I will say more things about our close relationship tomorrow.
Close Relationship
On the morning of the memorial service for Trinidad Baladeva, Bhakti Rasa asked me how did I feel. I told him I felt a little nervous. He replied, "It's a glorious occasion." And I became cheered up. Yes, it would be glorious to speak the praises of the departed Vaisnava. The program was held at the Veterans of Foreign Wars hall. First they held kirtana. Then I was asked to speak. I told about Baladeva's years in Trinidad, where he headed up the yearly Ratha-yatra event. Each year it grew bigger until it was finally in the newspapers and on television. And the prime minister of Trinidad came to see the Lord's cart procession. He was always an exemplary disciple and leader among the others. He liked to bring the devotees to have meetings with me. Whenever I went to Trinidad, I stayed at the home of Baladeva's parents, where he lived. They had a house five minutes away from the airport, which was very convenient. I slept on a mattress with mosquito netting, and the room had A/C in the hot months. Living at his house, and eating there, I spent more time with Baladeva than any other devotee in Trinidad. He was a tall and mellow man, and we bonded well. He had a signature of my name tattooed on his arm. Baladeva was under the harsh rule of a temple president who drove the devotees on money-collecting without much distribution of books. I was the GBC for Trinidad and the main initiating guru, but I too was under the harsh command of the temple president.
When he heard that we were understaffed in Stuyvesant Falls, New York, he made plans to move with his wife and come up to join us and live with us. Saci-suta generously bought him a small house next to ours, and after arranging his visa, Baladeva and Krsna dasi moved in next to our place. They were used to the tropics, and it was an austerity for them to stay over the winter in the frigid north. Just as Baladeva had arranged Ratha-yatras in Trinidad (and continued to do so while living in New York), so he organized my two big disciples meetings at Stuyvesant Falls, one around the time of July 4th and the other at the beginning of December when my Vyasa-puja day occurs. In the beginning he had hardly any help and had to do all the work himself. But finally he organized a team of helpers, and it became a bigger event. He was always on the phone preaching and getting devotees to come up for the meetings. I said I loved him and missed him and would continue to do so.
After I spoke I asked Krsna dasi to take a turn. At first she said she wasn't prepared to speak. Ravindra Svarupa Prabhu and his wife Saudamani devi dasi were kind enough to attend the program, and they both spoke briefly. Gradually, one after another, devotees came up and spoke their appreciations of Baladeva. Leo, a leader of the Veterans of Foreign Wars, sponsored our use of the hall. He is a leader of the whole Stuyvesant Falls community. Over the years, he has gotten to know Baladeva very well. He is 78 years old and white-haired. He spoke very eloquently and appreciated the Hare Krsna devotees. He became emotional when he spoke of Baladeva and broke down crying, as he did when Baladeva first passed away. He spoke ecumenically and said he liked the Hare Krsna devotees, and he himself was raised as a Roman Catholic. He said he believed that in a future life the devotees of different religions would come together. Leo said Baladeva had created a symbiotic relationship between the Hare Krsna group and the local neighborhood of Stuyvesant Falls. He said he never heard Baladeva speak an ill word of anyone and that he was always smiling and good-natured. We devotees applauded after Leo's talk and very much appreciated that he joined us and took part. Baladeva's grownup children, Rasesvari dasi and Dhanvantari, spoke sweet and warm memories of their "pita." Krsna dasi changed her mind and asked to speak. She loosened up and told of her loving relationship with Baladeva. They have been married for 40 years. (Oh, when Leo spoke, he mentioned Krsna dasi and said we all have the responsibility to take care of her.) Krsna dasi was wearing white.
After everyone who wanted a chance to speak was finished, the devotees served a potluck feast.
An Appreciation of Trinidad Baladeva
My disciple from New Zealand, Ramila devi dasi, sent an email to me and to Trinidad Baladeva full of deep condolences and empathy for his passing away.
She wrote to Baladeva before he actually passed away and said,
"I thank you again, a million times over, for being who you are, a worthy, loved and most sincere servant of our spiritual master. May Krsna bless you with all your spiritual desires fulfilled as you make your seamless transition from the temporary to the permanent."
To me she wrote,
"I cannot imagine how this must be for you, though, to endure the loss of one so dear to you. It will be like a limb being cut from your body. The philosophy of Krsna consciousness abates the pain somewhat; and our philosophy also fully embraces that pain, to feel the emotion of separation of one whom we deeply love. That is why I love Je anilo prema dhana so much. It is a lament, a lament in separation, a TRUE heartfelt lament, not sentimental. It is proper that we lament the loss of our Vaisnava beloveds. It is proper that our hearts should feel pain and grief. It is proper that we shed tears of sorrow. Such acts will honor our Baladeva dasa. Baladeva's destination is assured. He is destined to go where he will only be satisfied with a spiritual destination, wherever Krsna so deems that place to be. I am in awe of Baladeva and his incredible focus he has in serving you. He's teaching me what it means to be a genuine disciple of the spiritual master."
Krsna's Purpose
I heard a lecture by Prabhupada that he gave in Vrndavana. He was speaking on why Lord Krsna comes down to this material world. The Bhagavad-gita states (4.8) ,
paritranaya sadhunam
vinasaya ca duskrtam
dharma-samsthapanarthaya
sambhavami yuge yuge
Prabhupada said that Krsna doesn't really come to kill the demons but protect the devotees. Krsna has no need to come to kill the many demons. He can kill them just by sending a hurricane or a flood. Then why does He come? He comes to protect His devotees when they are troubled by the asuras. Paritranaya sadhunam. His primary concern is to give relief to His devotees.
Vyasa-puja December 4th
While we were eating lunch, Leo came by from the VFW. He said their venue will be booked up around Christmastime, so we better put in the request for when we want to use the hall as soon as possible. I said, "December 4th is the day we want." He said, "That's a Saturday . . ." He was too emotional, thinking about Baladeva from Trinidad. Krsna dasi was present, and she told me that she could handle inviting guests and devotees to attend the Vyasa-puja. That is the service that Trinidad Baladeva always does. She said she could handle it herself, calling people up. She said people are already getting in touch with her and wanting to know the date. Nimai Ananda will prepare the feast. It seems that we can carry it out even without Trinidad Baladeva. In fact, his departure has inspired others to step up and ensure that we'll get good attendance for Vyasa-puja on December 4th. I'll have to think of what to say in my talk, something about the spiritual master and disciples never forget Srila Prabhupada. I am just his cela in disciplic succession.
Book Excerpts
From A Poor Man Reads the Bhagavatam, Volume 1
pp. 252-53
"Chapter Two: Divinity and Divine Service" (continued)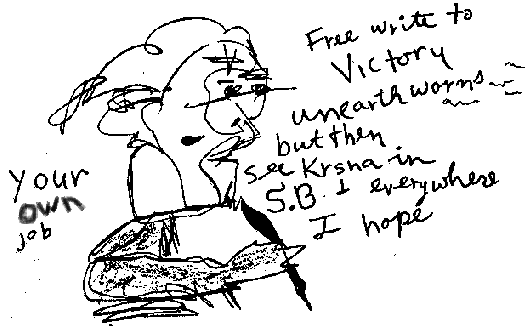 "You think you can learn something from a worldly guy or something from the truth of life rubbed against the earth without pretense?
"I wish I could write like that in devotional service too, so nicely that even a first-class fool or rascal would be interested in Krsna consciousness. I want to open up.
"He or she has the sword. Knots are slashed—big iron knots and hawser knots. No crowbar could open them, only remembrance of Krsna.
"Her hand offering benediction, I pray in my mind to Bhakti-devi: 'Please help me to slash these knots that tie me to the material world.
"I think of the frozen tableau of sages drawn on the inside cover of the Bhagavatams. What's holding us back from joining them? Cobwebs? Ghosts? Come on, man, go forward. It reminds me of how they push student firefighters into the flames. They have to get in there and choke and put the fire out because one day they may have to do it for real. I hung back, not wanting to go first. I tagged along in the back, looking for a space to breathe near the floor.
Real sages push forward and God is kind to them.
The Indian mind I don't have
or comprehend by chanting my mantras.
Bhagavatam is open for me
as I've read it.
Who will not give it attention?"
***
p. 295
"Keep at it, lad. This is a poor man's job.
Write freely. Don't sleep.
Ad hoc
Got a right to sing the blues.
Eat as I choose.
Don't read the news.
You got a noose
to halt the lust.
Don't give me 'Brahma—
Siva worshiper' tag,
not even Christ you see,
although I do worship him by my worship
of his Abba, Father.
Lord Visnu is Supreme.
Oh ho-hum.
I is drowsy.
And it's a matter of fact, I find the text not so exciting.
That's because
The day is long.
"Now is the time for poor man to come to the rescue. This is exactly his role. He doesn't (we don't) say, 'This is not interesting subject matter, this mention of guna-avataras,' but he admits that in late morning, he is not fully satisfied by it. There is some shortcoming in him that causes him not to be alert and pick up the important pramana for the Supreme Lord, Visnu.
"That's admitted. Then what do I do? I can go on to the next verse, and I will. I can also turn to material activities, but I won't.
"It's woozy here. Give us a hand, Lord of intelligence. I feel and fear I'm in shaky territory and can use some help right now."
***
pp 193-94, 347, 349
"List:
Can I write books in peace?
Will they come out 'all right'?
If not, how can I improve?
Is my basic working message approved by guru and Krsna?
What are more subheadings and strategies I might use to release me into freer expression?
Can I link this personal way with the Vedic way?
"O Prabhupada, where are you now? How can we serve you in this world? Everything is confused or superficial or political; so many are dissatisfied and the solutions are so multifarious it's like trying to build the Tower of Babel after the curse.
"Do we need to eat more? But how can we digest what we eat? What health regimen should we follow? What about my headaches? Lord, guru and Krsna, what do you want me to do?
"Crazy tottering late morning hymn:
I'm spreading the chanting far and wide. I'm trying to be a soldier in His army. I am blissed out, sold forever, reeling in the nectar of the holy names. I'm a haphazard victim and agent all in one.
"I'm no lopsided saint, no skinny being who speaks whatever comes to mind.
"'O when will that day be mine
when my offenses ceasing
taste for the holy name increasing,
when in my heart will Your mercy shine?'
He's a cowboy dinger
not a mud slinger.
He's trying to say—
these hyperboles of bliss are only partly true for me
because I lack the dedication of the priest, artist, or soldier,
I am lazy and sleep and eat too much,
the modes ensnare me and I must have committed too
many offenses to Vaisnavas and to the holy name.
That would explain
my failure.
"'Should have died long ago,'
sang the Vaisnava kavi.
'I think Yamaraja is punishing me
by not letting me join
as part of Lord Caitanya's sankirtan.'
He's saying that? Then I should get on track. I am here and now capable of riding in the prow of the most progressive movement. I don't know why I say I have failed. Stand up and face it and sing and dance, here's a chance to proclaim it.'
". . . . But it's not too late.
You've been on a recovery plan
that goes deep
to the soul.
You have been imperceptibly
taking the Swami's remedy.
'I will overcome' is your
motto when you grip the
still-red beads and call
out in candlelight, "
'O Hari!' (like the prostitute)
'O Hari! Please
don't leave me behind.
I've given all I could and
my carcass still feels dead
and my head needs repairs.'
"'Please,' I ask—
although I should not ask anything—
'to be spared the worst and
given the drive to be a strong
young lad in sankirtana—
if not in body then in mind,
or if in mind I'm too far gone,
then find a good intention
in my atma-soul.
May it spread
to rejuvenate all that ails me
if I can
once again,
serve You happily in the ranks.'"
***
pp. 302-3
"As Madhu and I were talking, an older man and his son came to the door, ready to fix the typewriter. They are Samika Rsi's relatives, as are so many people in this area. I went with them to look at the typewriter. I thought it would be a simple matter of replacing one cartridge with another, but they wanted to take the old cartridge apart with a screwdriver. Then the younger man unwound much of the tape, threw it away, and got the remainder going again. They were about to leave, but I said, 'What happens when this tape, which is now partly used, runs out?' Only the old man spoke English. He said he would be bringing me a new cartridge and then I can just snap it in. I thanked him, smiling, and they left. Suddenly it struck me that they said they would bring a cartridge, but they didn't. It was such a typical Indian exchange. They came here, did a partial repair, and didn't do the main thing, which was to give me a new ribbon. Probably it involved money. They will wait until this cartridge runs out again and I desperately need a new one. Then we will have to go through the whole process again of calling them to come out, waiting, and hoping they will repair it properly. Of course, the benefit will be another pleasant visit and we can get to know each other when they bring the new cartridge. In America, you could order half a dozen cartridges over the phone and be done with it.
"The good result of all of this is that I now feel more inclined to write the book. I don't know exactly how I broke free of my earlier questioning. I think it happened when, after these gentlemen left, I sat down and started proofreading some recent pages. Even before I read them, however, I was prepared to get into it and carry on my work. I felt something had broken through and that it was all right to go forward.
"Please don't take this little life's description of a Sunday afternoon as not connected to the Srimad-Bhagavatam writing. I certainly can't see it is not connected because unless I overcame this block, I would not have been able to write another line. This is a description of how I overcame it, how it happened."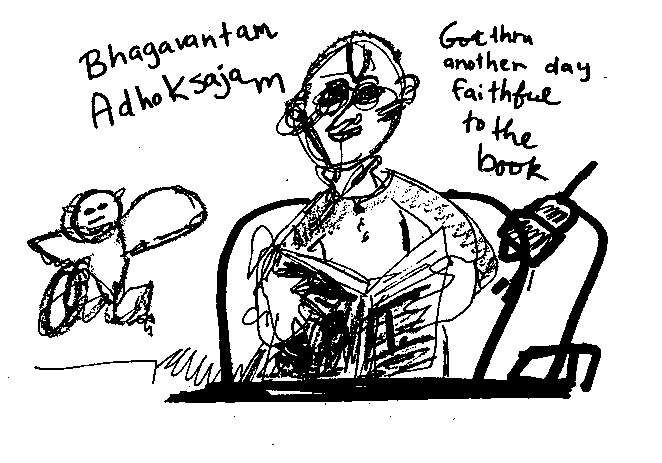 From The Story of My Life, Volume 2
pp. 174-75
"February 1, 1997
"Reading Prabhupada's books is like taking medicine, medicine we need to ingest constantly. But its significance goes beyond that. It's a nourishing and tasty food. Why would we ever stop? It's a shame if we abandon such nourishment, out of disgust or for any other reason, and crave novelty for its own sake. Prabhupada does say that 'variety is the mother of enjoyment,' but we can find variety in his books.
"One devotee wrote to me on this point. He said, 'Faith is a conscious choice. I do want to see Prabhupada as absolute, but I can see that I won't attain that loyalty cheaply. I will have to make the first investment and then wait for reciprocation. This point makes me appreciate so much what you are saying. You say Prabhupada saved you. He is the one who convinced you of Krsna consciousness. It was Prabhupada who quelled your doubts, not someone else. I honestly appreciate your 'lack of adventurousness,' as you call it. No matter how many gurus the sastras say we have, I want to follow your mood with honesty and conviction.'
"But there's more to it than the amazing but isolated historical fact of Prabhupada's having saved me in 1966. Even if that was all he'd done, I would still owe him my life. It was such an extraordinary change in my life. Prabhupada did more than turn my life around. It's beyond linear history. He plucked me out of a life that was a mixture of good and bad and gave me something entirely different. I could never have found such a life on my own, even if I had somehow stumbled onto the Bhagavad-gita or the Upanisads. Emerson and Thoreau stumbled upon the Hari-vamsa at Harvard University over 100 years ago. That's quite an esoteric book, and yet it didn't change them; they didn't become devotees of Krsna.
"It's for that reason I love to remember 1966. It's not that over 40 years ago, Prabhupada gave me initiation but has done little for me since. He has given me, and so many others, a life to continue in Krsna consciousness. The journey, the pursuit of that life, is something he has given in his books. When you surrender to a guru, it's comprehensive, total. If the guru says, 'These are the books you should read.' You can't jettison them later. Then it's an act of faith to constantly go back to them and push past the repetitiveness of what they contain.
"Nowadays we face challenges we never had to face in the past. Back then no one dared say that Prabhupada didn't give us everything, that Prabhupada only 'cleaned the pot,' that he only chopped down rough jungle weeds of mayavada philosophy and now we're ready for someone else to give us the nectar. These challenges have been made, and now we have to meet them by finding everything in Prabhupada's books. What we need is there in the Caitanya-caritamrta and in Prabhupada's other books, but there are also warnings. Don't take them cheaply. For that reason I pray that I will be able to do whatever I can to find satisfaction in Prabhupada's books alone."
From Begging for the Nectar of the Holy Name
pp. 281-82
"I have been largely undisturbed here, able to push my counter beads day after day, but I can see what the sastras mean when they say that one can go on chanting without attaining the goal for many lives. If one has even a smell of worldly desires while chanting, then krsna-prema cannot enter. One chants Hare Krsna in the pure state and enters the ocean of remembrance of Radha-Krsna pastimes. 'Hare,' 'Krsna,' and 'Rama' remind one of how Krsna steals Radhika's heart by His beauty and qualities and flute-playing—and takes Her to Govinda-sthala or Seva-kunja or Vamsivata. And when a pure devotee chants 'Hare,' he thinks how Krsna, although the Supreme controller, is captivated by Radharani's beauty, Her pure devotion, youthful grace and contrariness—and She steals Krsna's mind, taking Him to Radha-kunda.
" . . . But we can't bluff or cheat our way into suddha-nama.
"I didn't reach the first profound stage of deep regret. I see my complaints as too negative; I'm like a New Age psychologist who doesn't want 'bad vibes.' 'Don't be so down on yourself, man.' I say I'm willing to go down the road of remorse, yet it's not open to me. It seems too late now—with three more days—to break open my japa into some new stage."
From Last Days of the Year
p. 251
"Sure it is cozy here with fireplace just on my left blazing now. Short lived. Run out of the bathroom shivering cold to come in here warm and warm up on the typewriter. All's well that ends in Peace. Lord Krsna says that if at death you have trouble controlling your mind, then He will control it for you. Prabhupada has written this in a purport. I believe it and will appeal to Him. May I have that presence of mind."
From Prabhupada Nectar
p. 235
"When Srutakirti was serving as Prabhupada's personal servant, he often felt embarrassed by the tremendous demonstration of love which the devotees offered to Prabhupada, whereas Srutakirti himself felt a lack of love. Especially in arrival scenes at the airport, dozens of devotees would be dancing around, chanting, crying, and falling down on the ground. It was an amazing sight of love for Srila Prabhupada. On one of these occasions, while accompanying Srila Prabhupada, Srutakirti began to feel very sorry for himself. He thought that all these devotees were dancing and chanting, and here he was, walking beside Srila Prabhupada, but he had no feeling, no real love. This began to disturb his mind.
"One day during the massage, Srutakirti expressed it to Prabhupada. 'Srila Prabhupada, all these devotees have such love for you. It makes me feel so bad. I have none of this love. When I am with you, I can see everyone dancing and chanting and crying, but I have so much association and yet I don't feel that this is there.' He was hoping that Prabhupada would say something or do something, but Prabhupada said nothing. He went on massaging and finished. Then Prabhupada went and bathed. After putting on his tilaka and chanting his gayatri, Prabhupada  called Srutakirti into the room.
"'So, do you like serving me?' said Prabhupada.
"'Oh, yes, Prabhupada,' said Srutakirti. 'I like serving you very much.
"'Then,' said Prabhupada, 'that is love. Everyone can do so many things . . . singing, dancing, jumping up and down, but you are actually doing something. Isn't this love?'
"'I guess so, Srila Prabhupada.'
"'So you just do your service,' said Prabhupada. 'That is all that is necessary. That is what love means—to do service.'"
From The 26 Qualities of a Devotee
pp. 86-87
"A Devotee Is Equal to Everyone, Sama"
"Seeing with equal vision, however, does not mean that we treat each person exactly the same. But our intention should be the same: to share Krsna consciousness with one and all. Lord Caitanya was able to engage even the jungle tigers, lions, and elephants in chanting Hare Krsna. This is not possible for us, but nevertheless, we can relate in a Krsna conscious way even to the animals. At least we need not kill them simply for our sense gratification. Especially we can approach the human beings—always seeing them as eternal servants of the Lord and relating to them in Krsna consciousness.
"In The Nectar of Devotion, Rupa Gosvami tells us how to relate to the Supreme Lord, the devotee, the innocent persons, and the demon. Each case is a matter of reciprocating in Krsna consciousness. We should worship and serve the Supreme Lord, the object of all devotional service. With the devotee we should be friends. With the innocent nondevotee we should use all facility to give him the gift of Krsna consciousness. And with the devout atheist, we should leave him to his own devices, to be dealt with by Krsna according to the law of karma. Sometimes, however, the dedicated and empowered devotees reach even the stone-like hearts of the avowed atheists through distribution of the Lord's mercy as prasadam, kirtana and Krsna conscious literature."
From Talking Freely with My Lords
p. 15
"I waved the incense, flame and flower,
and placed a drop of water
in the palm of each devotee
as they came to water her.
Touch her earth, dance around.
For 20 years I never thought deeply
of the meaning of the song:
'I beg you to make me a follower
of the cowherd damsels of Vraja . . .
Thus within my vision I will
always behold the beautiful pastimes
of Radha and Krsna.'
Touch her earth,
dance around.
From The Wild Garden
pp. 298-99
"Prayer
"I feel joy. It makes me want to write a poem-prayer. I want the word 'Krsna' to be like the pebbles and the clear creek water. I want to find solitude in which to chant the gayatri mantras. Aim gurudevaya vidmahe—I know my Gurudeva. I want to meditate on him. Please let me go to where he is and serve him there.
"Srila Prabhupada, please take this boy whom you found in New York, who went to Boston for you, and keep training him. Be kind, please be kind. I beg you for that chance. Give me the taste of your menial service.
"May that Krsna who charms the residents of Vrndavana be kind to me and give me the right to eternally serve my Gurudeva."
From Japa Reform Notebook
pp. 86-87
"The Ten Offenses
"The seventh offense, a very great offense, is to commit sinful activities willfully while chanting Hare Krsna. Sometimes this is practiced in different religions: one gets forgiveness from the priest by confessing his sins, but then he immediately commits the sins again. Certainly the representative of God is empowered to release you from sins, if you actually ask for forgiveness, but not that you deliberately go out and sin again. 'This chanting process is a very good instrument because it will purify me from the sins that I intend to repeatedly commit.' This is offensive treatment of the holy name. And if repeatedly, repeatedly, a person does not reform in activity, then he cannot expect that just by asking forgiveness the thing is resolved. There has to actually be reform.
"You have promised the spiritual master before the fire, before the devotees, before the Deities. Now don't make plans for sinful life. 'This is my plan. I will chant Hare Krsna, I will commit some sinful activities, and the chanting again will cleanse me. But I have no intention of actually stopping these sinful activities. I will use the chanting for my benefit.' This mentality—confessing sins, getting benediction, and continuing sinning—is condemned. It will greatly hamper your advancement. We may wonder, 'Oh, I have been chanting for so long. Why don't I feel effect?' This is why Srila Prabhupada said, 'You can chant vociferously for millions of years and not make advancement, if you do not chant as a devotee and try to avoid these offenses.'
"We may make a mistake; that can be rectified. But if you actually plan to make a career of chanting Hare Krsna and breaking the rules, then you will not advance at all. It will ruin your devotional creeper. Be honest and sincere. The sastras are so deep, people cannot understand them. Even the sages at Naimisaranya are asking, 'Please explain them to us." Therefore, to simply follow the scriptures is not sufficient. But you have to follow someone who can explain the scriptures: mahajano yena gatah sa panthah.
"If you chant the holy name of God, follow these rules, and are sincere, you will have realized the conclusion of the Vedas. If we can stay fixed like that—'Now the spiritual master is the representative of God. He gave me this name. I cannot break these rules. I don't care what anyone says. I just have to stay compact. Even if I don't know so many things, this one thing I have to do'—then you go to the topmost perfection."
From Entering the Life of Prayer
p. 82-83
"Mostly on these walks I encourage myself about the extra praying and thinking of Krsna aside from the chanting, but chanting is more important than other praying. So, if I am a little excited by extra prayer, I must direct that prayer more toward ways to be attentive in chanting. The first prayer may be, 'My Lord, please let me pay attention to Your holy name. Please let me honor Your holy name.' However, I can't even do this interjected prayer. While chanting japa, I just plow ahead. At best, I count what round I am on. I am sorry to have to say this.
"This should be the first, attention for prayer improvement. What I want to reach is not a new mystic connection with the Lord as much as just to enter attentive chanting as a servant. I want to be able to say, 'Good, you are doing better. You are paying attention to the sound of the Lord's names, Hare, Krsna, and Rama. Just be very simple. Hear and chant and ask the Lord to let you hear and chant. Please engage me in Your service, starting with chanting.'"
From Vaisnava Behavior
pp. 42-44
"Association is all-important. As the company of the mahatmas can open the door to liberation, so the company of degraded materialists can drag an aspiring devotee into ignorance. Persons fond of enjoying illicit sex and persons opposed to God consciousness destroy by their association the purity of Vaisnava behavior. It is no wonder, therefore, that a devotee does not enjoy such association.
"But is avoiding the association of nondevotees contradictory to the Lord's desire that sinful persons be delivered? According to Bhaktisiddhanta Sarasvati Thakura (as quoted by Hrdayananda Maharaja in the Eleventh Canto of Srimad-Bhagavatam), a devotee's avoiding atheists is quite in accord with the will of the Supreme Personality of Godhead. The madhyama-bhakta should avoid envious nondevotees so that he won't become disturbed or polluted by them. And he is also benefiting the envious by denying them the opportunity to commit further offenses against the Vaisnvas. Hrdayananda Maharaja explains this point in his purport.
"Srila Bhaktisiddhanta Sarasvati Thakura has given an elaborate explanation to prove that the discrimination employed by a madhyama-adhikari preacher does not at all show a lack of mercy. He states that the upeksa, or neglect, mentioned in the verse, is the proper medicine for those who are inimical to the Supreme Lord and His devotees. Indifference from the preacher checks feelings of hostility from both sides.
"'. . . It is the duty of a Vaisnava preacher to point out the futility of any process besides surrendering to the Supreme Lord. An envious person, however, will resent such strong preaching by a Vaisnava and disrespect him, considering the devotee to be unnecessarily criticizing others. Such a person, who cannot appreciate the mercy of the Vaisnavas, should be neglected. Otherwise, according to Srila Bhaktisiddhanta Sarasvati Thakura, his cheating mentality will increase day by day.' (Bhag. 11.2.46, purport)
"In describing the devotee's selective application of mercy toward the nondevotees, Srila Prabhupada used what he called 'the hospital rule.' At a time of war or catastrophe, when the hospital is filled with more cases than can be treated, the doctors may neglect a patient in critical condition in favor of a patient who could be saved if given immediate attention. Similarly, the envious are too far gone, and when a devotee attempts to inform them of the glories of the Supreme Lord, their scornful response only worsens their condition. It is better for devotees to use their limited time and manpower in approaching innocent persons. This is sometimes referred to as 'preaching where it is favorable.' Lord Caitanya Himself abandoned extensive preaching in Navadvipa because the place was saturated with intellectual wranglers who refused to accept Lord Caitanya's teachings. He therefore preferred to travel through South India, where the people were more pious and receptive."
From My Dear Lord Krsna, A Book of Prayers Volume 2
pp. 140-41
"I will speak to God from my own soul. I will tell Him of my loneliness. I know only He and the devotees can fill that loneliness. I suffer from apartness. Krsna can make me whole. Ultimately, I can play with Him and always be with Him or in the bliss of separation while meeting with Him in bhava. Feelings of longing for Krsna while apart from Him can be the highest ecstasy of love of God. It is called viraha and was practiced by the gopis of Vrndavana. They felt His presence more keenly when He was away in the cowherd fields or away in Mathura than when they were with Him. Srimati Radharani sometimes feels fear that Krsna will depart from Her even when She is with Him. But to feel separation from Krsna because of barrenness of love is a different thing. It is my lot. And so I step forward and call to Him. Krsna, please let me feel Your presence. Let me step into Your presence. Let me call You 'God' and 'Lord' and 'friend,' and by these words bring You close to me. Let me see You standing with Radharani or running with the cowherd boys on Govardhana Hill. Let me see You standing as beautiful Visnu face to face with Dhruva Maharaja or receiving the direct prayers of Prthu Maharaja. Let me see You in the pages and illustrations of Srimad-Bhagavatam.
"I do not want to feel the barren separation where there is a wall of maya between us. I want to feel the fruitful separation of viraha. I recall that Prabhupada said that the Six Gosvamis did not claim to see You but cried out, 'Where is Krsna? Is He at Radha Kunda? Is He at Govardhana Hill?' They cried in separation and found Your darsana in their hearts. You empowered them to write about You by direct dictation of Your pastimes. They were expert in the science of Krsna. I am meant to follow in their footsteps as a rupanuga, a follower of Prabhupada.
Please let me do it with confidence and humility. You want nothing less from me than to constantly glorify You and render You active service."
From One Hundred Prabhupada Poems
pp. 50-51
"He is your own
spiritual master and you have a right
to keep him very close.
You can treasure the statements he made
which make you feel special—
go ahead and take them.
It's not that I want some illusion or
false propaganda that I'm the best son.
But I want my own relationship.
I admit I'm insignificant
but at the same time I care
for my Prabhupada devotional creeper.
You do that by cherishing
his love for you.
Is it unrealistic to say Prabhupada
is always with you?
No, he can do it.
Therefore I call them my Prabhupada poems
and there's nothing wrong in that.
He is a father,
he's got work for me to do."
Writing Sessions
From Karttika Moon
"PART ONE:
"The Karttika Papers, 1994
"Note Pad #2"
"Bombay and Calcutta" (continued)
"'The Karttika Papers? What do you mean?' . . . Durga-puja is over. Alex said they have big firecrackers. Boom! The people just outside ISKCON land in Mayapur. I thought it would be peaceful there. You will write?
No one writes like me
no one writes like thee,
Dear friend why don't you
write personal, like a heart-
breaking poem and show it to me and
I won't critique it?
But then if I don't even like it,
that means I don't like you
love you
and how can I expect you to love me?
"D.H. Lawrence, heartbreak but they are all literary artists and nondevotees.
"I can't pause to figure it out. This hotel suite (I confess) has two T.V.'s and a fridge. The water is lousy. I am heart sore. I am not a woman. My feet soles are soft and I cry don't prick me there. Sad too at sexual thoughts no freedom from it. It's not like my body is made of wood. Beggar kids at a Calcutta airport. A new danda for me.
"The Karttika Papers, what do you mean? To look at later, to leak and bleed. Keep cool and rest on so you don't get sick in the head. I will be all right. I'll read some TLC later and won't push too much.
"Acyuta was kind to arrange all this for me. Accept it a little while without attachment. (like Srila Prabhupada in the hotel suite Bhurijana got him in Hong Kong, I was there too and slept on the floor, still enlivened to be his servant. If only I had the life and literary sense to write it all down! What a clown, why not? I was squelched, afraid of maya too much and thought that diaries are maya if you dare to write what you feel. I did a little of it in Bombay.)
Prabhupada, I'm alive.
That makes me a kind of center,
a pulse and heartbeat of me –
"The verse for tomorrow is 1.10.9-10. It means viraha or separation from Lord Krsna as felt by the residents of Hastinapura when the Lord left from there to return to Dvaraka. In the purport, Srila Prabhupada states that we forget Krsna only due to maya ('The spell of the illusory energy').
"'The feeling of separation cannot be described, but it can simply be imagined by devotees only. After His separation from Vrindavan and the innocent rural cowherd boys, girls, ladies and others, they all felt shock throughout their lives and the separation of Radharani, the most beloved cowherd girl, is beyond expression.'
"It's a juicy subject for a lecture and may be relevant even in our neophyte condition. I'm thinking of an outline as follows:
Define and describe viraha or vipralambha (in connection with sambhoga).
Say how this is different than the 'separation' the forgetful conditioned soul feels from God.
We may start to feel a shadow of this as we practice Krsna consciousness and feel sorry that we have separated ourselves from Krsna.
We also feel it in relation to His pure devotee, Srila Prabhupada.
It's expressed in Siksastakam, 'Feeling Your separation, I'm considering a moment to be like twelve years…govinda-virahena me.'
It's felt in all Vrndavan and other rasas with Krsna.
Read Krsna book, Chapter Thirty-four, 'Those who are in the disciplic succession of the Madhva-Gaudiya-sampradaya should also feel the separation of Krsna.'
See Krsna book, Chapter Forty-five, 'Any book of krsna-lila, even this book, Krsna, or our TLC, is actually solace for devotees feeling the separation of Krsna.'
It can only be imagined. It is very sad and yet it is a transcendental ecstasy.
See Krsna book, Chapter Forty-six, p. 385, 'Lord Caitanya taught people in general the method of vipralambha-seva . . . Absorption in Krsna consciousness by feeling separation is thus the quickest method for attainment of the lotus feet of Krsna.'
"So, it's not only a very high and esoteric teaching but one recommended for all devotees in our sampradaya.
"Can you write a sonnet
on Govardhana-puja or anything
at all you read? Sanatana
said please bless me to write.
And the Lord said, yes, whatever
you want, 'Whatever you write,
by the grace of Krsna, will
come out of your heart and will
be accepted as you have requested.'
Lord Caitanya then gave him notes like He dictated it and Sanatana either noted it down with a pen or mentally retained it. All the things he would write in Hari-bhakti-vilasa and other books. Yeah, it was like that.
"As for the daily writing, I like the idea of Writing Sessions as I did last year's in Vrindavan, really unbridled, improvised like playing a jazz guitar…and break into line division and automatic writing where you don't think and the hand moves and you allow things to come out. In that sense, don't expect neat impressions of Mayapur for a guide book. It may turn out to be feelings churned that are not Mayapur per se, but it happens while you are in Mayapur.
"Let the junk come out, your inability, your feeling you are being ruffled the wrong way, etc. I will accommodate your howl, your whimper, your irascible self.
Time and trouble
Toil and Bubble
this is out witches' brew.
An eye of newt, a toe of
frog, toil and trouble
mail and bubble – Ha! Ha!
Macbeth don't know we
mix this smoky batch and
he's doomed for his
bloodthirsty ambition pushed
by his Lady,
the fool – Out! Out!
damned spot!
Wow what dramatic stuff?
"Out of intestines in cleaning
days would come rolls and tubes
of what? of the powder
you drank. Of the colon you
don't have a spiritual tale to tell.
"So, I say that too but
tell us what you read.
Anyway, whatever, I stand
by to write it.
"Krsna consciousness has veneer, when I pretend to be a devotee and speak what appears officially correct and 'parampara'
"But this fellow is not
always Parampara
and to get into the rhythm
and blues I require
banjo knee,
knee socks to prevent
mosquito bites, lie down
in back of bumping bus and
dream we wish it could
someday be a vision and I'll stop
all foolishness when
Govinda declares to me
'Write this and only this, what
I speak to you.'
Until then (and I don't beg for it)
I'll write who I am and what
passes through my mind.
"Heart, heart whatever that
is, the whole self,
the cherished wish,
the blood-auricle-ventricle
too, wherein the Lord is
transcendental and the tiny
spirit spark rests
heart of cut-through pass,
me where I have to die and
give up all attachments
forced at death
to leave behind my words
and give up efforts for at
least this one life –
that heart,
I pray
can become the residence
of the revealed Lord.
"He can do it whenever He
wishes. Can transform
can appear
harinama can spread His light
and form and acts and teachings
throughout me
and then I can act not
falsely
but wholly (no pretense)
act as guru
to serve people all over the world
be strong enough to accept service
and austerity to travel and preach.
Not retreat but advance.
Yeah,
but now, now I am
honest and say what kind of a
guru are you? Still I can
function, I can function,
keeping in mind…
"So, heart, may we hear
Govinda's words, may we
advance and may Mayapur dhama
give me its much advertised
benediction – one day there were
millions of lives in Varanasi,
sleeping there as good as obeisances,
no overeating of prasada –
Be blessed fella
in Mayapur.
Bus is ready, I am ready
here we go
Head is tow-head
Blank is vault
sky is dark
crows raucous
so long Calcutta,
timid fellow
about to launch his trip
he better be
alert and promises to
clerk, record, write down
the broken sonnets
no girl attractions
hope the grave face prevails
until smile cracks
by force of Govinda
Radha-Madhava –
I went there first in '73
he knows me,
welcomes me to his
place of worship."
---

Writing Sessions at Castlegregory, Ireland, 1993Start slowly, start fastly, offer your obeisances to your spiritual master, His Divine Grace A.C. Bhaktivedanta Swami Prabhupada. You just drew his picture with your pencils. He appears carved out of wood…
---
I found I had hit a stride in my search for theme in writing, then began to feel the structure limiting me. After all, I had given myself precious time to write full-time; I wanted to enter the experience as fully as possible. For me, this means free-writing—writing sessions with no predetermined shape, theme, or topic…
---
Daily Compositions
This volume is comprised of three parts: prose meditations, free-writes, and poems each of which will be discussed in turn. As an introduction, a brief essay by the author, On Genre, has also been included to provide contextual coordinates for the writing which follows…
---
Meditations & Poems
A comprehensive retrospective of poetic achievement and prose meditations, using a new trajectory described as "free-writing". This volume will offer to readers an experience of the creativity versatility which is a hallmark of this author's writing.
---
Kaleidoscope
Stream of consciousness poetry that moves with the shifting shapes and colors characteristic of a kaleidoscope itself around the themes of authenticity. This is a book will transport you to the far reaches of the author's heart and soul in daring ways and will move you to experience your own inner kaleidoscope.
Read more »
---
Seeking New Land
A narrative poem. challenging and profound, about the journey of an itinerant monk who pursues new means of self-expression.The reader is invited to discover his or her own spiritual pilgrimage within these pages as the author pushes every literary boundary to boldly create something wholly new and inspiring.