Free Write Journal #183
February 18, 2022
Free Writes
The Myth of Closure
Kirtan Rasa gave me a book The Myth of Closure by Pauline Boss. The author says that when a survivor's dear one dies, we should not seek "closure." Some professionals recommend "closure," meaning that one should make a deadline on grieving and get on with life. But Ms. Boss says there is no closure. Death may occur, but that one should continue the relationship. This is the way to go on with life. I'm finding the book very helpful. I've especially read parts of it to Krsna dasi, who is in mourning over the death of her husband Bala some months ago. The material is very relevant for her. I have had losses too, such as being disowned by my mother and father, my loss of Srila Prabhupada, and other traumas, including the loss of disciples who have gone away. Here is a quote from the book:
"In the popular vernacular, closure has unfortunately been used to describe the ending of the grief that comes after loss. The assumption is that you'll be 'over it,' done with your sorrow once you have closure. Not true. Mitch Albom, in his book Tuesdays with Morrie, states, 'Death ends a life, not a relationship.' In the bond with a loved one, even after death there is no closure, nor does there need to be."
The Passing Away of Hari Bhakti Vilasa
My dear disciple Hari Bhakti Vilasa has passed away due to COVID-related illness. We can get very little information from the hospital about him. He was in the ventilator for some time but didn't improve. I always remember Hari Bhakti Vilasa as the first devotee I initiated in Mayapur in 1978. He has always been a very humble devotee, very respectful to me, to Srila Prabhupada and to all the devotees in ISKCON. He did some book distribution early in his career, but later he became more introverted and mostly read Prabhupada's books and my books. He had health issues. He was my personal servant for months at a time, both in California and in Wicklow, Ireland. He served me very competently and respectfully. He was a recent participant in our out-loud readings on Zoom with my other disciples. I am sure Hari Bhakti Vilasa has a good destination in his next life because he never hurt anyone, and he was always serious about Krsna consciousness.
New Books
I just received in the mail advance copies of three new books. We will distribute them at the disciples meeting in the summer of 2022. They are excellently produced by my book production team of Krsna Bhajana, Satyasara devi dasi, Lal Krsna and John Endler. The first book is a reprint of a very special book that is now out of print, Srila Prabhupada Smaranam: Photos, 1966-1977. It is filled with color photos of Srila Prabhupada. Along with the photos are poetical descriptions of Srila Prabhupada which I wrote being inspired by the images. Another new book is One Hundred Prabhupada Poems, which I wrote for the Prabhupada Centennial and which is out of print. They have made a nice new edition, and I'm happy it's available again. The third book I received was Songs of a Hare Krsna Man. This was never widely distributed, but now we have a new stock of books which will be distributed at the summer meeting. The books I received today are advance copies. They are not printed in numbers yet. We have to ask for donations to pay the printer in order to get a stock of volumes for each book. Dear readers, please consider making donations to pay for the printing of these three new books.
Assistants
Krsna Kripa changed the dress of Radha-Govinda for the last time today. He did a decent job with Govinda's turban, following Krsna dasi's instructions.It's a beautiful violet dress with embroidery on it made by Tapan in Vrndavana. Krsna Kripa has been here four weeks. It's been an austerity for him because he's so committed to daily harinama in public. But he made the sacrifice, and I'm grateful to him for it. He's been good in his duties here in his duties under trying circumstances, since there's only Baladeva and I and him. He always chants Hare Krsna mantra, even in my presence. That's a nice thing about him. He leaves tomorrow on the 14th, which is Nityananda's Appearance Day, and gets to New York City to chant with Rama Raya and the harinama party there. Then he'll go to the evening Nityananda festival in the Brooklyn temple. From there he'll fly to Tampa and gradually make his way up to Tallahassee to be with Kaliya Damana at his preaching center for the winter. The same day KK leaves in the morning, Bhakti Rasa from Newcastle, England comes. (KK leaves around 11:00 AM and Bhakti Rasa arrives about 5 PM.) Bhakti Rasa has done these servant duties before, and I'm glad he's willing to take another extended turn. He's pledged to stay six weeks.Earlier in the year he stayed here for three months so Krsna dasi could go peacefully to Trinidad. His wife Kirtida was with him here for six weeks, but she had to go back to preaching work in England, and he stayed on alone. Having one extra servant makes it bearable. Baladeva can't do it alone, especially the Deity worship. I don't remember if Bhakti Rasa can do full Deity worship of Radha-Govinda. There's so much to do. At least he can change the water cups and keep Them polished. Hari dasa comes almost weekly and changes big neem Gaura-Nitai. But he's afraid to change Radha-Govinda, who are so small, and he's never done it yet. But I think he'll just have to get over his fear and "just do it."
***
Bhakti Rasa from Newcastle has arrived and is settling in. He's a very competent caretaker and is cleaning up the room we provided for him to stay in. He's a jolly, pleasant person, and he likes my company, and I like his company too. He's been here before and knows what to do in this service. He said while he's here he wants to brainstorm with me and see if we can discover some more devotees who are male and who can fill in this position, which only a few devotees do in rotation. I had a talk with Bhakti Rasa and asked him what he was doing in Newcastle. He said he recently had a call from a devotee named Pradyumna in Leicester, England. Pradyumna invited him down to see the school he's running there. They have a hundred students and many teachers. Most of the students have Hindu backgrounds, and the teachers wear tilaka and neck beads. Pradyumna asked Bhakti Rasa if he would like to teach in their school because Bhakti Rasa has the educational qualifications. Bhakti Rasa said, "I'll think about it," and he's in the process of deciding whether to go.
Cars
After having both cars inspected and repaired this week, we've decided to trade in the 1998 Toyota toward a newer-model, low-mileage Honda Odyssey and take out a loan to pay for it. So it will just be a low monthly payment. We already have a co-signer for the loan, so now we just need money for a down payment and monthly loan repayment. The Toyota is old and tired. We've had our Odyssey for fourteen years and put on 175,000 miles. It's running strong, but the small things are wearing out. Someone is researching the market to find a suitable, second-owner, low-mileage minivan, like the one we have now.
Lord Nityananda's Appearance Day Observed at Viraha Bhavan
The Deities wore new outfits, and Their altar was decorated with flowers. We invited Ravindra Svarupa Prabhu, his wife Saudamani devi dasi and Ravindra's secretary Sraddha dasi. Baladeva cooked a feast we call "the Indian set." It comprises spinach and panir, urad dal, rice, and small puris served hot. There were also sweets: an apple crisp made by Sraddha and cashew burfi made by Krsna Kripa. Everyone complimented the cooks. Satsvarupa Maharaja recited the prasadam prayer, and everyone ate up to the neck. Ravindra Svarupa and Sraddha spoke lila of Lord Nityananda from the Caitanya-caritamrta. It was a small but happy celebration with friends and neighbors.
Kathi and the Dolphins
Baladeva's sister Kathi passed by, and she told me about her years where she and her husband were co-caretakers at a dolphin research center. People would come there with incurable diseases and mix with the dolphins. The dolphins are mammals; they have larger brains than humans. And they are friendly. The dolphins diagnose and heal each other with their sonar capability. People from all over the country come to the dolphin center and work out with the dolphins. There are documented cases where people with autism and other diseases have had their symptoms reduced by swimming with the dolphins.
***
Kathi left today after a few days of heavy seva in the ashram. She helped clear the big pile of papers on Baladeva's desk—you can actually see the desk now. She's going to Key West for ten days and will be back here in a couple of weeks. Despite being a serious Buddhist practitioner, she keeps coming back to the Hare Krsna ashram. She likes the sanga and the seva; she says it's part of her dharma. Baladeva had to chop the ice with a pick to make a path so Kathi could go to Krsna dasi's house, where she stays when she is here.
Fixing the Printer
The printer on our computer broke down, and I couldn't receive my mail. Krsna Kripa took time out from his personal duties to fix the printer. This means he had to give up his sacred nap, his health walk, and some of his extra rounds. He was a little disturbed by this because he's very regulated. That's how he gets so much done. He also lost a couple of hours by going on harinama in Albany.
***
Our neighbor, Janardana, who is a techie, is coming here in an hour and a half. The printer to our computer has been broken for four days. I haven't been able to receive my mail. No one could fix the old one, so Baladeva went out and bought a new printer, but no one here knows how to install it. So we phoned Janardana. He volunteered to come over and asked when Baladeva went to sleep. He said he'd come over by 6:15 PM and do the job. I'll be much relieved (and so will my correspondents) when he can install the new printer and I can get back to reading my mail.
Mail
Baladeva sent off a lot of mail today. It was somewhat bewildering to the new postmaster at the post office. One package was express documents to a lawyer, and the postmaster had trouble sticking all the labels on it for express mail. It was his first day alone on the job. And then we had a big case of Prabhupada Nectar books, which we sent out Media Mail, which the postmaster had never done before. He complained about the weight of it. We mailed it to Upendra dasa who sends books to prisoners as part of his service for the Prison Ministry. We also mailed letters with stamps to disciples who have no email. The mailing business was done after the feast and before the cleaning up and the Journal session.
B. shipped a book to Thakur Haridasa for typing. He didn't have his own copy, and we didn't have a copy of that book either, so Bhakti Rasa brought one here from England. Thakur is helping with the typing on our project to get my out-of-print books back into print. It involves volunteer typists to type up the books into digital copies so they can be edited and proofread on the computer.
At the post office there was an envelope from Sankirtana from Dallas. He enclosed an 8 x 10 inch photo of Radha-Kalachandji from the early days. But it's such a weak reproduction, so faded, that you can't even see Radharani's nose, and overall it's too unclear. Sankirtana is doing his best to find me nice vintage pictures of Radha-Kalachandji.
***
This Journal is coming out late because Baladeva was out on errands all afternoon. He went to the accountant and delivered him papers from the I.R.S. and documents that need to be filled in properly by an authorized agent so we don't lose our non-profit status. Then he went to the watchmaker to pick up Krsna Kripa's watch, which had gotten moist inside after they changed the battery the other day. So they dried it out, put a new battery in and closed it up properly. Krsna Kripa is very regulated and lives by the watch. It's an important piece of his sadhana. We will send it to him in Tallahassee and will enclose a pair of his kowpeens which he left behind, as well as a cloth eyeglass cleaner.
Medical Calls
I was disturbed when Baladeva was not available to do the Journal today because he was on a Zoom call for over an hour with the insurance doctor, an annual checkup. They want to know what meds I'm taking and what they are for. They don't want to unnecessarily pay for meds unless I have the symptoms that I need them. The home care people call and want to make sure you're happy with your care team and that you're safe and protected. The insurance company pharmacist called to go over the medicine list to make sure that everything we're taking doesn't mix poorly. (They call that contra-indication). All these phone calls take many minutes, and only Baladeva can answer them because I don't know all the prescription medicines I'm taking. It's worth going through all this medical protocol because the bottom line is I'm not getting any more chronic migraine headaches—I just get a few regular headaches, usually from reading too much.
Annual Health Checkup from Fidelis
For three years a nurse has come to the house and done an annual health checkup of myself. I talk to her for some time, then call on Baladeva to complete the interview. I myself do not know all the medicines I am taking, and he knows the various diseases I have better than I do. But this year because of COVID, the nurse didn't come to our house but did the interview by Zoom. I had to take part more in answering questions, but Baladeva handled the majority of the interview about medicines and diseases and safety equipment. He told her I had the following diseases: anticipatory anxiety; COPD (chronic obstructive pulmonary disorder); Parkinson's disease; diabetes; fused ankle and weak balance. (I cannot walk except being pushed in a Rollator or being held up by one or two strong men.) The annual checkup is to see if they can take away any of my excess medicines and save money without compromising my health as it is.
Book Excerpts
From A Poor Man Reads the Bhagavatam, Volume 2
pp.268-69
"Although we may not understand the technicalities involved, we can appreciate that Srila Vyasadeva was conscientious to edit and compile the Vedas into a more 'user-friendly' form for the fallen souls of Kali-yuga: He knew it was not sufficient to simply amass archaic literature in remote temples to be used by a few priests with no real benefit for the mass of people. He wanted the crucial knowledge disseminated. He knew there was no other way by which people in this age could get knowledge and freedom from material bondage. Therefore, we worship Vyasadeva not only because of his exalted status and mental concentration on Vedic truth, but also because of his compassion and intelligence. He is a true writer, or editor, of the highest standard.
"As we appreciate Vyasadeva's presentation of the Vedas, we should also follow his mood. In every age we need to meditate on how best to present the Vedas so that innocent people on all levels can be encouraged to reach the ultimate purpose: shelter at Krsna's lotus feet. Any approach to Vedic literature that falls short of clearly presenting the goal of life is compared to the attempt to taste honey by licking the outside of the bottle.
"Srila Prabhupada is an ideal example of a modern representative of Vyasadeva. He too concentrated and took considerable time to make the Srimad-Bhagavatam understood by common men. Prabhupada worked with a Sanskrit edition of the Bhagavatam that contained nine or sometimes more commentaries. Prabhupada studied each verse of the Bhagavatam, read all the commentaries, and extracted from them what he thought was most relevant and essential for his readers. When we read the Bhaktivedanta purports, we receive a distillation of the parampara's direct experience and realization. And of course, we receive Prabhupada. We should never think that Prabhupada's books are presented only from his own viewpoint and that they are devoid of the acaryas' conclusions. They contain everything presented according to time, place, and person, and they can lift us to the highest point in Krsna consciousness.
"We should therefore read Prabhupada's books and appreciate them. We should also distribute them because Prabhupada was so pleased by that act."
***
pp.269–70
"Okay, so we have read and distributed Prabhupada's books. Is there anything left to be done? Are we to simply repeat what Prabhupada has said as he said it without any personal investment?
"Prabhupada said that his real contribution was that he presented what his spiritual master taught without adding or subtracting anything. Yes, we should do the same. But when presenting Prabhupada's teachings, we may also work to make them as relevant as possible to each particular audience we address. We don't change what Prabhupada said, but we may say it in our own language. Prabhupada's words are potent; if others hear them, and if we can present them by drawing from an audience's own immediate experience, or encourage them by our own expressed attempt to practice Prabhupada's teachings, then this is what we can contribute personally to the sankirtana movement. Speaking with personal realization what the spiritual master has said is extolled in the Bhagavatam:
"'The Vedic fruit which is mature and ripe in knowledge is spoken through the lips of Srila Sukadeva Gosvami, who is compared to the parrot not for his ability to recite the Bhagavatam exactly as he heard it from his learned father, but for his ability to present the work in a manner that would appeal to all classes of men.' (Bhag. 1.1.3, purport)
"In describing the qualifications of a gosvami, Prabhupada also says that he should be well-versed in the Puranas.
"'To hear and explain them is more important than reading them. . . . Only one who has properly grasped the transcendental knowledge from the right source by submissive hearing can properly explain the subject.' (Bhag. 1.1.6, purport)
"Saunaka Muni makes a similar statement when he congratulates Suta Gosvami for presenting the Bhagavatam exactly as he heard it from Sukadeva and by realizing it personally. Prabhupada writes:
"'He must have full confidence in the previous acarya, and at the same time he must realize the subject matter so nicely that he can present the matter for the particular circumstances in a suitable manner. The original purpose of the text must be maintained. No obscure meaning should be screwed out of it, yet it should be presented in an interesting manner for the understanding of the audience. This is called realization.' (Bhag. 1.4.1, purport)"
***
pp.270-71
"Okay, pal, you said you'd tell all. Write all into the Veda of your understanding and misunderstanding. Well, what is that all? You know the story about how the Himalayas were going to give birth? People were astonished and gathered to see what kind of offspring would appear from the mighty Himalayas. But rats appeared. Yes, rats. The much advertised birth resulted in nothing great despite the expectation. Srila Prabhupada compared this to the American universities, which were producing only hippies and confused people. (There are no real hippies nowadays, just confused and perhaps more arrogant and spoiled people, who are even less eligible to hear about Krsna consciousness.) Rats.
"But what does this have to do with my writing? Am I producing only rats?
Oh, the whole thing's just a joke. I'm just warming up. Although I'll tell you that this cabin is already warm—too warm. The covered pot on the stove is spitting boiling water onto the stove and it hisses with amusement as I huff and puff and threaten to release my lightning bolts into this book without regard to time and place and expect my editor to contain it all in as many pots as can be brought forward.
"The pot laughs because actually I'm struggling with limited time and a limited head to say anything at all. I have a few roots and herbs but no lightning bolts, and the water sure is making a mess on the stove.
"I have already described how Vyasadeva divided the one Veda into four and especially how he created a fifth. Reminds me of the story of old wine in new bottles. We make the scripture consumer-friendly. It is a primal act, and it takes faith to both give it and to receive it.
"Last night I spoke on yukta-vairagya, presenting various purports and verses by Narada and Srila Prabhupada. I wanted to add something in my own words. I said, 'Everything is Krsna's energy. Matter can be transformed into spirit if we change the consciousness with which we do things.' I noticed three candles burning on the altar in the room (they have no electricity here) and I said, 'These candles are spiritual, but if you have candles on a dinner table when you're romancing your girlfriend, those are lusty candles.' The audience laughed. That's an example of saying something in your own words without changing the meaning. The example was accepted because they've all seen or done it. It was relevant according to time and circumstance."
***
p.272-73
"Does this mean we ought to expect to give up our non-hearing and non-chanting services after some time and just hear and chant? I don't know. It depends. Any limb of the nine processes is as good as the next, so we may carry on our service until our last breath. But that doesn't excuse us from the need to purify ourselves. We don't have to kill desires, but purify them. And the deeper expression of the service is not in the work itself, but in what is going on in the heart. Otherwise, we may like our work and it may actually be some form of karma-kanda rather than bhakti. That is, we are trying to receive a reward from its performance. It may be that the work to which we are so attached now will no longer be required of us later. Krsna may require something else. If we are attached to the work itself, rather than using the work as an expression of devotion, we will suffer when we lose it.
"I claim I love my work and that I want to offer it to Krsna, so although it remains to be seen what the future will hold, let me offer what I'm doing now with my whole heart. Live in the present.
"Flow on, sweet Afton.
Vyasadeva divided the one into four,
Sukadeva spoke it later as he heard it,
Suta added what he knew without changing the meaning
to reach the sages at Naimisaranya . . .
"and since then, the acaryas have continued to address the needs of each time and place—fighting Mayavadis, talking to students, to Indians, to Americans, overcoming the blocks in people's minds. The work goes on. The preaching work is never complete. Each generation has to accept the mantle and preach the mission. That is Krsna's mercy, that we all have a chance to serve Krsna no matter when we were born and in what circumstance."
***
pp.276-77
"Good, good, you have written something good.
The class applauds and says nothing.
He divided the apple into sixteenths.
She divided the child into two and
rejoined it.
He divided our ways into two
one into four.
Enough.
Throw in towel and go to next Bhagavatam verse.
Big raven on post
shaking his features
strong in the March mud as we drove to the Sunday
gathering where I lectured on
"yukta-vairagya. Today I felt I have nothing to say. Is there a connection to the outward act and inward quest? Was lecturing the cause of my not being able to write? Blame something, somebody. I shouldn't have eaten extra cereal or srikand. I should have slept—or not. That raven is the color krsna—all black. Krsna's hair was like crows' feathers when He was very young—inky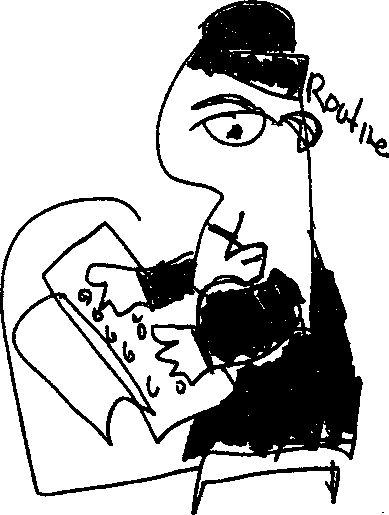 flowing from His shoulders.
This raven proclaims victory—
this giant crow on a post.
Beyond him no visible life
just wind and weeds.
"He divided the Veda into four. Inner meaning? What he did,
he knows. It was a vast Sanskrit literature and hard for anyone
to understand. He made it accessible. He formed it
shaped it
created it and
brought forth the news.
From the Sama, the Yajur,
then the Rg and Atharva
from dhanur and ayur he took what
we could assimilate.
"We need to assimilate love. That's all. Love of God. But we
need to be educated in it by a teacher who can convince us. The
Swami was such a teacher. At least he convinced me. He took
us from the first inquiry (athatho brahma-jijnasa) to the last.
"Vyasadeva baked it
and raked it and
brought forth the news
gave birth to the blues.
all knowledge proceeding from it."
From Morning Songs
pp.86-87
"At Midnight to Thunder
"4:25 AM
"I woke at midnight to
thunder, lightning and rain.
Early start to japa, but
it was sluggish and mechanical.
Nevertheless I did them all
rapidly and awake. I lacked
the inspiration for a japa meditation.
"Had them all counted by 3:00 A.M.
The conditioned souls under the
spell of illusion suffer three
kinds of miseries: adhyatmic, caused
by the mind and body, adhibhautic,
caused by other living entities,
and adhidaivic, caused by
natural disasters under control
of the demigods. If by chance
one meets a pure devotee and
follows his orders, he can be
delivered from all these pangs.
"The room is quiet and warm,
too early for birdsong.
Today I'll finish the drawing of
three sadhus looking out with
bead bags and renunciation.
The autobiog. is dormant and
may be finished. I'll have
to think of another way
to write.
"A yoga class was being
held across the street.
Saci was running in a
race in Albany.
I was biding my time
in-between projects.
I have a morning
poem which shares
melody from my
musical soul.
"It's expressed out of
a need to sing and
a desire to entertain
poem readers with
divided lines.
"The song is Krsna offered from a
servant's life,
a little life,
a small accord,
placed at the lotus feet
with care and good intention."
***
pp.117-18
"The poem must be Krsna-
centered and happy from
the musical source. Krsna
is the greatest artist, and
His flute-playing and
dancing captures the minds
of all living entities.
"I heard of His dancing on
Kaliya's hoods and
imagined it in my
mind's eye. The poem
sees Krsna dancing on Kaliya
and tells you in simple
words how He did it,
how the devas supplied
music and how the
gopis were attracted to
fhe beautiful form
of Govinda. You do
your duty in telling
the lila and fulfill
your art in words."
From The Wild Garden: Collected Writings 1990-1993
pp.26-27
"Vrndavana
"Today, my disciples and I walked around Vrndavana together. Someone photographed us walking in the cold, dark A.M. As the sky grew lighter, we stopped and read from Krsna book about Krsna praising Vrndavana. Later we stopped again to read of the gopis' praise of Krsna's flute. It had begun to warm up, but my feet tingled with cold, electric energy and the pinches from the pebbles. This earth is not so hard. It has been trod upon by millions of people before us.
"'Did you ever go on parikrama with Srila Prabhupada?' a disciple asked me.
"'No, but I took some walks with him in Vrndavana.' It was such a rare opportunity, to be with Srila Prabhupada in Vrndavana.
"We continued to stop and read and speak little purports.
"I told them we should regularly make stops in our rush through life to read Krsna book. I told them the gopis were not full of malice toward Krsna's flute, but they admired the flute's ability to please Krsna. The gopis simply wanted to please Krsna.
"Krsna, let me walk with no headache or ankle collapse. I told them Lokanatha Maharaja invited me to go on Vraja Mandala parikrama in future years; he said I don't have to walk, they will 'carry' me.
"'Oh, do it,' my disciples said.
"'I'll cook for you on Vraja Mandala parikrama.'
"'I'll type.'
"'And I'll write,' I said, 'although many have already written diaries on parikrama.'
"'But not like your diary.'
"It is a great responsibility to guide these disciples, and it is wonderful to see how happy they were to walk in our spiritual family relationship. I thought of how Prabhupada nourished me like this. Now it is my turn to nourish others.
"When we got back to the guesthouse, I could hear the twenty-four-hour kirtana from my room. The lead singer was a Westerner, singing like a cowboy crooner. I could also hear women's voices in the chorus, repeating the maha-mantra over and over again.
"The sky is clear today. The air carries a pleasant November chill. The sparrows chirp and the parrots screech. Vrndavana is such a nice place. You can feel its specialness. All of this is possible because Srila Prabhupada left Vrndavana to bring Vrndavana to us, and to bring us here."
***
pp.57-58
"Don't pride yourself that you are free of the frantic rush of the West. 'I have no heater except the sun. The electricity goes off sometimes.' So what? It can be just as much sense gratification to be living in the mode of goodness (sattva-guna) while living on the surface of Vrndavana without the anxiety of separation.
"The old man on the next roof over comes out shouting, 'Hut!' I look to see if it's a monkey he's chasing, but it's only a squirrel. The old man gathers up a small rug. His sunning on the roof is done for the day. Soon it will be cold again. That's the cycle. To live just for the cycle of nature—sun, dark, moon, cold, under quilts, rise in pre-dawn, mechanical japa, bathe, walk to mandira, greet the sun again, etc.—is not enough.
"Sweet water here is a luxury. In the West it would be something else. This standard is simpler and closer to religious life. But in a sense, it's a greater waste. You come all the way to Vrndavana but invest your being in savoring water, proud that you can drink it without touching your mouth to the cup. That means you are gradually becoming a Hindu sadhu, that's all. Where will that lead you in the next life? It's not enough, friend.
"The reality of living here is taking hold. I have been able to come here two years in a row and spend two or three seasons (this year I came at the end of monsoon, then went through autumn and winter). So my writing here is no longer an enchanted daydream. I must face the fact of my existence in Vrndavana. I used to think any writing while here would be divine—superior to impressions in the West. Devotees used to write to me, 'Come to Vrndavana. You never visit. Why? You are a writer. This is the place where the Six Gosvamis wrote, come on.' I had an idealized picture in my mind that I would come here and . . . what?—crouch under a kadamba tree and write? Did I think Radha would personally deliver me milk? Not exactly, but something like that.
"Instead, I have reality. My reality is wonderful, but it is also limiting. It's just me and my writing methods, my old karmic impressions, sitting on the roof. I don't go out to sacred places much. But on days like yesterday, I associate with my Vaisnava friends. I will have to gradually improve my Vrndavana reality, and then the writing in Vrndavana will automaticallv improve."
***
pp.213-14
"Sadhana
"I am so low it is unspeakable. I mean, so tiny I can't even place myself or estimate my chanting. Unfortunately, I don't feel this reality of my position. To be tiny but unaware . . . un­conscious.
"A Godbrother asked me, 'What are you trying to achieve in chanting, to think of Krsna at every moment?' He seemed puz­zled about why I keep protesting that my japa is no good. Does he think staying awake and being attentive to our own voices as we chant is enough? Some think that that is sufficient for now. There is a modesty in this viewpoint that is commend­able. I obviously share this viewpoint and yet I also know it is not enough.
"I am powerless to change. I automatically think of other things as soon as I pick up my beads; thus I treat hari-nama as something unimportant. It is neglect of the holy name. Some­one comes to visit and because I have so little desire to associate with that person, my mind continues to flit from this duty to that thought to the clock, so much so that I can hardly hear or concentrate on the exchange I am having with that person. It is offensive.
"I know my appreciation for hari-nama leaps up when I am in physical danger. I cling to Him, and utterly believe, and stay as close to Him as possible. Then there is no room for other plans or persons—just my relationship with hari-nama. I know at that time that Krsna is nondifferent than His name. This transformation is understandable, and Prabhupada describes it in Krsna book on the occasion when Nanda Maharaja became afraid that Krsna might be in danger:
"'It is quite natural for a devotee in danger to think of Krsna because he has no other shelter. When a child is in danger he takes shelter of his mother or father. Similarly, a devotee is always under the shelter of the Supreme Personality of Godhead, but when he specifically sees some danger, he remembers the Lord very rapidly.'
—Krsna, vol. 1, p. 43
"I write this after having chanted my first six rounds. In a couple of hours I'll go back to chanting. I'll try again and, even if I fail to improve, I will take solace in the fact that hari-nama still visits me and is willing to stay with me throughout my life."
From Songs from Stuyvesant Falls
pp.41-42
"The poet prays that birth after birth
he may attain the position of being a maidservant
of Radharani. In the Caitanya-caritamrta it is stated,
'Without the guidance of the sakhis no one
can enter these pastimes. One who worships Krsna
following in their footsteps can attain the service
of Radha-Krsna. There is no other means to
attain this goal.' I consider these verses
and I'm inspired to follow. But how can I
attain it? Only by following Lord
Caitanya's sankirtana movement.
"Radha holds a jasmine flower and Their two bodies
are flanked with pink roses in vases.
I honored Them with a melody and it's pleasant
worship. I don't have to go on pilgrimage to honor Them
because They have come to my home. They are kind and
beautiful near to me and I try not to
commit offenses such as pointing my feet to Them.
I try to follow Govinda's principle of not
behaving toward them for my sense-gratification.
Yet They are very pleasing and give solace to me
in accepting a simple puja."
***
p.46
"I pray to music and offer
it to the Lord. I am happy
to worship Him in this way. He is the Supreme Artist,
Flute-Player and Dancer. His flute-
playing charms all the living entities,
and in particular it steals the minds of
gopis. He dances upon the
heads of Kaliya in a graceful way.
All the residents of Vrndavana cheer
Him and demigods play music
with horns and beat drums to accompany His
vigorous artistic steps. This is
my Lord Krsna, and I play music
as the background for my poem.
I hope the devotees will accept
my simple writing as sincere
expressions of devotion to their
worshipable Lord."
From Churning the Milk Ocean: Collected Writings 1993-1994
pp.263-64
"Dear Sky: Letters from a Sannyasi
"Dear Srila Prabhupada,
"Please accept my humble obeisances at your lotus feet.
"I want to thank you for being who you are. This morning I gathered with two of your brahmacari followers and read from your translation and purports of the Caitanya-caritamrta. There's one verse where Lord Caitanya is addressed as Prabhupada, and in your purport, you say that Visnu-tattva, including Lord Nityananda, are called Prabhupada. You defined 'Prabhupada' as one at whose feet many masters take shelter. Of course, the exalted acaryas Rupa Gosvami, Haridasa Thakura, and Bhaktisiddhanta Sarasvati Thakura are called Prabhupada by their followers, so it was nice to hear one of the brahmacaris say how appropriately this definition fits you.
"If some of your Godbrothers, feeling equal to you or even senior, didn't feel right in calling you Prabhupada, I don't see how anyone could say we weren't justified in addressing you with that title. Thousands of souls have taken shelter at your lotus feet.
"Therefore, I want to thank you, Srlla Prabhupada, for presenting everything so expertly. Thank you for being patient with me and your other disciples. It's taking some of us years—a lifetime—to realize some of your basic teachings and to appreciate you as our best friend. Who else would have worked so selflessly to reinstate us in our spiritual position if they didn't love us?
"Srlla Prabhupada, I have embarked once more on writing these letters. I try to do one each morning. This morning as I thought who to write to, I thought of you. I just wanted to thank you for being who you are. And please accept my humble obeisances. I am ready to accept whatever direction you give me."
From ISKCON in the 1970s: Diaries
pp.329-30
"October 13, 1977
"Since he has decided to live at our pleading, Srila Prabhupada's condition hasn't changed much, if at all. He has been taking glucose in his liquid. Early today there was some blood in his urine, which has been sent to a lab.
"Today, some older women devotees, namely Sakti-mata and Srila Prabhupada's sister, are here. Sakti-mata cooked full prasadam with love for Srila Prabhupada. It includes okra and all kinds of regular food. Kirtanananda Swami has been taking the role of trying to 'force' Srila Prabhupada to take vitamins and medicine. Last night Srila Prabhupada submitted to him, but not today. Today Kirtanananda Swami protested Srila Prabhupada taking the heavy prasadam. He said, 'Srila Prabhupada, you are transcendental and independent, but from a medical point of view, you shouldn't take this prasadam.'
"Srila Prabhupada's voice was weak, but he spoke with stern, firm will, teaching his disciple. He said, 'Don't hinder (my taking this prasadam). From the medical point of view, you can't make a dead body alive.'
"Kirtanananda Swami replied, 'Your body isn't dead.'
"Srila Prabhupada said with his unavoidable logic-force, 'You say medical point of view. I say, "Is it possible medically to make a dead body live?"' (This means medically speaking, your glucose treatment can't work either, so why hinder my taking this full meal?)
"Kirtanananda Swami repeated that it didn't appear to him that Srila Prabhupada's body was a 'dead body.'
"Srila Prabhupada said, 'Then you go to miracles,' (meaning if you don't think this body is dead, then you are speaking of it living, but actually it is dead. Therefore, you are speaking of keeping it alive by miracles. He seemed to debunk miracles. Previously he already debunked the 'fanatical' miracles of staying alive without eating and said he couldn't perform that). Then he told us all to leave the room; he would eat as much as he could (without our staring at him) and then we should come back and hold kirtana."
Writing Sessions
From Karttika Moon
"PART TWO
"Karttika Lights," 1995
"Chapter Three
"12:34 A.M.
"Yeah, we made it onto the boat; it left over an hour late, around 8:15 P.M.
"Last night I had a dream that various members of gangs were coming forward to be represented. Found some ready to fight, then the meeting had a participating spirit.
"In the dream, I also met Bhagavan dasa and John Young from my childhood, who was doing something, selling things in Tottenville. ("Did you know," I told someone in the dream, "that John Coltrane played at the Tottenvilla?")
"Let's get to the point. At first I saw this dream as a call for me to come out and attend meetings (like the GBC or main ISKCON festivals or newsletter writing, etc.) and participate with my voice. In that way, live up to Srila Prabhupada's, "Your love for me will be shown by how you cooperate with one another to maintain this institution." But when I woke, I thought, "No, I can't do that because 1) my health won't permit it at present; and 2) they would manipulate me, you'd lose your integrity." It doesn't seem possible for me to come forward physically in that way. Not now.
"Then I thought that maybe the dream signals to me, at least among my own selves, sub-persons or interests should be allowed to come forward and integrate and speak up. For example, I have this suppressed desire to listen to jazz. Why can't that sub-person stand and be heard? Why does he have to be rejected or not a part of myself anymore? And in my life, there were figures like Bhagavan dasa and John Young. So, if it's not physically possible for them to come together with me (I'm too weak, too influenced, etc., and they are not in Krsna consciousness), then why not at least in my own life admit they are there and we talk and –
"I think, however, that my life is getting a little exclusive in focus on Krsna consciousness, and that's not bad. I don't think that the sub-person representing the taking of marijuana or illicit sex desires to be with women, etc., ought to be allowed participation in my life in the name of democratic freedom. Yeah, in the dream, all folks coming together to speak seemed healthy. But it was getting to resemble the United Nations.
"Maybe my place in ISKCON is to stay apart a lot and still participate in my own way in seminars and books, etc.
"I saw the dream, and I'm not criticizing it. Those people who were meeting were not allowing only strong gang leaders to be the only voice of everyone. And gang members are not the only people in the world. A feeling of healing and integrating could take place. That dream was just beginning. It might have deteriorated into too much meeting and talking, politics, etc.
"There is no easy solution. Yeah, I woke thinking, "Why don't you work more actively (pro-actively) for a better ISKCON that Srila Prabhupada wants?"
"Srila Prabhupada himself wanted to go alone to write more; give us more books that way. But he was afraid that the society he built would fall apart without his management of it. But I am not in that position.
"Here, re-affirm the plan to read and learn to open my heart to him and his books.
"I don't want to do non-Krsna conscious things. One devotee refers to this as one-notch-down syndrome. A person or community in honesty says that they want to allow, admit some less-than-100% strict Krsna consciousness in their lives. They do it, but soon their whole life becomes unrecognizable as Krsna consciousness. For example, they say they need the help of a Twelve Step program. Well, soon it deteriorates their whole Krsna conscious dependence on Krsna. So, I hold the open meetings of sub-parts and allow them to act out all of their proclivities, and then we'll go down notches from the strict and narrow way. The Jesus man, the jazz man, the poet researcher, yeah, the dream worker, naturopath yoga healer, former member of the GBC who was to contact that part again by hypnotherapy – you name it.
"Anyway, I'm up now and could do some reading of Caitanya-caritamrta. Then maybe catch some more rest. M. and I sharing one cabin, so I will have to coordinate my activities, when to rest, with his, somewhat.
"Let's at least say that going to the retreat is good. That's this story. I don't know exactly what I'll do when I get there, but it will be reading and writing more. Yes, let it not be just any old cause or multiple causes speaking. "I too have a right to exist."
"Karttika is for increasing your devotion. Devotion is a part, apparently. You choose that one part (Soren Kierkegaard says, referring to the "best part" that Mary chose) and then you get Everything. You choose to make Krsna conscious activities rule your life, the reading part of you, the celibate, and not the man who indulges in sex, the kirtana music and not other music (or else like the person Narada was in his former life – you'll get cursed for enjoying the cinema and other music) – take that Krsna conscious part and gain all, your entrance into the nectar of service and sacrifice.
"Yes, I guess I admit that the other parts are there. Sometimes they may speak. In a Krsna conscious society, the government doesn't kill sudras and mlecchas – but some others (cow slaughterers, etc.) do get killed right away.
"6:30 A.M.
"The boat is tilting back and forth noticeably, uncomfortably. We went out on the deck for a walk and exercise, and I did the vigorous exercises, but then it was too much tilting back and forth and wind and fog-wet. So, back inside but it rolls and you hope your stomach can take it. And hope no worse of a storm. You imagine, worry how that railway car is so heavy, does it affect our ferry?
"But I chanted fifteen rounds sitting in one place. When you know you have lots of time and nowhere to go, not much to do, it's better for chanting. Don't think (I mean, I can't) of Krsna or philosophy, but I hear? Not exactly hear either, but at least enter the state, "I'm chanting, I'm chanting, I'm chanting." You watch the clock closely to make sure you don't go too slowly, watch the bead counter, so you don't lose count. It was quite slow, nine minutes per round, but steady, chanting, chanting, and inside, way inside some hope for it, praying in japa. And this name of God, this Supreme Personality of Godhead, Krsna, definitely this maha-mantra is the one I live by.
The ship rolls to and fro
M. cuts fruit for
a light breakfast.
"You…your voice sounded weak and not quite connected to your body, yes, sort of disembodied when you spoke to him. Something a little unreal being out in the empty ship, everyone asleep, walking past a model of the Queen Mary ocean liner and ads for a beauty salon and restaurant…and then outside in the fog and the tilting, so your steps go up in the air, like a ghost's? But chanting is the spiritual anchor, the reason-to-be. And of course, our travel purpose.
"Hare Krsna Hare Krsna
Bead bag placed on the deck
chair. Don't blow away
or I'd have to use another
after almost thirty years.
"Rattle of pine nuts onto the dish. He's preparing the plates, and I clear the desk and set up Caitanya-caritamrta Volume One with the back cover photo of Prabhupada to offer prasadam to.
"9:07 A.M.
"The boat may be plying smoother, or we are getting our sea legs. I feel British accents vibrating through the bulwark behind me as a group receives guests in their cabin. May Lord Caitanya enter your heart. Srila Prabhupada said one should first become liberated and then deliver others. If your hands are tied, how can you untie the hands of others? Yes, that's my working method for the retreat. I tell people, "Please chant Hare Krsna. It is the easiest process and sublime." And I say, "Hear the astonishing nectar of the pastimes of Caitanya Mahaprabhu." But do I do it myself? Yes, I'm going now to do that.
"What will come if I try writing for an hour at a time, several times a day?
"Twenty to 2:00 P.M.
"Time for more rest. Talking out things but to yourself you keep on winding thoughts…what to write. What…read a little in Peter London's No More Secondhand Art. Discover something about yourself or life as you write. That's what makes it fresh, makes it art worth giving a second look. You discover something important to you as you do it, write, draw, etc. Others can see that you are not just repeating something you read or something you said before. That makes me wonder if there's something I may discover by the process of writing freely.
"A devotee who wants to prepare himself for death. He too has to take a fresh approach to things. Face himself actually; see with attention what's in his heart. If I like to do it, that doesn't mean it's maya. Make it important.
"He's looking up to the heavens.
He's been reading all day
in his hut, brief life,
go out and preach, old man.
Yeah, he says, I do,
I do but today I've been
reading and preparing
long day's boat journey sea calm now. They are showing a movie. And for kids if they have a good enough turnout they'll have some kind of show. Maybe those jugglers we saw. Haribol. We have two Hare Krsna who can come and teach folks how to chant japa, do yoga, and answer questions. "Ladies and gentlemen, we are fortunate to have two sadhus onboard for today's crossing to England. They will be available to answer questions on the spiritual life from two to four o'clock and they will sing bhajanas. Please come, and it's nonsectarian. They are Gaudiya Vaishnava monks but say they honor all religions and want to help any person be better at the religion they practice."
"Five more hours and more. Then we get back into the van, into England, and then look for a place to park for the night. May get to rest as late as ten, eh? That will take away from the early A.M. program you'd like to do tomorrow.
"Discover I am a person who has a taste for devotion to Lord Caitanya. I can tell a story. It can come out as a poem, as art or I just follow my hand and spirit.
"5:00 P.M.
"This trip isn't over yet. It seems ridiculously long and roundabout.
"Talking with M. about my lack of solid standing as a U.S. citizen. If I lose my passport, I can't show family or a normal residence or job (or credit cards, licenses, etc.) in the U.S. But I do have a birth certificate, and my story is that I am a member of the Hare Krsna movement and live at the Gita-nagari temple; although I travel a lot, that is my "permanent" address. And I can bring a cult member into the passport office to vouch for my standing. So, I guess I can pass as a subculture citizen of sorts. Funny I should worry about that. Krsna will take care of me one way or another. He may choose to keep me not identified or living in the U.S.A. It's up to Him in the form of providence or His direct handling of this sisya of Swamiji.
"Prabhupada says you may be satisfied to live in America and think in your next life you will again be born there, but that is not in your control.
"So, I'm writing to give meaning to this trip to the haven. Don't want to feel these days are spent only in moving the package from one place to another. I'm not dead contents in a carton. I'm writing as we go and hope to show (show who?) that this is as good a time as we treat itself. At least I can't accept that this is only transit superficially and stress, cues and moves.
"Fact is we are due to arrive at 7:30 P.M. at Plymouth, England. Hurdles tonight: get off the ferry (how long?); go through Customs (what questions and delays?); get on the highway and drive until we find a legitimate place to stay for the night. And tomorrow, five hours' drive to another ferry.
"Okay, okay,
"You are a devotee of Madana-mohana, Govinda, and Gopinatha. You have no earthly permanent address. You tolerate and don't scratch at mosquito bites (or else they'll bleed). And the same goes for illicit sex desires. Fell asleep last night in a nautical condition, both horns and shudder of engines starting up and pushing out to sea. That led to a train of thought of me in the Navy, actual memories and fantasies too. I imagined watching the Saratoga pushed by tugs out of Mayport for her final trip to the scrapyard. And me in some Public Information Office and then the thought of the echelons of Navy officers, how one goes from lieutenant, lieutenant commander, commander (three regular stripes), captain, admiral…and back down. Finally, I fell asleep and it was a comfortable berth. Thought of Srila Prabhupada writing in his diary that at first the boat was so smooth in the water he didn't even know they had started. Thanks to Lord Krsna, he wrote, for inspiring Sumati Murarji to make all these arrangements – to give him the use of the proprietor's cabin. Dear Srila Prabhupada.
"Had an idea for my notes while reading Caitanya-caritamrta: allow yourself to make doodles, picture-grams, loose notations, and a voice of poem-fragment, appeal, cry . . .Write not always in between the ruled lines of the page but at angles, grow larger, etc. If I go with this, it could be a nice addition. This I offer as a piece of evidence that good ideas can come while the body is in transit. I'm also simmering and occasionally bubbling with what I might do in the retreat(s)."
---

Writing Sessions at Castlegregory, Ireland, 1993Start slowly, start fastly, offer your obeisances to your spiritual master, His Divine Grace A.C. Bhaktivedanta Swami Prabhupada. You just drew his picture with your pencils. He appears carved out of wood…
---
I found I had hit a stride in my search for theme in writing, then began to feel the structure limiting me. After all, I had given myself precious time to write full-time; I wanted to enter the experience as fully as possible. For me, this means free-writing—writing sessions with no predetermined shape, theme, or topic…
---
Daily Compositions
This volume is comprised of three parts: prose meditations, free-writes, and poems each of which will be discussed in turn. As an introduction, a brief essay by the author, On Genre, has also been included to provide contextual coordinates for the writing which follows…
---
Meditations & Poems
A comprehensive retrospective of poetic achievement and prose meditations, using a new trajectory described as "free-writing". This volume will offer to readers an experience of the creativity versatility which is a hallmark of this author's writing.
---
Kaleidoscope
Stream of consciousness poetry that moves with the shifting shapes and colors characteristic of a kaleidoscope itself around the themes of authenticity. This is a book will transport you to the far reaches of the author's heart and soul in daring ways and will move you to experience your own inner kaleidoscope.
Read more »
---
Seeking New Land
A narrative poem. challenging and profound, about the journey of an itinerant monk who pursues new means of self-expression.The reader is invited to discover his or her own spiritual pilgrimage within these pages as the author pushes every literary boundary to boldly create something wholly new and inspiring.