Free Write Journal #186
March 11, 2022
Free Writes
Book Production Meeting
We had our book production meeting on Zoom today at 11:45 A.M. In attendance were Krishna Bhajana, his wife Satyasara dasi, Lal Krishna dasa from Oxford, John Endler from Hartford, Connecticut, Baladeva as manager and secretary, and me as author. I announced that since 2022 was the year in which we planned to print the books I've written about Prabhupada, we should get them all ready for both the summer meeting in early July and the Vyasa-puja meeting in early December. We went over the list of books that Krishna Bhajana had prepared. He wrote down that we had Prabhupada Meditations Volumes 1-4 already in stock, but that was not correct. We don't have any in stock at Viraha Bhavan, nor does Nitai have any in India. But Nitai sent the files to Krishna Bhajana so we can print them in America. But it will take some time. We do have in stock lots of Prabhupada Nectars. We have Srila Prabhupada Smaranam ready to print, and One Hundred Prabhupada Poems ready to print. Life with the Perfect Master is also ready to print. The manuscript of Calling Out to Srila Prabhupada is typed and sent to me for review. The typing for Remembering Srila Prabhupada is completed and is being proofread. Prabhupada Appreciation and Here Is Srila Prabhupada are also typed and being corrected and proofread by Krishna Bhajana. The Srila Prabhupada Samadhi Diary is typed, and with Krishna Kripa for the proofreading. Prabhupada Meditations, Volumes 5-6, drawn from sections of previously printed books, have been typed up and nearly ready to assemble for proofreading. Those volumes, five and six, should be a surprise to the devotees. Then there are three volumes of My Letters from Srila Prabhupada which are typed and awaiting correction and proofreading. It's feasible that all these books can be printed and ready for early July, but it will take some concentration and marathon work. We have some time to type, edit and print more books about Prabhupada in time for the Vyasa-puja meeting. This was announced as our change in plans today in the Zoom meeting. Previously we were going to print a few new books for July, but now we're planning to dedicate all of 2022 to getting all of the books about Prabhupada completed this year. The devotees on the production team didn't balk at my instruction to get all the books about Prabhupada this year. They've achieved wonders before, and they seem ready to attempt this new revved-up schedule.
Experimental Books
At our Zoom meeting we also discussed printing my more experimental books, stream-of-consciousness poetry, free writing and other books like that. Krishna Bhajana says he thinks we have a market with new-generation devotees. He mentioned a top book distributor in Wales who was also an artist and likes my avant-garde books. John Endler spoke up and said we have been planning ahead for years to reach a market of seekers and people who would like my more daring expressions. They both thought there was a market for them, and I liked hearing it from the book team. That's something for the future.
Calling Out to Srila Prabhupada
Krishna Bhajana sent me the completed manuscript of Calling Out to Srila Prabhupada, which has been long out of print. I read it and approved of it for being reprinted as a book. Some of the "calling outs" are based on Sanskrit models written by the Gosvamis. These are English versions:
"O Prabhupada, who brought liberation and bhakti and maha-mantra and Krsna into the English language, and who brought puris and halava and dhal and sabji into the Western diet, and who didn't insist that his followers shave their heads and wear robes and saris, but whose disciples wanted to change their jeans for dhotis and wanted to wear tilaka and kunti mala for pleasing you."
Calling Out also has "Found Poems of Srila Prabhupada." In the introduction to these, I have found poetic statements in Prabhupada's lectures and books and printed them as poems that I have "discovered" and left almost just as he spoke them. This is Prabhupada almost verbatim, in free verse. Although the method of discovery may seem easy enough, I went through many lectures and selected only what I felt was the most striking and presentable. Here is an example from a letter of 2 January 1973:
"Stick to one duty."
"You appear a little restless,
I know that is your nature.
But you needn't look further to find some challenge.
The challenge is near at hand."
"Suppose I am established as a good carpenter,
then it will be foolish if after some time
I say, 'Oh, I have done this cutting of woods,
now it is boring, let me become a doctor.'
Krsna doesn't want that,
and it is not common sense."
"I should stick to one duty
which is just suitable for me
I'm obliged to perform it
to the best of my ability,
and not leave it,
even for a so-called good cause,
as when Arjuna wanted to stop fighting."
Visit by Jayanta and Hari Vilasa
Jayanta is our attorney in trying to get visas for the two disciples of mine who are coming to live with Krsna dasi, and Hari Vilasa is the vice president of the Brooklyn temple where Hansarupa is the president. We talked for an hour and a half and then had lunch. I told Hari Vilasa that I wasn't a very good conversationalist, and he said my books made up for that. He seemed to be familiar with a number of my books. He's thirty years old and will be married in April. He's young enough to be my son or grandson, and it was very pleasant meeting him. Jayanta did most of the talking. He spoke about how he came to Krsna consciousness, and how upset his mother was. I told him to write about his entering Krsna consciousness, but he says he hesitates because the conflict with his mother was so great. She even went to the temple and argued with the T.P., Bhavananda. She was very offensive, and Bhavananda finally told her to leave. All this is embarrassing now to Jayanta. Jayanta said he met me many years ago when he was a student at the University of Wisconsin. I was there preaching with Jayadvaita Maharaja. I asked Jayanta if he could do some proofreading for me, but he declined. Now he does proofreading of my Free Write Journal. Downstairs after lunch, Baladeva signed some checks and forms in our case of attempting to get long-term visas for Anuradha dasi and Silavati dasi. I was grateful that the two devotees came all the way from Brooklyn just to meet with us and get some legal work done.
Hari Vilasa
I very much liked meeting Hari Vilasa, the vice president of the Brooklyn temple. He's 30 years old, and I told him I'm old enough to be his father or grandfather. He asked me how I was able to be a manager, since my nature is reclusive. How did I do it? I told him I was managing while Prabhupada was on the planet, and it was out of obedience to him that I was able to do the job. Prabhupada once wrote me in a letter, "You are not a good manager, but I keep you on the GBC because you do as I say." Hari Vilasa said he sometimes finds management difficult. But Jayanta said this was not the fact, Hari Vilasa was a very good manager. He handles all the hard work as a right-hand man to Hansarupa. On another occasion, when there was a scandal in the Brooklyn temple and the temple president had to resign, Gopal Krishna asked if I could go in and take over. Gopal Krishna told me that Prabhupada said, "Satsvarupa is a perfect gentleman. But he is not a good manager." Tamal Krishna Maharaja, as a close friend, used to come to Gita Nagari and help me manage.
Since Hari Vilasa left, I've had two dreams where I was associating with him and his young devotee friends in Brooklyn. It seems very odd to me that I'm so much older than him, and that at 30 years old I was also managing in ISKCON. He's getting married in April, and that was the age that I got married too (at Prabhupada's request). But that seems like another life long ago to me now—a past life. I congratulate Hari Vilasa and wish him well in his flourishing life.
Social Worker Visit
A social worker named Simone came by to visit and see how I was doing. She spent an hour with Baladeva inspecting the safety facilities in the house for my well-being. She was impressed by our stairlift and the rail in the bathroom and the big shower. She liked my main room upstairs but didn't glance at the Deities of Radha-Govinda and Srila Prabhupada. She said we should have a hard-copy original of the medical proxy form with Baladeva's and Saci Suta's names on it so that it's very clear who is allowed to speak for me and give information about me. She's sending us "pink sheets" which contain statements of my desires and who I want to represent me on my behalf. The pink sheet needs to be signed by a doctor, so it makes it a serious document.
"Little Life"
We had veggie burgers and French fries today, but Baladeva spaced out and started the brown rice (which is one of the main ingredients to the veggie burger) late. So we ate late. But now we've arranged it that the reading starts on time, even if prasadam isn't ready.
I'm anxiously awaiting for the mail delivery of the 24-inch by 36-inch photo of Sri-Sri Radha-Kalachandji which Sankirtana has mailed me. I plan to frame it and put it on the wall under the other big picture I have of Radha-Kalachandji in the early years. I chant my sixteen rounds before Them early in the morning as I sit up in bed.
I think I'll ask Krishna Bhajana what manuscript he thinks I should read next. It seems that all the books I wrote about Prabhupada are typed, and I've read them. So he could suggest what book I should read that will be printed in the future, like The Yellow Submarine or California Search for Gold. Lal Krishna has to make all the covers and layout for the books I wrote about Srila Prabhupada. That includes Prabhupada Meditations 1-6 and Calling Out to Srila Prabhupada.
Krsna dasi may already be on her Trinidad-to-New York flight. She will stay over with her friend Hemamukhi in New York, and then catch a ride with Amit from New York City to Viraha Bhavan. The other two women are applying at the embassy in Ireland, but they won't come here until the end of March.
"Rabbits"
In trying to discover "rabbits," or confidential things to put into my Journal, I find it hard to follow. In our out-loud reading today we heard how Maharaja Prthu kept his treasury a secret, and he also didn't reveal his plans. He was very grave, and no one could find out what he was going to do. In his purport, Prabhupada writes that not only Maharaja Prthu but even his ordinary citizens should not reveal their treasuries or their plans. My tendency has been to write confessionally, but some things are better left unsaid. Some plans are so tentative that I don't want to release them until they become realities. Otherwise, if I told a plan too early, it might not actually come true; things may change, and I'd have to change my plans. But I will keep searching for acceptable "rabbits."
Starting a New Journal
I'm writing with ballpoint pen on legal pad a New Journal 2022. In response to my frequently recurring dream that I have a strong desire to write and I keep finding obstacles and interruptions to prevent me—I broke the ice and actually started a new Journal dated March 1st. I wrote whatever came into my mind on several different topics, and I hope to keep it up and gain some substance. In my dream I'm always frustrated from writing because of interruptions, but in my awake life there are no real obstacles or interruptions. So I just went ahead and started writing. I was partly inspired by hearing Narayana Kavaca is keeping a daily journal, and he's getting good response from his readers. I also remembered Mark Twain's decision on how to write an autobiography. He just writes whatever comes to his mind from any part of his life and keeps going with it until he's exhausted it. Then he takes a pause and waits for the next inspiration and writes like that. So far I've done two pages, and I want to keep it up as long as possible! This could be a big breakthrough on the frustration experienced in the recurring dreams.
***
In the new Journal I spent time on the Russian invasion of Ukraine, and now I'm writing about Narada's instructing Vyasadeva to concentrate on glorification of Krsna in his books. This is different from the Free Write Journal I do every day. I intend to compile it without posting it for a long time.
***
March 7: I became pooped-out with this New Journal. Too much competition with discovering two "rabbits" daily for the Free Write Journal. Baladeva suggests I make lists and free-write off them.
List:
Need for new used car.
One last snowfall
The war in Ukraine
John Endler Visits
John Endler is "over the moon" about my writing. He wants to make videos of him describing my work. He said it's the old Baptist minister in him that wants to spread the good news. He quoted Jesus Christ, who said if you have a light, you don't want to keep it under a bushel, but you want to uncover it and let the world see it. He's also writing about my writing. He's writing commentary after my "smrti." John is reading my manuscript The Yellow Submarine, a long journal I wrote in Delaware. It has a lot of jazz references in it, and although he knows that it's a closed chapter with me, he strongly contends that it was a wonderful period in itself and shouldn't be censored. He said it will be appealing to young seekers, and he mentioned the kind of people who it would appeal to. He keeps saying that whatever I write about is glorification of Vrndavana. He finds my writing to Charles Mingus to be like the singing and music in the spiritual Goloka.
Seva
Kirtan Rasa came for lunch today, and Baladeva prepared idlis. Everyone agreed they made a nice meal. But the downside is that making idlis leaves a big mess in the kitchen because of all the paraphernalia needed to produce them. We are waiting for some more help to arrive here, but it's still in the planning stage and can't be told. Baladeva is at "third-degree toast" and is barely hanging on by a thread.
Book Excerpts
From A Poor Man Reads the Bhagavatam, Volume 2
pp.300–1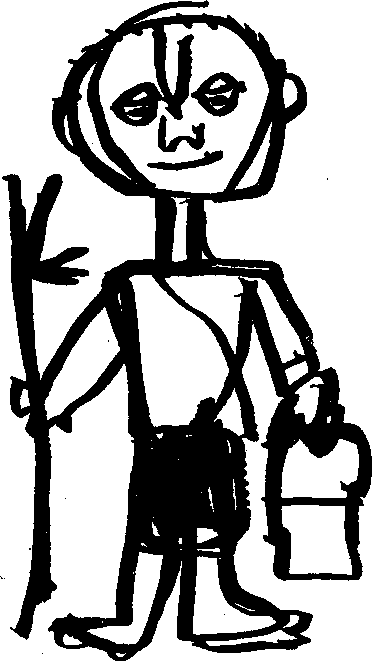 "O Lord, I want to be Your devotee. I want to understand the Bhagavatam and to write on its themes both to build my own faith and to build the faith of others. I know I am acting as a writer and that I go beyond even that. I am writing to the self and to You. They are mutually inclusive.
"I am ignorant of to whom Vyasa was kind. I am the one who still remembers that children's 78 rpm record about Santa's workshop. I must have heard it when I was very small—no music, but Mr. and Mrs. Claus talking at their workshop at the North Pole. They were busy making toys and preparing for Santa (I just wrote the word 'Krsna' instead of Santa and then crossed it out: Please forgive me). At one point the door to the workshop opened and the wind-up soldiers marched out. 'Shut the door! Shut the door!' Mrs. Claus shouted. The scene was busy and noisy, happy with elves hammering. I thought it was actually recorded at the North Pole, right in Santa's toy shop. Why do I mention it now? Because I allow memories to surface here.
"That pot is spitting again, the water hissing as it hits the hot stove. Let it be.
"How are you out there, folks? Do you believe in Santa? Should we close the door before the soldiers march out? O Rudolph, O mortal frame—all those years of delusion. Now my father is dead. People write of their parents' death, but I wasn't even informed of my own father's passing away until almost ten years later. I'm the alienated cultist.
"That's all right. Narada had a similar situation—an orphan blessed with spiritual life. If you've got a nice relationship with your parents, good; give them Krsna consciousness. I am grateful that Krsna has protected me from attachment. He knows I am soft clay. I need to be free to be a devotee, the son of a true father, and to be molded by him.
"Thank You, Lord, and
I write this missive
while boiling water spits and hisses.
If I could sing
I'd say
'Watch out, world,
you're heading for disaster.'
O world, taste the mercy of Krsna consciousness.
Chant the holy names.
Drop your pride
and simply remember that you will die.
Call out God's name in love.
Let me accept this advice for myself."
"The worst is yet to come. A devotee has hari-nama. I'm not such a savior or warrior or scholar, but I have hari-nama. Chant while you can.
***
pp.302-3
"Mercy descends and makes us eligible to receive the Bhagavatam's message. Otherwise we are stuck in the lower modes. The mode of goodness is also material. Without understanding that Krsna is the goal of the Vedas, we cannot surpass it, but fall back down to passion and ignorance. I could get a good mark on a Krsna conscious theory exam for sannyasis.
"Q: What is the goal of the Vedas?
"A: Krsna is the goal. Vedais ca sarvair.
"But don't ask me to quote too many slokas. I wouldn't be able to do that. Oh, and I'm not so good on the intricacies of sankhya-yoga. Or at splitting hairs about karma and free will (i.e. understanding to what degree we are able to act in the world and to what degree the material nature is acting upon us). And I've never stopped to memorize certain bhajanas. I bluff my way through, and if they ask me to sing them, I defer to others. My brain is just too old to master too much new stuff. I get by on what I know.
"O Vyasadeva, I want to read your book in a quiet place and always remain a devotee. The world thinks I am irrelevant, but I don't care. What matters is that I believe in your power and kindness, dear Bhagavan Vyasa, and the mercy of my spiritual master, Srila Prabhupada. Any one of the nine limbs can save me. I am alone now and will be alone at death, but not completely alone. I will have you by my side in the form of your instructions. But the world does not want that. They think death is the end. No point giving it any energy. That's their ignorance—the ignorance we have to countermand. They place all their hopes in more liberal governments, more kindness toward women and blacks and peace between Christians and Muslims. You have already given the solution, but they are too mad to hear it."
***
pp.306–7
"ISKCON devotees shouldn't think that we have automatically risen to a status above the three lower classes. Lord Caitanya says that we should think of ourselves as lower than a blade of grass. How, then, are we able to read the post-graduate literature in the form of the Srimad-Bhagavatam and Caitanya-caritamrta? What are our qualifications?
"The fact is that we have been permitted to live in the rarefied atmosphere of the holy dhamas, either in Vrndavana or Mayapur or in our local ISKCON dhamas. We have also been permitted to savor the nectar of the holy names. Have we jumped over our actual status as sudras, women, and dvija-bandhus? No, we are following Srila Prabhupada and accepting his mercy. Srila Prabhupada has provided us with a step-by-step approach to Krsna consciousness, but it is also a quick-moving one. For example, we begin by studying the Bhagavad-gita, the ABCs of spiritual knowledge. Then we study the Srimad-Bhagavatam, always under the spiritual master's guidance, inquiring from him submissively and rendering him service. This is our vaidhi-bhakti, our regulated bhakti that gradually delivers us our qualification by the guru's mercy to practice spontaneous devotion. In the meantime, we also develop the qualities of brahminical life. Those qualities become especially strong when we maintain our initiation vows. Those vows automatically allow us to practice nonviolence, cleanliness, tolerance, and mercy. Aside from the standard regulative principles and practices of bhakti-yoga, no other samskaras are possible or necessary."
***
pp.309–10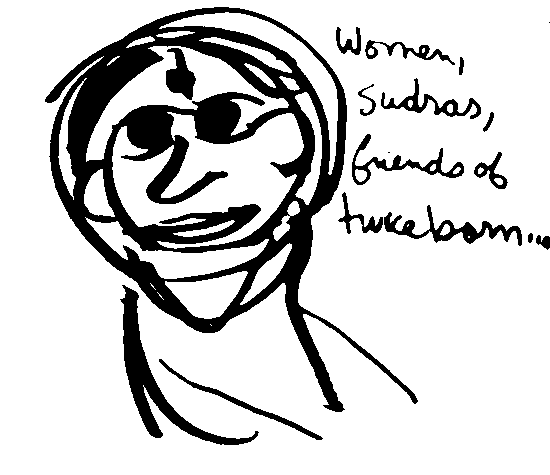 "Prabhupada says that our submissiveness will increase as we realize the urgency of practicing spiritual life. If we don't feel that death is practically upon us and know that we could be swept away by time and karma, we will not feel the necessity to give up our sense gratification and mental speculation. Therefore Prabhupada defines qualification to hear not in esoteric terms—we don't have to know any secret mantras or perform any Vedic rites or be born in a brahmana family or even have been purified through 'samskaras'—but according to the candidate's submission and surrender to a bona fide spiritual master.
"Real knowledge culminates in devotion to Krsna. We need to hear of Krsna's supremacy in the Bhagavad-gita, and we need to be careful not to hear from the wrong source, especially from the nondevotees, even if they claim to be saints or Vedic scholars. Milk touched by the lips of a serpent causes poisonous effects."
***
pp.311-13
"Someone once told me that I should renounce writing until I had matured. He thought I should wait until I had something really valuable to say.
"I read that you should always be Krsna conscious and that you shouldn't engage in mundane thoughts and occupations. Then my inner critic started roughing me up. I won't repeat all his arguments here, but I'm sure you can guess what he had to say. He's finally let up on the pressure, and I'm back to tell the awful truth.
Mind exposed in flow
of words
that come
from my black indoor
booties and the
silver flash of my Seiko watchband.
I admit I tremble
flinch
was contaminated, and
let it flow through me and out.
I laughed but you didn't hear it.
"I've arrived at the stage of always wanting to talk of Krsna and demanding nothing less.
"Vyasa, we are all less intelligent in this age. I know that we have misused this designation and applied it more specifically to ISKCON's women. Why are women discussed as if they have far less intelligence and as a gender having only the designations of 'wife' and 'mother' and nothing else?
"I won't touch that now, but will leave it for the forums and panels and newsletters. I simply want to maintain."
***
pp.314-15
"What's the matter? Vyasadeva introduces the subject as a puzzle. 'It was expected that he would be satisfied,' Srila Prabhupada writes. Someone who is above material sense gratification, who is atmarama or self-satisfied, and who has dedicated himself to helping others—we would expect that at least he would feel satisfaction. But no. Vyasadeva then looks within to find the cause of his unhappiness.
"Devotees want to immediately apply this particular section of the Bhagavatam to themselves or to theoretical cases in ISKCON. 'Why do we feel dissatisfied even when our activities are sanctioned?' 'Why, after steadily doing service for many years, does someone want to give it up to do more direct service for the spiritual master? Is that an immature understanding?'
"Questions grind axes. We beg the question for ourselves. But what about Vyasadeva and the history? Let's stay with him while we can. We can find personal applications later. The Bhagavatam's histories are meant to be studied in themselves. Few are allegorical. We need to feel with the main characters first and apply the lessons later. That's part of getting the mercy too. Taste Vyasadeva's bitterness, his profound puzzlement, and Narada's mercy. We need guru; even Vyasadeva needed guru. It's from guru that we learn about root causes.
"Vyasadeva wrote the right books but he
was not satisfied, not at heart.
What is heart, and what's the matter?
If I heard that I didn't write directly about Krsna
would I be able to change that?
No one expects me to be satisfied.
There are always peas under my mattress
and quoting other authors doesn't help.
When the sun beats on me I get a headache,
and I feel a splinter under my skin.
O adhyatmic ailments, I am not this body.
But I'm dissatisfied and don't know
why I can't love Krsna, or why
I don't.
"Robin red-breast, I saw you return on your yellow spindly legs, standing on a three-foot stump. You look here and there for bears? The coyote I heard yipping in the dark this morning?
"Are you dissatisfied?"
***
pp.315-16
"I like it that Vyasadeva began his search by looking within. He knew it wasn't a material dissatisfaction, not something related to body or mind. He searched his heart for the root cause, which is always beyond matter.
We applaud the writer.
Still he's dissatisfied.
Give him an award, poignant
appreciation: "I cried when
I read your essay." Still
not satisfied.
What the hell does he want?
"Carob pies with whipped cream to remind him of Mom? Peace? A free trip to anywhere? He ought to be satisfied.
"My life's a joke, but not Vyasa's. We tend to seek happiness elsewhere than the self. It's a common disease. Just look at all the dejected-looking people. No joie de vivre. Marilyn Monroe commits suicide, Elvis gorges himself to death—no one can keep fame and youth forever, and what was once satisfying later turns into poison. That's how it is. Prabhupada says, 'Perfection is never attained until one is satisfied at heart. This satisfaction of heart has to be searched out beyond matter.' (Bhag. 1.4.27, purport)
"Dissatisfied also means not satiated. It could mean we would never tire of hearing krsna-katha if we would only give ourselves a chance. Vyasa's dissatisfaction is something different. He did something that seemed good and important and for which the sages praised him, but within his own self he didn't feel happiness. When we feel that ourselves, we know that we have to go all out in Krsna consciousness. Nothing else will satisfy. Material happiness is only the temporary warding off of blows.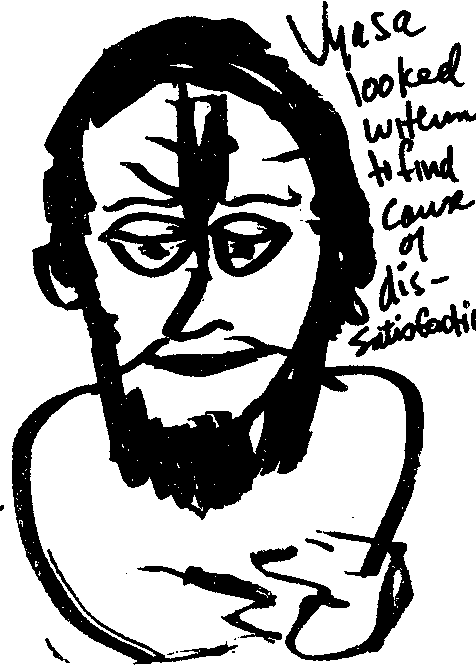 "It was expected that Vyasadeva would be satisfied. What is exciting to me about Vyasadeva's story is that although he thinks he has completed his life's work, he is actually only on the verge of it. He is about to discover his real purpose. Krsna can now be the center of his life. He doesn't have to pander to anyone who doesn't like krsna-katha. He can speak straight, but he'll have his vision first."
From The Story of My Life, Volume 2
pp.178-79
"In each of the disciples' meetings, I have been citing references and speaking about the same topics: 1) living in Vrndavana, 2) reading the scriptures, 3) japa, and 4) the relationship between the spiritual master and the disciple.
"When speaking on the last topic, I always read something from one of my books. My point is that the best way my disciples can relate to me is by reading my books. Only in my writing am I able to be most honest and intimate. Last night I read from the first chapter of my book Radio Shows. It ends with the words 'This has become the assumption of my writing life and the code I live by.' In that section of the book I describe my participation in a harinama party in Verona, Italy. My perceptions were those of the mechanical man—not very deep—but then I assert that it is worthwhile to write about any experience in order to preserve the moment, "rather than lose, lose, lose – ayur harati vai pumsam."
"Comment: There are some disciples who don't read my books. I tell them that they should read my books, but some of them are simply not readers. Still, it's possible such disciples can have a close relationship with me, even without reading my books."
From My Letters from Srila Prabhupada, Volume Three: "I Am Never Displeased with Any Member."
pp.131-32
"Prabhupada also never wanted the anglicized spellings of Sanskrit words — 'Chaitanya' for Caitanya, 'Krishna' for Krsna, 'Bhim' for Bhima. In ISKCON today it is gradually becoming fashionable to revert to easily pronounced but academically incorrect spellings for the Sanskrit words, but that was never Prabhupada's standard for his own books. Srila Prabhupada was bold in that way; he knew that very few readers would know how to accommodate the diacritics and proper spellings in their reading, but he planned that they could learn. On this basis, Prabhupada instructed Prdyumna to spell 'Krsna' with the full diacritics and not to use the anglicized 'Krishna.' Such letters to the Press devotees were the basis upon which the BBT established its publishing standards.
"Prabhupada's letters—and sometimes his lectures—often contained expressions of gratitude toward his disciples for the help they were giving him in his service to his spiritual master. He mentioned this especially in relation to the devotees who were helping him to print books and so carry on his Guru Maharaja's instruction to preach by the brhad-mrdanga. Prabhupada saw publishing his books as his main form of preaching. Unlike his Godbrothers, he said he was not interested in establishing buildings or collecting followers; his Guru Maharaja had given him the order that if ever he got money, he should print books."
***
p.234
"My memories of 1970 are not always precise. I do, however, remember the faith I had in Srila Prabhupada during this time, specifically in what he told us about Krsna and his presentation of the Srimad-Bhagavatam. My faith at that time was very simple, and although my life and ideas may have become more complex over the intervening years, I always want to return to that simple faith.
"Am I seeing the past with rose-colored glasses? Was ISKCON really like I remember it? Am I sentimental in the retelling? Perhaps I am somewhat. Still, there is something valid in these memories and sentiments. I was present then, and something wonderful happened to me. I still feel that 'something' when I listen to tapes of Prabhupada dictating Krsna book and hearing him clicking his Dictaphone on and off. I edited that book, was involved in the artwork (if only to relay questions back and forth), and did some of the typing. When I listen to Prabhupada from the late 1960s and early 1970s, I feel the same flash of fresh enthusiasm, the same innocence I felt in those days. I am just as willing to repeat his words now as I was then."
***
pp.283-84
"In the last paragraph of this letter, Prabhupada mentions the police commissioner's letter. Although the reference to it is brief, it was an important issue. ISKCON Boston was quite concerned with obtaining the legal right to chant on the street. We had discussed much of this with Prabhupada when he had come. The police interfered with our harinamas constantly. They have been doing this since our arrival in Boston, saying that we were disturbing the peace. They were especially adamant about our not distributing pamphlets, incense, flowers, or books and canvassing for donations. By 1970, this police block had become a legal question. We wanted to know what it was about our activities that was illegal.
"Other centers were experiencing similar difficulties. There was no legal precedent on the books for dealing with harinamas. We didn't think they had a right to prosecute us. Sometimes devotees would both obey the police and disobeyed them; they would stop what they were doing when approached by the police in one section of town, then move to another section of town and begin the same activity again until they were again stopped.
"I don't remember the exact details, but somehow I decided to go to the library to research the Supreme Court's decision about the type of activity we were carrying out. I discovered that almost all these decisions were made by Supreme Court Justice Warren in the '40s and '50s, and almost all the cases referred to the Jehovah's Witnesses. There was one lawyer, I noticed—he was himself a Jehovah's Witness—who had gone again and again to the Supreme Court and won. In delivering the judgment, Justice Warren had made strong statements about how the First Amendment approves the right of people to share their religion in public places. The fact that they ask for donations didn't make it any less religious. Thus I discovered that the Supreme Court had clearly defended ISKCON's right to witness our religion on the streets and to collect money for our tracts.
"After that, whenever we would be stopped by the police, I would explain that to them. I even carried photocopies of the judgments. The average policeman on his beat, however, did not care about Supreme Court decisions, and eventually I went to see an ACLU lawyer. The lawyers were interested in us because they knew about the Supreme Court decisions and that the police were defying them. One young lawyer in particular took interest in our case. He met people behind the scenes, and because he was a lawyer, they couldn't brush him off. He had lunch with the city attorney, who told him the police should leave us alone. Then he told me to call him if anything else happened."
From My Search Through Books
pp.136-37
"I was reading books that were not recommended to me by the 'elders' of society and government, and there was pleasure in that. I was searching for honesty, and I appreciated it in these authors. But their mixture of corruption and art was degrading. As I see it now, they did not give a clear spiritual message. As we cannot dismiss the honesty of these authors, neither can we dismiss the need for literatures that will save us at the time of death. It is not a small omission when writers do not know anything about the self. If a dog could write, it would also give us an honest account, which might produce a thrilling kind of literature never before experienced. But by reading the dog's life, a man could not solve his greatest problems. Literature should be more than mere entertainment or even thoughtfulness or 'honesty,' which are all very limited. We should be able to have all the entertainment value and honesty that any ordinary man or dog—or extraordinary author—can provide, but at the same time, we should be able to hear from someone who is trying to free himself from birth and death, and who is following reliable authorities. Whatever 'dynamite' charge is in those authors, it comes from the Supersoul within each person's heart. The same honesty to experience and unpretention can also be used in Krsna's service. New vistas of Krsna conscious literature can be written by honest persons confronting life, but uplifting us instead of pushing our faces in the muck."
From Last Days of the Year
pp.101-2
"Notes #17
"Well, my inner storms of doubt and the desire to leave here early have died down. I am now looking for a breakthrough. That is, that Krsna may reveal to me what I can do to please Him most. I am prepared for anything. In the meantime, I decided I should go on peacefully with my devotional service, reading and writing and chanting my rounds. The Lord will indicate something more when He is ready.
"In my remaining days here, I will read Bhagavad-gita since I have finished all the Tenth Canto volumes I had with me. There is no shortage of reading material.
"No biting your lip while writing, and no headaches allowed.
"They gave me something to put up my nose and on my head when the pain comes, but I knew it wouldn't work. I saw the doctor (in Mayapur) for only ten minutes. After that, he met with Madhu, who brought a big haul of medicine, powders, and oils. I don't really believe in it, but we take them until they run out and that's it—until we find another hoax.
"Pardon me for my cynicism. I am going to try hypnotherapy next month, so I should talk about being gullible."
From The Story of My Life, Volume 1
pp.7-8
"The Little Piece of Paper
"One day while walking home from my welfare office job on Fifth Street in Manhattan I passed Second Avenue on the way to my apartment on Suffolk Street, just south of Houston Street. At the corner of Second Avenue and First Street my eye caught the window of the storefront. The signboard said "Matchless Gifts," and I had passed it many times. It was a curiosity shop and featured the sale of little matchboxes which had pictures on them from Hollywood movies. But now the window display was empty and the storefront vacant; they had gone out of business. There was a small piece of paper taped to the window with the following words: "Classes in Bhagavad-gita / Monday, Wednesday and Friday 7 P.M. Transcendental Sound Vibration."
"I had read the Bhagavad-gita in the Mentor paperback edition, translated by Swami Nikhilananda and Christopher Isherwood, and I was interested in the transcendental philosophy of the 'atma,' although I really couldn't understand it clearly. I decided to attend the class. That night, wearing black chino pants, dirty white sneakers and a drab shirt, I entered the door of the storefront about five minutes to seven. There were about five men in their twenties milling around or sitting on straw Chinese mats. A man with a ruddy-colored beard and curly hair approached me with a smile and greeted me. He introduced himself as Ray, and I told him I was Steve and we shook hands. He asked me if this was the first time I had attended the class and I said yes. I asked what to expect. He said the Swami would come out at any minute and he would explain everything. He would lead us in chanting and then he would give a lecture. Within a couple of minutes the Swami entered through the side door. He was a short, golden-hued monk from India. He slipped out of his pointy rubber shoes and walked over to a straw mat and sat facing the front door. The boys formed an audience facing him. He greeted a few of the boys who he already knew and then handed out a few pairs of hand cymbals. The cymbals were strung together with cloth. He struck up a 1-2-3 beat and indicated that others should follow. At first they couldn't catch the beat, but he stopped and deliberately began again, saying, 'One, two, three . . . one, two, three . . .' until everyone was playing in unison, slowly."
From Remembering Srila Prabhupada: A Free-Verse Rendition of the Life and Teachings of His Divine Grace A.C. Bhaktivedanta Swami Prabhupada, Founder-Acarya of the International Society for Krsna Consciousness
pp.73-74
"BHAJANAS
"Charms to soothe the savage beast—
that soft jingling and your deep voice.
They quieted to see
how you were alone with Krsna.
They sat and watched.
Not caring to flatter,
you gave them devotional songs,
singing of madhurya-lila
beyond the ken of the listeners.
Your eyes closed in ecstasy.
You didn't tell them to join,
but by a nod of the head
you indicated
it would be nice to sing,
Hare Krsna, Hare Krsna,
Krsna Krsna, Hare Hare,
Hare Rama, Hare Rama,
Rama, Rama, Hare Hare.
And a few persons
casually joined in chorus."
***
pp.342-43
"'WHEN I HEAR THAT MY BOOKS ARE SELLING NICELY, I BECOME ENERGETIC LIKE A YOUNG MAN'
Because he had no material desire
nothing material could encourage him;
but news of the books going out,
seeing his young followers take it seriously,
hearing competition between the temples,
translations into different languages,
favorable reviews by esteemed professors,
seeing copies of just-published volumes,
these were the sweet juices encouraging Srila Prabhupada.
As long as books were being printed
and widely distributed
the illness of his body
was relieved;
and problems for money
for construction in India
were solved.
'I never thought this Krsna Consciousness Movement
would have been so successful,' he said.
'Actually, the whole thing rests upon these books.
There is no such literature anywhere in the world
as our books. So go on selling more and more books!'
His clear message—
received from his Guru Maharaja
and carried down to us—
get the books out,
by hook or by crook,
which doesn't mean criminally,
but you have to find a way;
you cannot say,
'I cannot give out these books.'
It is his order for all time.
That is Prabhupada.
Everyone knows that's what he wants.
And that is what the people need."
From The Best I Could Do
pp.165-66
"Patri said that I wrote him a letter in which I quoted Srila Prabhupada saying, 'Philosophy means to keep death in front of you,' and that was better than the priest saying only, 'Sorry for your troubles.'
"Sorry
for your troubles.
But please give me a piecemeal.
I ate two muffins only, with whipped
cream atop them and couldn't chew the capatis.
No use even trying. And this is
the song of the wayfarer, in the last yellow
cottage on the lane just before the hill
and the sheep, and the lambkins are coming here
every day chewing grasses, the lambkins
are too young
to know any food but the mother's milk.
And this is the song limping
and the story has its place.
I think I shall not abandon the
timed, rhymed book,
book of babbling nonsense—you are
not that, but my own true thread, the stuff
of days, and I better feed the fire.
'Krsna, Krsna, Krsna': that was the song he sang
the night he left us at JFK in 1967,
'Krsna, Krsna, Krsna,' he was thinking of
going to India, back to Godhead
and now we hear it again sung on the tape."
From Passing Places, Eternal Truths: Travel Writings 1988-1996
pp.72–73
"1:21 A.M.
"Hare Krsna, Hare Krsna. In the van I have to whisper my first rounds so as not to wake Madhu. I want to bring those mantras somehow to the forefront of my consciousness and to dwell in them. Make this mental and prayerful effort.
"Krsna, Krsna. What else happened in Los Angeles? I am curious to know the result of the GBC resolutions. Did you hear about the sannyasi who had to go to the hospital? What about the one who has dropped out of external circulation? What's the latest about this and that? I tell myself not to be so curious. The essential news always seems to reach me eventually, if slowly. Better I tune in again and again to what Krsna is doing in Srimad-Bhagavatam and what Srila Prabhupada was doing, as described in his letters in 1967. I'm curious to savor the sweetness of his personal dealings with disciples, his care for them, his teaching, and his pushing them to preach and expand ISKCON. Curious to read the eternal sastra and the life and teachings of our Founder-Acarya.
"Be a source person."
From The Wild Garden: Collected Writings 1990-1993
pp.60–61
"Prayer rightly performed doesn't make one puffed up. It makes one feel tiny before the Supreme, and it opens one to honoring and helping other souls. Lord Caitanya states that we should become devoid of all sense of false prestige and ready to offer all respects to others. In such a state of mind one can chant the holy name of the Lord constantly.
"Humility and prayer should spread to all other activities in the day. Not that we meekly confess wrongs before God and then go out and lord it over everybody else. Just because we are deputed to act on Krsna's behalf doesn't mean we have a right to look down on others or to try to control them. Pride is a constant danger and sincere prayer will always help us to avoid it.
"There are many examples of exalted devotees who pray to the Lord to be spared from pride. Aware of his tendency to become puffed up, Lord Brahma submitted to the Supreme Lord:
"'I pray only to engage in His service in the creation of the material world, and I pray that I not be materially affected by my works, for thus I may be able to give up the false prestige of being the creator.' (Bhag. 3.9.23).

"When Lord Caitanya favored the leper Vasudeva, and transformed him into a beautiful young man, Vasudeva worried that he would become proud of the grace he had received. 'To protect the brahmana, Sri Caitanya Mahaprabhu advised him to chant the Hare Krsna mantra incessantly. By doing so, he would never become unnecessarily proud." (Cc. Madhya 7.147).
Writing Sessions
From Karttika Moon
 "PART TWO
"Karttika Lights," 1995
"Chapter Five (continued)
"6:20 A.M.
"Stopped for breakfast. M. is tired, takes rest over the front seats. Srad. serves breakfast. I am chanting and in my mind going over details of a morning schedule in a retreat—such as, 'When shall I go on a morning walk and when breakfast and when writing poems?' More things to do than time allows, and all things I want to do.
"On the ferry yesterday, this section from Peter London is worth repeating in my story:
'"Bearing witness, like any creative act, is a willful expression of what it feels like to be yourself. It is a simple act, and at the same time a courageous one.
You speak for yourself and you speak of yourself. You tell your own story.
Instead of claiming knowledge of others as in the statement, 'When people see the color blue, they experiencing a calming effect. Bearing witness more simply but courageously declares, 'When I see certain shades of brown, I begin to feel heavy, slow, somehow closed in.' Instead of speaking in the third person indefinite ('People are slow to anger about social injustices to minorities'), bearing witness speaks in the first person: 'Greens upset me!' . . .
"Bearing witness, in our speaking only of ourself and for ourself, allows everyone else to do likewise without anyone feeling misunderstood, for no one is claiming to have understood anyone else . . . Statements are understood as being accounts of the news from unique points in the universe. Bearing witness is indisputable, and therefore there are no grounds for dispute.

Bearing witness always draws from within, always makes the speaker the world's only expert on the subject. The authority of Bearing witness resides in its humility, in its speaking only of and for itself. What it speaks of may reflect a restricted range, but its truths are unshakable and their expression unusually sound.'

—No More Secondhand Art, pp. 84-85
"And then some. Back to that schedule. Just swim in it. As for this Karttika Lights, it might become one of many things I'm doing and fall off in interest both for me and the readers. It could take a very different shape, hardly recognizable as the same book. Or continue in diary-like fashion. But I can't report the same, it seems, because there will be no ferries, no P-stops, no excuse for not writing out for an hour. Hare Krsna; good.
"Elvis, 'Hold me tight, hold me true . . .' vying with the song of love for Krsna on the banks of Reva. It was no more than a five-minute T.V. documentary at most, but left its mark on me. Surely it will fade, since I'll give it no fresh input and I really don't desire it.
"I couldn't hear the announcements because of the loud rock'n'roll,' said a crippled, old man to some old ladies as they walked slowly down the stairs on the ferry toward the car deck. So, we were not the only ones who don't share the ferry company's choice of music and atmosphere. But most like it; it's good business to soak folks in that way.
"This is not only the last travel day of our trip from Spain but also the last of our 1995 European touring, and it may be the last of this van for us.
"8:45 A.M.
"We entered Killaloe town, where we will stay. M. wants the van entirely emptied. I told him I don't want my room to be a storage place. I need to keep my sights focused on the retreat, not on selling the van or other 'larger' issues.
"Sraddhavan is keeping a journal. He sets up a kitchen today. M. wants to go into Limerick to shop. I want to set up for the writing-reading weeks ahead. The more I think of it, it seems I'll not keep such a daily diary. But what else?
"Written directions – go past the Piper's Inn to a pink church. We go past a little graveyard with illustrations of Jesus Christ on the tombs. No sunrise over the Shannon but motorboats beside the big river. Some autumnal coloring but the trees are mostly green. I'm happy to be going there. And I contain that happiness so that it befits my old face and slow progress.
"Clean valleys, land divided. Wet. Yellow and blue means Tipperary is in the nationwide hurling competition. One pub is called 'The Hurlers.' Billboard: 'Guinness for Strength.' It shows a man pulling a cart and the horse riding in the cart.
"We feel lighthearted at the end of the journey, start a retreat.
"3:25 P.M.
"Everything went well, and we're in a modern house with all the amenities, even central heating. It's been raining and raining. Madhu is running around. So, there are lots of things and I don't have to tell you everything.
"Sraddhavan gave me a letter from someone in Australia. The letter says Prabhupada said words to the effect that (if I quote him correctly), 'There's no need for us to read any books other than Bhagavad-gita, Srimad-Bhagavatam, Caitanya-caritamrta, and Nectar of Devotion.'
"'But many of his disciples publish books on the understanding that Prabhupada is pleased to see the "family business" being carried on. Obviously, these books are to be read by devotees, but reading them would seem contrary to Prabhupada's saying there's no need to read any books other than those mentioned above. Myself (and other devotees I know) would find it extremely helpful to hear some comment from you on this apparent contradiction. I am certain you would have much enlightening insight. Please, if you find some time to reply, I would be very appreciative.'
"I don't know if this person is pulling my leg or what. I can give him the quote by Prabhupada writing to the gurukula boy, Dvarkadhisa. Or actually, the letter was to me. First, Prabhupada wrote to Dvarkadhisa and told him he should learn English so that he could write books. Then I wrote to Prabhupada and said, 'What is the need of any books other than what you write?' Then Prabhupada wrote back said that just as he had expanded the parampara, so we can expand it and we should, and that's the nature of Krsna consciousness.
"Of course, we always write in Back to Godhead magazine under Prabhupada's order. And who would not want additional books such as Prabhupada-lilamrta, Hari-sauri's Diary, and many others? And how could we imagine that the Krsna consciousness movement would never have any books other than the ones Prabhupada wrote? It could be a kind of cultural bankruptcy of its members that generations and generations went by and nobody ever wrote a book, everyone was afraid to write a book or was unable to in the name of faithfulness to Prabhupada. How silly.
"Hari-sauri also quotes Prabhupada criticizing the Gaudiya Maths for not producing any books other than their spiritual master's after forty years.
"But still, there's a sort of logical contradiction that the fellow wants settled. You could say that Prabhupada meant that those four books are sufficient. He also sometimes recommended in his purports some of the great books like Caitanya-bhagavata, Brhad-bhagavatamrta, and so on. Maybe we could say, 'As Atmatattva Prabhu says, first you should thoroughly study Prabhupada's books and then you can study other bona fide books.'
"I don't think I have to solve so-called logical contradictions. I myself favor the statement that we don't need any other books. Prabhupada's books are the main ones. That's all we need. And in fact, whatever we write should be an extension or like a footnote to those books. We should be faithful to those books. We should read them again and again our whole life, and that's our main spiritual nourishment and scripture. The other books are kind of lighter writing, and they all come from Prabhupada. That's all I can say, at least for now.
"Yeah, and then what happened? All day I moved in.
"Didja know what to write in the morning?
"Yes, I will. Night will bring a dream. I will bear witness. It will come to just talk truth. Don't avoid it. But some is too private."
---

Writing Sessions at Castlegregory, Ireland, 1993Start slowly, start fastly, offer your obeisances to your spiritual master, His Divine Grace A.C. Bhaktivedanta Swami Prabhupada. You just drew his picture with your pencils. He appears carved out of wood…
---
I found I had hit a stride in my search for theme in writing, then began to feel the structure limiting me. After all, I had given myself precious time to write full-time; I wanted to enter the experience as fully as possible. For me, this means free-writing—writing sessions with no predetermined shape, theme, or topic…
---
Daily Compositions
This volume is comprised of three parts: prose meditations, free-writes, and poems each of which will be discussed in turn. As an introduction, a brief essay by the author, On Genre, has also been included to provide contextual coordinates for the writing which follows…
---
Meditations & Poems
A comprehensive retrospective of poetic achievement and prose meditations, using a new trajectory described as "free-writing". This volume will offer to readers an experience of the creativity versatility which is a hallmark of this author's writing.
---
Kaleidoscope
Stream of consciousness poetry that moves with the shifting shapes and colors characteristic of a kaleidoscope itself around the themes of authenticity. This is a book will transport you to the far reaches of the author's heart and soul in daring ways and will move you to experience your own inner kaleidoscope.
Read more »
---
Seeking New Land
A narrative poem. challenging and profound, about the journey of an itinerant monk who pursues new means of self-expression.The reader is invited to discover his or her own spiritual pilgrimage within these pages as the author pushes every literary boundary to boldly create something wholly new and inspiring.