Free Write Journal #243
April 28, 2023
Free Writes
Harinama
Krishna Kripa is here today. He met up with Vicaru. They both know each other well because both have traveled around the world doing harinama in many cities and countries. Krishna Kripa is very dedicated to going out every day. He seeks out good climates. He encourages the devotees in each place he goes to go out with him. But sometimes when there is no one to go out with him, he goes out by himself. He does this frequently; he is fearless. Vicaru has been going out on harinama, playing a harmonium, for many years. Both of them have a collection of videos showing them out chanting on harinama with devotees. Today Krishna Kripa showed a video of Vicaru leading the kirtana near the Eiffel Tower in Paris. Three women devotees wearing saris were chanting and dancing to his kirtana.
On the advice of Sivaram Swami, Vicaru is taking a break from his nonstop traveling and going out on harinama. Sivaram Swami told him to go inward for a period and concentrate on his japa and reading. He is doing that now by staying with me and the devotees in Viraha Bhavan. I hope Vicaru doesn't get a "hot foot" and leave.
The Set of Sixteen Books About Srila Prabhupada
In the year 2022, my book team reprinted sixteen books about Srila Prabhupada, which I wrote but were long out of print. We just heard that Krishna Kripa bought a set of these sixteen books, and he's going to donate them to the library of the Brooklyn ISKCON temple. There are only a few sets left at the "festival prices." After that, they will only be available on Amazon for a higher cost.
Krishna Kripa Brahmacari
Krishna Kripa makes his career in Krsna consciousness by going out on harinama almost every day, and he travels all over the world doing it. Sometimes he goes out even by himself. He was visiting his old mother who lives nearby here, and he dropped by Viraha Bhavan to have lunch with us. He tried to induce our temporary servant, Vicaru, to go out with him on harinama in a nearby town, Hudson. Vicaru wasn't feeling well, and he wanted to continue his practice of reading my books and serving me. Krishna Kripa tried to drum up other people near Stuyvesant Falls to go out with him, but despite his endeavors he didn't get anyone, and so he didn't go himself.
Krishna Kripa is helping me very much with my books. Krsna-bhajana gives him books they want to print of mine that are out of print, and Krishna Kripa does proofreading on them. He's good at that service, and I thank him.
It was a real test for Vicaru not to go out on harinama. He himself is a harinama man with much experience of going out all over the world, playing harmonium and leading kirtanas. But he stuck to his promise to stay and serve here at Viraha Bhavan. He's been doing it for a week.
Garuda Is Coming
Garuda Prabhu and his wife, Krishna Kanta devi dasi, are coming to visit me tomorrow. We have been preparing by cleaning up the house and getting ready to serve a vegan lunch. They will arrive here around 1:00 P.M., and I'll go downstairs and eat with them at the kitchen table. Then they'll come upstairs, and I'll have an intimate talk with them. It will be good seeing Garuda after many years. I used to be close to him when he was a grad student at Harvard and I was the zonal guru for Boston and other places. Our meetings used to be humorous. We would be humorous about me being a zonal guru, and we would be humorous about him being a Ph.D. candidate at Harvard. But we would also talk seriously about Krsna consciousness and being loyal to Prabhupada. I look forward to his coming tomorrow.
Visit from Garuda
Garuda and his wife Krishna Kanta dasi visited me in Stuyvesant Falls, New York. They brought me a wonderful gift: a painting by Kim Waters of Krsna and the gopis in the rasa-lila dance. Garuda is an old friend, and we revived our friendship by an hour-and-a-half meeting. He gave me a pamphlet, with excerpts from his forthcoming book The Yoga of Love: The Rasa-Lila of Krsna from the Bhagavata Purana:
"The rasa-lila, which carries the special message of supreme love, could easily be considered one of Vaisnavism's greatest gifts to the world. At the center of this gift is the rasa-mandala as a symbol of supreme love. . . . The cowherd maidens linking arms in the dance represent the linking of human hearts and the solidarity of the human community of devoted souls.
The rasa dance symbolizes the humility and passion of the devoted soul—the humility of love expressed through linking with other human beings, and the passion of love through souls linking with the Supreme. This linking is the meaning of yoga, of which, as we have seen, the Gopis are masters."
The pamphlet also contains quotes from Srila Prabhupada on the rasa-lila, compiled and edited by Garuda dasa:
"But that is the ultimate goal, to understand Krsna's rasa–lila  . . .
So this is the greatest benediction to human society,
to train them to go back to Krsna,
and dance there with Krsna in rasa-lila.
Krsna performed the rasa dance,
not exactly the ball dance,
but it is an imitation of that rasa dance.
That dance is called the rasa-lila dance,
and it is the most elevated of all the Vrndavana pastimes."
As a gesture of loving reciprocation, I gave Garuda and Krishna Kanta dasi two of my books, Prabhupada Meditations (Volumes I and II and Volumes III and IV).
Meeting Krishna Kanta Dasi
For the first time I met Garuda's wife, Krishna Kanta dasi. Passionate about inspiring women to honor their voices, she founded the Vaishnavi Voices Poetry project. In 2012 Krishna Kanta started the Journey of the Heart: Women's Spiritual Poetry online community, for which she has edited and published four anthologies of women's writings. Her latest book is Bhakti Blossoms: A Collection of Contemporary Vaisnavi Poetry. In the Foreword, Garuda dasa states: "This book represents the first time in the history of this millennia-old Vaishnava tradition that a collection of poems by Vaishnavis (female practitioners within the Vaishnava tradition) is presented." I found the poems varied, beautiful and deep.
Here is an example:
"A CRY IN THE NIGHT"
by Rukmini Walker
Lying awake
On a Delhi night
A watchman's stick pounds out his plight:
'O Ram! O Ram! Ram! Ram!'
A howling dog whines,
'How long? How long?'
O Lord and Master,
When will You answer?
And how do I cry from the deepest place?
And how does one come to attract Your grace?
O Prabhupada,
Please accept me!
And please be pleased
To recommend me!
To the One who steals the heart
And all the gopis' butter pots
And to Sri Radha
His dear-most lover
O Hari! O Hara!
Please pity my plight,
And steal my heart,
Like a thief in the night.
Arrival of Trinidadian Devotees
We were surprised when Vidvan and his wife Hemamukhi brought my disciple Panchatattva dasi for a meeting, along with an extra four family members (who brought much prasadam). Vidvan got Baladeva aside and pleaded that his aunt had driven them here just to meet me. She had seen me in Trinidad and heard so much about me from my disciples there, but she really just wanted to see me in person. Her desire was fulfilled. After my meeting with Panchatattva, it was lunchtime. When Baladeva came up to give me my lunch, they all came up with him, and Vicaru, not quite knowing what was going on, gave them chairs and books for the out-loud reading session in progress. Baladeva was there beside me, taking lunch alone. I asked them all to go downstairs and honor prasadam, which they dutifully did without regret because they got what they wanted—which was a simple darsana and to personally present me with a donation.
Outdoor Work Begins
We are already getting flowers; we have been receiving hyacinths, nice aromatic flowers, for a week. And just yesterday we started getting lilacs from "Radharani's garden." So the work begins. The roses have to be tended to, and the lawn has been mowed twice. The burlap that was protecting the roses from snow has been taken down. Eight yards of mulch will be coming this week. After pulling all the weeds, the mulch helps prevent the weeds from coming back. It's a constant battle to keep the weeds from choking out the flowers. We hope to have the flower beds (marigolds, etc.) planted and ready by May 15th. The local farmers don't plant until May 15th because up until then there may be freezing, which would kill the flowers. In fact, last night the temperature went down to freezing, and it will be freezing for the next three nights. It's nice to keep the outside of the ashram beautiful; it's part of the Deity worship and preaching.
Letter from a Faithful Disciple
I received a letter from a disciple who is suffering from a terminal illness and feels he doesn't have much time to live. He gave a donation and asked me to send him some of my books. He said many of my disciples in his temple have rejected me, but he knows they are wrong. He said I am very advanced, and the proof is in my books. This gives me even more determination to keep writing for those few faithful readers. This disciple can receive important guidance from reading my books at this time in his life. He requested Japa Reform Notebook, and I'm also sending him a set of recently produced books by me about Srila Prabhupada.
He also said he is suffering from a relationship he had with a woman. He said this doesn't matter anymore. I wrote to him and said that man/woman relationships in this material world are illusory.  I told him that when death comes he should call out to Krsna to take him back to Godhead, and that I was praying for him also.
Vicaru's Renunciation
Dear Vicaru is leaving in two days to go to New Jersey to associate with patrons who have paid for his tickets to travel around the world for harinama preaching. This visit was arranged prior to his coming here. This N.J. visit was originally arranged for seven days, but now he's cut it back to five days, which are the actual days they have scheduled programs for him. This is a good sign that he wants to slow down on his travels and spend more time here, reading, getting his health together and spending time with me in service. While he's away, Atindra and Haridasa from Schenectady will come and take up the services he was doing. Later Vicaru will be traveling to distant places, to see his mother in Fiji and then go to Taiwan for the Vyasa-puja of his spiritual master, Tamal Krishna Goswami, and again to meet up with patrons he has prior commitments to for namhatta programs at their houses. But then he promises to come back to Viraha Bhavan for several months, at least while it's warm.  He is another "tropical bird," who for the first nineteen years of his life lived in tropical Fiji.
Arjunanath
I met with a devotee from Guyana whose name is Arjunanath. He's about seventy years old and has spent his time between Guyana and living in New York. He told me about his experience of reading Srila Prabhupada-lilamrta. He said he isn't a good reader but managed to read the book twice. He had two main impressions. One was his admiration for the author. Two, and more important, was that he developed love of Srila Prabhupada. He told me this with great conviction. Everywhere he goes now he praises Srila Prabhupada and says the only way we can go to Radha-Krsna is by worshiping and serving Srila Prabhupada. He said it with such conviction that I was impressed and inspired.
He told me he is a disciple of Bhakti Charu Maharaja. One year while attending the Vyasa-puja of his spiritual master, he was asked to speak. He began glorifying Bhakti Charu Maharaja when his spiritual master stopped him and said, "Don't praise me, praise Srila Prabhupada." With his newfound love for Srila Prabhupada, Arjunanath began glorifying Prabhupada with great conviction. He knew his spiritual master wouldn't mind; rather, he would be pleased. Arjunanath very much pleased his spiritual master as he went on at length and with great conviction glorifying Prabhupada and saying he was the only way we could reach Radha-Krsna in the spiritual world. He said all the devotees in ISKCON should put Prabhupada in the center.
Changing of the Guard
Vicaru has left for New Jersey, where he's going to spend some days in programs to satisfy his patrons, who pay for his tickets. In his place, Atindra has come to do the duties of servant. He is very kind to do this, taking time out from his family and business, and they do book distribution. On May 24, Vicaru is planning to fly to Fiji to visit his aging mother, and then he'll go on to Taiwan to oblige some supporters and also attend the Vyasa-puja of Tamal Krishna Goswami. Then he'll be back here where he likes to be, but it's not certain that he can stay for the winter as he's not accustomed to cold weather, being a native of Fiji. I talked with him about this and Baladeva did too. Vicaru was a little open to the idea that he possibly could stay, keeping warm indoors and serving and reading.
My Journals
Aside from my weekly Journals, which are widely distributed on the Internet, I am keeping Journals which I intend to publish at a later date. I have already written two full-size Journals, and I am working on a third volume. These Journals are personal and private reflections. I am printing them in only fifty copies. They're intended for my serious, committed readers, those who love to read my books. They are not for other readers. The titles of the Journals I have finished are Worshiping with the Pen and Srila Prabhupada Revival, and the one I haven't finished, Volume Three, is Be Prepared. I am very inspired to write these Journals, and I think their quality is good. In my old age, these Journals have become my life and soul.
Awaiting Krsna dasi's Return
Krsna dasi is in Trinidad for a full week attending a wedding and doing legal business. We miss her presence. During her absence, Radha-Govinda's outfits are not being changed, although when she is here They are changed every three days. She gives inspiration to the arca-vigraha, and we have plenty of them in Viraha Bhavan, large neem Gaura-Nitai Deities, small brass Gaura-Nitai, Jagannatha Deities and others. She is always sharing her realizations about the importance of Deity worship and keeping the standards as high as possible (temple cleaning, kitchen, etc.). Krsna dasi does all the maintenance of my Radha-Govinda murtis, including cleaning Their silver daily, and daily flowers. My only active relationship with Them is to spend much time in darsana, simply gazing at Them with feelings of love, which we share together.
Krsna dasi stayed at Viraha Bhavan for the whole last winter. She dressed warmly and mostly stayed indoors. We were very pleased and proud of her for doing this. We actually need her constant presence. We are hoping that next winter she will also perform the austerity of staying in upstate New York and taking care of the Deities and will stay for many winters. Especially in the winter, the Deities are a bright spot in our lives.
Book Excerpts from GN PRESS PUBLICATIONS
From Prabhupada Meditations, Volume 2
Convinced by Srila Prabhupada
When I reflect on specific aspects of Vaisnava philosophy, I often recall the time when I first heard these teachings from Prabhupada. Hearing face to face while he was present produced a special impression. An example of this took place for me while Prabhupada was recuperating in Long Branch, New Jersey. This was after he had been hospitalized in 1967. Prabhupada was being massaged daily by Gaurasundara dasa. One day, during the massage, he said, "How can they say there is no God? It is a ridiculous argument. For example, if a man goes to a doctor and the doctor examines him and finds that his vital organs are working, his metabolism is in order, his pulse, his heartbeat, his blood circulation, his breathing, everything is working—if after discovering this the doctor concludes, "My dear sir, you are dead"—this statement is nonsense, absurd.
"In a similar way, if we see that the universe is working, the planets are in orbit, the sun is shining, the law of gravity and other natural laws are strictly being observed, and everything is going on—and if we conclude, 'There is no intelligence behind it: God is dead'—it is the same absurd statement."
When Prabhupada said this, I was convinced. What convinces one person may not convince another, but when you are convinced, you know it. You are fully satisfied and ready to advocate that which you are convinced about.
Lord Krsna says, "Ignorant and faithless persons who doubt the revealed scriptures cannot obtain God consciousness; they fall down. For the doubting soul there is happiness neither in this life nor the next." (Bg. 4.40) And yet we are plagued with doubts. When we gain a strong foundation of faith and conviction, it is the best possible thing that we can have.
Some of it is gained gradually. We have to protect it by hearing and chanting. But first there must be a time in which this bhakti knowledge is rightly and deeply planted within the heart. Prabhupada was the planter—and he still is, through his books and by his devotees in parampara.
As We Knew Him
I will content myself by knowing that any memories we can preserve of Prabhupada will endure for the people during the time when a Golden Age is possible. And so we will go on remembering Prabhupada as we knew him.
I say "as we knew him," but much of Prabhupada's identity is beyond us, even in his form as a sannyasi pure devotee. Vaisnavera kriya mudra vijne na bhujhaya; No one can understand the mind of the Vaisnava and the nature of his activities. But as far as we know Prabhupada-lila, we can recall it with assurance that it is lasting and spiritual.
The Supreme Lord and His liberated devotee may appear within this world for some time and then return to the spiritual world, where the devotee may take on a different form. Only if we serve Srila Prabhupada in the form as we knew him will we be qualified to understand further spiritual transformations. If we jump over the Prabhupada we knew and as he taught us in his books, if we try to imagine some other Prabhupada—then we will never reach the spiritual world. By the grace of the guru, one can transfer to the eternal world, where Krsna will arrange that we may recognize our spiritual master. The relationship is eternal.
From Prabhupada Meditations, Volume 4
November 18
We have become accustomed to the murti, and like everyone, I am grateful to have this form of Prabhupada now. I looked at this murti in Prabhupada's Vrndavana rooms and thought, "You are the boss. I am trying to become a better devotee of Your Divine Grace. I want to deepen my understanding of your books." Then I tried to remember the old days. I looked at the letter on Prabhupada's desk. It was a letter Prabhupada wrote while at the Krishna-Balaram Mandir to Ramesvara. "Hmmm, those were funny days." I couldn't help but let a little feeling of irony pass through me. Still, those days were genuine, and they have become part of Prabhupada's history. Probably every great guru has had some kind of difficulties in trying to conduct a movement; probably all great gurus have worked with disciples who helped them, but who later couldn't follow anymore.
My mood was not so deep, but I was happy to have a few moments alone with Prabhupada. I kept sitting there trying to meditate on him, but then I decided I could benefit by visiting an ISKCON museum, so I began to look at all the different displays in the rooms. In one case, they have things like the last piece of soap Prabhupada used, and in various cases around the room, things like an envelope containing the last brahmana thread he wore, the slippers he wore on the airplane on his last trip to London, some homemade toothpaste, and so on. I recollected how one of my Godbrothers who was Prabhupada's secretary at that time said that he gave away most of Prabhupada's remnants, but he kept Prabhupada's tooth for himself. He now wears a reticule around his neck containing that tooth. I don't have any wonderful remnants of Prabhupada that I can keep near me. There must be something I can have. The thought even passed through my mind that maybe I could break into one of the museum cabinets and take something, but they are all locked. But I wanted something tangible to keep with me.
November 21, Last day of Karttika
Bhurijana and I went out today. On our way back, he walked me to the bottom of the guest house stairs. Suddenly the lights went out. While we were waiting for them to come back on, I told him an anecdote about Prabhupada. When I was with Prabhupada in India in 1974, the lights would often go out. One morning I said to Prabhupada that, in India, things don't work as well materially, and yet they have spiritual advancement. But in America things work well, but there's no spiritual knowledge. Prabhupada liked my statement. Then when we went on the morning walk, he started by saying, "What did you say to me about India?" I repeated it, and Prabhupada discussed that point on his walk. As I told this anecdote, the lights went on again.
Bhurijana told me that yesterday he spent several hours speaking with Abhirama Prabhu who was telling many intimate memories of Prabhupada in his last days in 1977. He said just listening to that reminded him of Prabhupada's great spirit of giving everything for the mission of Krsna consciousness.
Prabhupada has given us such an enjoyable life, but the real center should be our discipleship. This is the standard of pure devotional service. The gopis in Goloka Vrndavana have this focus to perfection. They try to attract Krsna because ultimately they want to please Him; they know He will be pleased by them. Similarly, let me be happy in Krsna consciousness for Prabhupada's pleasure. Let me share that happiness as a preacher-disciple reporting to my spiritual master how we are all pushing on his movement together.
November 16
I have been reciting prayers in the early morning, starting with prayers to Prabhupada. I have been feeling attracted to praying without recording my words in writing because this eliminates the idea of praying in public. Praying with the subtle idea in the back of my mind that one day an audience may read these prayers removes some of the genuineness of the experience.
I have gone over this with myself many times. Since I am a writer, I tend to see everything in my life as writing material, even if it's prayer or japa or temple worship. Anyway, I have come to terms with it, and I see my dovetailing of the creative urge with my cultivation of inner life as a form of preaching.
I am actually coming to enjoy going to the samadhi-mandira at 4 a.m. I relish seeing that large golden form of Prabhupada. It is cold enough now that Prabhupada not only wears a cadar, but the cadar is put over his head. This morning he looked so dark and mysterious with the dim light shining on the golden form and the grey cadar draped around him.
I can never remember to concentrate on the "Gurv-astakam" prayers and see their relationship with Prabhupada, but at least I am there, looking up to Prabhupada. The Prabhupada mood is so strong at that time in the morning that even a dull person can experience it. After his arati, we hurry to the temple, again bow to his cadar wrapped form, and by his grace, approach Radha-Syamasundara. This is the way to begin the day.
Otherworldly
Prabhupada was definitely otherworldly. By this I mean that he wrote and taught that this material world is temporary and unhappy, and that real life is in another world, the spiritual world. Prabhupada taught this because it is Krsna's message in Bhagavad-gita.
And yet to those who knew Prabhupada, the term "otherworldly" may not strike them as exactly appropriate when describing Prabhupada. We picture otherworldly as someone who is always gazing heavenward as they wander around this earth in a trance. Otherworldly people don't relate to other people, to earthbound beings, because they are so ethereal. An otherworldly person is often like an absent-minded professor. This is not a description of Prabhupada.
Prabhupada said he was a Calcutta man. He used his practical intelligence to manage the ISKCON institution. When he met with nondevotees, he was present with them; he was able to examine their mentalities and attack their mistaken logic or atheism in a very direct way. Therefore, we can appreciate these two aspects about Srila Prabhupada: that his philosophy and teachings were very much otherworldly, pointing to eternal life and the soul, and stressing the unimportance of this spot of life on earth; and that his preaching intelligence made him seem very much a part of this world, very much present in it.
From Remembering Srila Prabhupada
MONTREAL
Summer, 1968
At the temple, a former bowling alley,
Prabhupada lectured from a high seat
beside a banner of the Hare Krishna mantra.
He also sent some books to the printer
and worked on getting U.S. residency.
He spoke to the Christians
and wrote a letter to the Pope—
"I think we should meet together and chalk out a program."
These are some signposts in his preaching life,
but no one can know the mind of the Vaishnava.
We have his words and books,
his living followers,
and these all carry his teachings.
His teachings are the greatest gift.
Even those who utter "God" in reverence
cannot know, unless they hear from him,
exactly how God is great.
For lack of that science,
millions cannot believe
and cannot understand
why there is evil in the world
or why they should control their lust.
He set the example
of a pure devotional life.
Therefore, we want to remember him.
From The Wild Garden
Sadhana 47
The sastras are conscious. They can confer blessings on us. I especially look for the blessing of becoming attached to them. There are prayers which express this desire. I like the Pracetas' prayer. The Pracetas say that they accept they will be reborn in some material species of life due to their material contamina­tion, but "we pray that we may associate with those who are engaged in discussing Your pastimes. We pray for this bene­diction life after life, in different bodily forms and on different planets" (Bhag. 4-30.33).
In his purport, Srila Prabhupada says this aspiration is the goal of life. It is more important than liberation from the cycle of birth and death. "The most important thing for a devotee is getting a chance to hear about the pastimes and glories of the Lord. . . . For a devotee, everything is the spiritual world, for as long as he can hear about the pastimes of the Lord, or wherever he can chant, the Lord is personally present."
Desire to be with devotees who are chanting and hearing. Desire to attain a taste for this (ruci and asakti). Ask yourself how your activities contribute to this. Is your life leading to this goal? Don't get caught up in external duties that divert you from this.
Ireland
The frame of this door leads to the outside world. It's dark because the sun is covered. But at least there are no meat car­casses hanging on hooks in here. No one is cursing. No radio is playing. Only birds calling and trees in the distance. It's dry in here. I have come from reading and hearing and I will go back to that soon. It is the day before Ekadasi and I will shave my head at noon. Lunch is bliss, even though my fastidious tongue is a bit disappointed by M.'s simple cooking.
Everything is useless (srama eva hi kevalam) unless I serve Govinda. My spiritual master said service must include sankirtana—the chanting of the holy names and the desire to distribute Krsna consciousness to others. Srila Prabhupada was a great figure in Caitanya-lila. Rupa Gosvami broadcast Krsna consciousness in Puri and Vrndavana; Srila Prabhu- pada broadcast it all over the world. He is a rupanuga, a direct disciple of Bhaktisiddhanta Sarasvati, and we are in that line. Because we beg to remain in that line, we are chanting Hare Krsna and distributing Krsna consciousness on Srila Prabhu­pada's order.
As Srila Prabhupada said of the Bowery bum who did some service, "Just see. His mind is not in order, but he wanted to do some service." (The propensity to serve is eternal in all of us. The pure devotee is so potent that he arouses it. A bum and a writer gone berserk want to offer something, a few rolls of toilet paper for the bathroom, a few books of tribute for fellow devotees. All glories to the eternal spring of bhakti, appearing in all hearts by the grace of Krsna, the almighty.)
From Looking Back, Volume Two
Comment:   I was, and am, associating with senior devotees when I read Prabhupada's books, the books of the Six Gosvamis, Bhaktivinoda Thakura, etc., etc. Prabhupada even mentioned that on occasion, if one couldn't associate with senior devotees who were alive and nearby, he would consider senior association as the reading of the previous acarya's books. This is a good repudiation of the accusation that I don't associate with senior devotees. When I joined the movement in 1966, after five years, you were considered a senior devotee, and looked up to because of your experience, but nowadays you can be in the movement thirty-five years and still be considered junior. It's kind of an unfair, material caste system. Devotees who have been initiated after Srila Prabhupada left the planet also have a direct connection with him. They do all the hard work of sadhana and have been preaching for many years, so they too are recognized by Prabhupada and the previous acaryas, as well as by their own guru and Lord Caitanya and His associates.
Now as I write in 2017, I am seventy-seven years old, and the association of learned disciples is very congenial. I need to be helped in my daily activities, and Godbrothers aren't going to do that. Nor do I want to demand them to do it. The learned disciples are favorably disposed toward me. I think their association is 'senior,' and I like it. I also associate with my Godbrothers, but most of them are situated in distant places. Now a very senior Godbrother, Ravindra Svarupa Prabhu, lives across the street from me. I have meetings with him and ask him philosophical questions, and look up to him for his opinions. I admire his astute understanding of the philosophy and his absolute faith in Srila Prabhupada as the best one to guide us in siddhanta. Ravindra Svarupa is an 'international treasure' in the International Society for Krishna Consciousness, and his association is very friendly. Giriraj Swami and I talk frequently on the telephone, and he loves me from the old, old days, when he joined in Boston, and I was the Temple President. And there are others, like Jayadvaita Swami, who is a best friend and sticks up for me when some GBC men try to bully me.
From Vaisnava Compassion
KRSNA CONSCIOUS PREACHING, most of us have discovered, means more than meeting a nondevotee long enough to sell him or her a book. Selling books is certainly a high form of devotional compassion, and there is Srila Prabhupada's famous statement: "What your one-minute speech will do?" The books, he assured us, were time bombs; they would go off at exactly the right time.
But then what? As much as we need to preach to nondevotees, we need to preach to those who arrive at our doorstep, hoping to begin their spiritual lives. This is the moment when we reap the fruits of our preaching. Therefore, when we speak of Krsna conscious compassion, we must also discuss the vocation of counseling and caring for devotees.
In the past, ISKCON was not so compassionate toward devotees, often rejecting them for their weaknesses or not accepting their desires to serve in more individualized ways. Institutions in general are often rigid, formalized, and they find it difficult to give room to those who need to express themselves in ways beyond the mainstream. This rigidity leads people to think of institutions as oppressive and uncompassionate, and often they are right.
In the sense that we have not cared for our devotees, it can be said that we have not cared for the nondevotees either. That is, we haven't made it easy for them to take to spiritual life, because we haven't provided a friendly environment in which they can do so.
To the extent that we can see that, we can also come to appreciate the depth of Srila Prabhupada's compassion: he was willing to embrace any variety of persons, seeing them all as souls with the potential to serve Krsna. Compassion is a liberal quality.
It is not within the scope of this book to present a treatise on ISKCON's ills and how we should remedy them. Still, there are some general points that can be made. The first is that we should be careful not to judge others. When we do avoid judging others, it's usually because we are prepared to hear from them why they are doing the things they are doing. Avoiding judgment does not mean failing to give guidance or support when necessary; it simply means we give up our self-righteousness. To give up self-righteousness, we have to be most interested in personal reform.
From Passing Places, Eternal Truths
Gita-nagari, Pennsylvania, U.S.A.
The first day at Gita-nagari was like walking in paradise. Birds were crying out strong, water rushing in the streams. I loved it and wanted to see Krsna in nature. But then, I have to love the other aspect of material nature and see Krsna there too-nature as savage, dumb, dark, and fearful. That is also Krsna and it is beautiful, if one can see the Whole Thing.
Now I am too busy and cannot deeply appreciate the spring. I cannot relax with the wild mustard flowers, the tiny spring beauties, the Judas tree blooming, the mayapple covering the forest floor, and clover everywhere. Few here know the names of birds or care much if you say, "That's the wood thrush." Someone even asked, "Why do you write about nature?"
How pretty everything is, my Lord. I know it is savage, but You've made it very pretty. Virginia bluebells, dandelions turned to puff, violets in the grass, and the wood thrush. This is all Your energy. Your personal form beyond this material world is only known to those in pure transcendence. But this world is also You, because everything is Your energy. It's not just happening automatically.
WRITINGS OF THE VAISNAVA ACARYAS
From Sri Caitanya Maha-Kavyam: An Epic Poem Describing Caitanya's Life by Kavi Karnapura, Translation by H.H. Bhanu Swami
Staying near the Lord's lotus feet constantly, Svarūpa Dāmodara drank the nectar with thirst. He could not tolerate not seeing the Lord for a moment.
Vakreśvara Paṇḍita, was a very sweet devotee. He was an ocean of sweet rasa and condensed bliss at all times. Arriving at Puri and seeing the Lord, he began dancing. He thus became the object of Mahāprabhu's prema. Gaurāṅga favored him at all times.
Vāsudeva Datta, the jewel in his dynasty, seeing Gauracandra, immediately took Him as his very life and became submerged in an ocean of unlimited affection for Him.
Bhagavānācārya was a great devotee. Surrendering to Gauracandra, he served Lord Jagannātha constantly.
While the Lord lived in Puri, the sound of people arriving spread in all directions. Intelligent Satyarāja, his brothers and sons as well as Raghunandana, Narahari, Mukunda and others had assembled there with longing.
One time, the Lord, spoke to the devotees headed by Advaitācārya, who had come see His lotus feet.
"O ācārya! O most intelligent, learned one! Hear what I speak about the activities of Jagannātha.
"Jagannātha is always the shelter of all rasas. He goes to Guṇḍicā for special pastimes.
"There is an attractive flower garden on either side of the path going to Guṇḍicā.
"Know that it particularly gives remembrance of Vṛndāvana. Going to the Guṇḍicā hall Jagannātha stays and performs pastimes there for nine days.
"Every year you should all come to see this great festival, rare even for the devatās to see."
Mahāprabhu, the ocean of mercy, in this way, on the pretext of rathayātra, allowed the devotees to see His own pastimes.
Thus from that time onwards, they would eagerly come to see Gauracandra at the time of rathayātra every year.
How can hundreds of Bṛhaspatis describe these devotees who came to see Gauraṅga every year?
I will describe how they went there one time, with constant eagerness, to give a general idea.
Advaitācārya and Śrīvāsa with many people were eager to go one year.
In Vaiśākha month, with the Malaya wind blowing, with the chirping of cuckoos and humming of bees, they decided to go.
Śrīvāsa full of joy, his heart soft with affection for Gauracandra, spoke to Vāsudeva Datta and Śivānanda Sena, giving their hearts joy.
"Find out the day of rathayātra, and decide what day is most suitable for us to depart for Puri."
Hari-dāsa and other great devotees, putting Advaita and Śrīvāsa in front, happily proceeded to Puri.
Vāsudeva Datta and Śivānanda Sena, with great affection, happily went with them.
The younger brother of Śrīvāsa, Śrirāma, who controlled Gaurāṅga by his singing at all times, also went.
Mukunda, pure, affection, most dear to the Lord, sweet, peaceful, mild speaking and very soft, joyfully went with Murāri Gupta, an ocean of prema-bhakti.
These devotees, trembling with prema for Gaurāṅga's lotus feet, joyfully went while chanting the Lord's name and qualities.
Singing kīrtana from morning, they took rest in the evening or night, performing necessary activities on the road.
Passing their days in singing and dancing, the devotees travelled on the road with greatly anxious hearts.
One cannot properly describe their days. The ocean of happiness spread in all directions.
With minds aroused by huge waves in an ocean of joy, greedy for Gaurāṅga's lotus feet, they happily came to Remuṇā.
In the morning they departed with eager hearts, longing to see the lotus feet of Gauracandra.
With their blissful bodies, the great crowd shone like a second ocean.
Advaita was the water, Śrīvāsa was a mountain of bhakti. Kīrtaṇa was the nectar arising in the ocean. Hari-dāsa was the Kaustubha jewel.
Their mutual affection became excellent Lakṣmī. Its great fame was the foam and its effulgence was the baḍava fire.
Shouts of "Jaya" were the waves and flooding rip tides. Their toes were the fish and their toe nails were the pearls.
Their arms were the serpents, their chests were the islands and their faces were the astonishing lotuses.
The great minded Sārvabhauma with great eagerness came to Jayapura village to meet them.
Sārvabhauma shed tears out of affection for them, his body became covered with goose bumps. After seeing the great devotee Advaita, the great poet began reciting verses of praise he had composed.
"I offer respects to Advaita, the great devotee, the great Lord, by whose mercy attachment to Gaurāṅga's lotus feet arises."
Saying this, his hairs standing on end, and stunned, the ocean of good fortune fell on the ground, offering respects.
Seeing Hari-dāsa, filled with great devotion, in great joy, he fell on the ground with hairs standing on end.
He offered respects many times with lowered shoulders saying, "I offer respects to Hari-dāsa, whose family and birth are not considered."
The best of brāhmaṇas, recovering, with hairs standing on end, then spoke in a choked voice.
"Following the order of Gauracandra's lotus feet, I will bring to life with the nectar of bhakti to those persons who have dried up by thoughts impersonal brahman, by delivering knowledge, giving another meaning to the Vedānta.
"After hearing my proposal, the Lord said playfully, 'Do not make useless efforts.'
"The ocean of mercy, seeing me anxious to go, said, 'You will not at all have that power.
"'Do not go. Do not have wasted effort, O brāhmaṇa! What can you do, you who do not have good fortune?'
"I am eagerly going to Kāśī without shame. Be merciful so that my desire will be fulfilled."
Sārvabhauma, Bṛhaspati on earth, saying this, offered respects and, his body filled with happiness, left.
---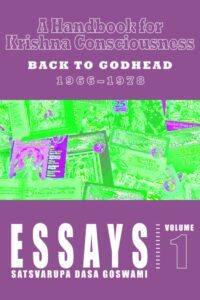 This collection of Satsvarūpa dāsa Goswami's writings is comprised of essays that were originally published in Back to Godhead magazine between 1966 and 1978, and compiled in 1979 by Gita Nagari Press as the volume A Handbook for Kṛṣṇa Consciousness.
---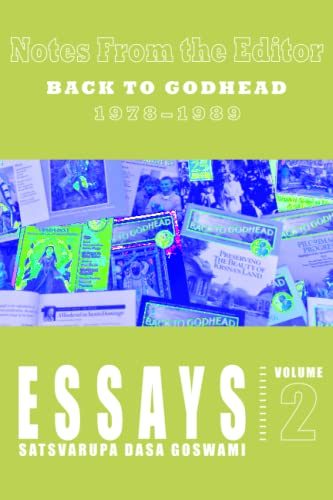 This second volume of Satsvarūpa dāsa Goswami's Back to Godhead essays encompasses the last 11 years of his 20-year tenure as Editor-in-Chief of Back to Godhead magazine. The essays in this book consist mostly of SDG's 'Notes from the Editor' column, which was typically featured towards the end of each issue starting in 1978 and running until Mahārāja retired from his duties as editor in 1989.
---

This collection of Satsvarupa dasa Goswami's writings is comprised of essays that were originally published in Back to Godhead magazine between 1991 and 2002, picking up where Volume 2 leaves off. The volume is supplemented by essays about devotional service from issues of Satsvarupa dasa Goswami's magazine, Among Friends, published in the 1990s.
---

Writing Sessions at Castlegregory, Ireland, 1993Start slowly, start fastly, offer your obeisances to your spiritual master, His Divine Grace A.C. Bhaktivedanta Swami Prabhupada. You just drew his picture with your pencils. He appears carved out of wood…
---
I found I had hit a stride in my search for theme in writing, then began to feel the structure limiting me. After all, I had given myself precious time to write full-time; I wanted to enter the experience as fully as possible. For me, this means free-writing—writing sessions with no predetermined shape, theme, or topic…
---
Daily Compositions
This volume is comprised of three parts: prose meditations, free-writes, and poems each of which will be discussed in turn. As an introduction, a brief essay by the author, On Genre, has also been included to provide contextual coordinates for the writing which follows…
---
Meditations & Poems
A comprehensive retrospective of poetic achievement and prose meditations, using a new trajectory described as "free-writing". This volume will offer to readers an experience of the creativity versatility which is a hallmark of this author's writing.
---
Kaleidoscope
Stream of consciousness poetry that moves with the shifting shapes and colors characteristic of a kaleidoscope itself around the themes of authenticity. This is a book will transport you to the far reaches of the author's heart and soul in daring ways and will move you to experience your own inner kaleidoscope.
Read more »
---

A narrative poem. challenging and profound, about the journey of an itinerant monk who pursues new means of self-

Seeking New Land

expression.The reader is invited to discover his or her own spiritual pilgrimage within these pages as the author pushes every literary boundary to boldly create something wholly new and inspiring.