Free Write Journal #246
May 19, 2023
Free Writes
TKG's Last Vyasa-Puja Talk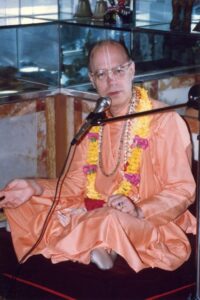 I just heard the lecture Tamal Krishna Goswami gave on his last Vyasa-puja date. He dedicated his entire talk to speaking about the initiating gurus in ISKCON. He mentioned so many names that he had to make his talk on each on brief, but his presentation was very generous and loving. He said that since the disappearance of Srila Prabhupada, he's taken shelter in his Godbrothers and Godsisters.
He mentioned Radhanath Swami and said he is perhaps the most popular devotee in ISKCON. He praised Radhanath Maharaja's disciples in Mumbai and Pune and said he is an incredible speaker who can talk krsna-katha for hours. He mentioned Ravindra Svarupa and said he was one of the best writers in ISKCON. He said although he is very brahminical, he has a ksatriya side too, and has fearlessly defended ISKCON against its enemies. He praised Ravindra Svarupa's intellectual prowess.
He even mentioned devotees who left ISKCON, and said Prabhupada would protect them, and he praised them for the services they rendered before they went away. This was very broadminded of him to do.
He also mentioned me, and said it was all right if my only service was writing.
Although it was TKG's Vyasa-puja day, his birthday, he didn't mention anything about himself and his preaching. It was a surprise and impressive talk.
TKG
I received a request to write a Vyasa-puja homage for Tamal Krishna Goswami, and to write it quick because his Vyasa-puja celebration is coming up in June. I wrote one and summarized his achievements. I said that he was one of the greatest leaders in ISKCON, and he started right from the time when he joined as a new devotee. He led harinama sankirtana, leading devotees in the streets of Los Angeles. He was made Temple President, and he assumed the duties ably. Prabhupada recognized his talents and devotion. Prabhupada appointed him as a member of the GBC. After years on the west coast of America, Prabhupada sent him to London to organize sankirtana there. He raised the standards in London with his charismatic and well-organized style. Prabhupada then asked him to go to India. As an American, he faced the austerities in a foreign land. He thrived. Prabhupada sent him on a daring mission. He asked him to go and purchase land in Mayapur. TKG was very young then, and he didn't speak the language, Bengali. But he was savvy and tough. He successfully purchased the land, and Prabhupada was greatly relieved. Prabhupada appointed him GBC for all of India, which was a great burden of management and spiritual leadership. He conducted himself well under Prabhupada's close supervision.
I wrote how TKG and I became close friends, after he left India and went to the United States and formed the Radha-Damodara bus party with many brahmacaris traveling around the country. He would come and visit me at Gita Nagari, my home base. He helped Gita Nagari very much. He inspired us to form a women's traveling party, led by Mother Kaulini. They collected funds to help the desperately needed income on the farm. He also donated a murti of Lalita and Visakha, who surround Radha-Damodara. He and I would have confidential talks. I would make the agenda, and he would lead the discussion. We also met in India when we were there at the same time, and we continued to have private talks about all the things that were on our mind about Krsna consciousness and ISKCON.
I praised him for his preaching in the various places in his zone around the world. I especially appreciated his coming as GBC and guru for Texas, which was formerly my zone. When he came, he very much raised the standards and made the temples beautiful, and initiated many disciples. I continued to associate with him regularly, but when he entered academia and went to England to attend Cambridge University for a Ph.D., I lost contact with him, and my personal association. When he was taken away from the world in a tragic automobile accident at the age of fifty-six, I wept along with many of my Godbrothers and Godsisters. I still keep my memories of him alive by associating with his disciples, especially Vicaru.
Books to Guyana
Baladeva and Haridasa are going to the book storage today. There are certain books of mine that we have large quantities of, and they aren't selling very quickly; for example, Prabhupada Nectar, Vaisnava Behavior, Passing Places, Eternal Truths and Write and Die. The idea is that Haridasa and Prabhupadadeva from Guyana should take the books to their storage in Schenectady. They now ship things to Guyana for sale, and there's often room in the container for books, which essentially means they wouldn't cost anything to ship. That way it opens up our storage for the space we need for all the new books. We are giving them for free, and in the Caribbean they can make money on them in distribution. It's a simple plan, but we just have to put the work into it, starting today with an inventory of our stock.
Spring Planting
The farmers at Stuyvesant Falls have already started their planting of corn. Ordinarily they wait until May 15, but this year they're starting early because they're not expecting any frost. More growing time means more profit. A week ago they harvested the hay, and then they spread manure on the cornfields. Then they plow it in, smooth it out and plant the corn seeds. So they'll be coming up in a week or so. The roads have been very busy with trucks and agricultural equipment. It's a spring run.
We prepared by buying all our flowers a week early before Mother's Day, which is around the 15th. If you wait until after Mother's Day, all of the varieties will be gone. So this way we get first pick, and just keep them on the porch until the 15th, and then plant. We have learned our lesson from past years' experience of trying to buy flowers after Mother's Day. So now we have seven hanging baskets of petunias with beautiful colors that we were never able to get before. And we have many different varieties of marigolds also on the porch in "flats" waiting for a potential frost warning to go by. We will plant after the 15th. Prior to that we will prepare the soil in the big marigold beds.
Two weeks ago Damodara-rati came and did an expert job of pruning the roses and taking down the winter protection of burlap and extra mulch. Now everything is looking beautiful, except for the weeds.  (That also starts with spring, but it's not much fun picking them.) The fun part is harvesting flowers for the Deities. We've already been able to get flowering quince, hyacinths, lilacs and lily-of-the-valley. All of these are very fragrant, and it's a joy to pick them from "Radharani's garden" and put them on the altars for the pleasure of the Deities.
Be Prepared
I am in the midst of writing the third volume of my Journals, Be Prepared. One of its main themes is Death, with quotes taken from Srimad-Bhagavatam. My typist wrote me that this volume would be of wide interest to readers and is important. But like the other volumes, it also contains a lot of intimate writing meant for my serious, loyal readers who have been following my books for years. Be Prepared won't be published for several years, so if you think you're a candidate, you should catch up by reading my other books.
Book Production Team Meeting
Today we had our monthly book production team meeting. Nine devotees took part on Zoom, from countries like England, Italy, India, Wales, and America, etc. We already have ready three volumes of Back to Godhead essays and Best Use of a Bad Bargain. Krsna-bhajana and Satyasara dasi are taking too many marathons to try to get ready another book, Volume One of the Journals, Worshiping with the Pen, the limited edition of my first Journal. We went through who was doing the typing and proofreading (nine typists and seven proofreaders). Krsna-bhajana is the Press manager, keeping everything running smoothly. The team is working nicely, with no conflicts. I am very appreciative of the book production team, who are working not only on books for 2023 but also for 2024. We have also started working on making my books available in Kindle form. My desire to see all of my out-of-print books reprinted as books (or at least in electronic form) gives me some hope that it will be done before I die.
Radha-Govinda
Radha-Govinda look very beautiful in Their present change of dress. Krsna dasi is receiving lots of compliments on her Facebook photographs, which she sends out every time the dress is changed. They are now wearing an outfit of aqua and silver, and Govinda has a white turban with a peacock feather and a silver flute. Their altar is decorated with flowers from our "Radharani garden." They are lilacs, marigolds, asters, verbena, and little star-shaped flowers which we call "happy flowers," which grow in our houseplants on the vines in the kunja.  I take darsana in separation from Vrndavana. And the Deities, the background and the altar remind me of descriptions of Vrndavana in the KRSNA book.
Prabhupada on TV
Vicaru has a new phone, donated by the devotees in New Jersey. Every day he shows me videos and snippets on the phone. Today I saw Prabhupada being interviewed on TV. The man asked Prabhupada why the devotees shave their heads. Prabhupada said it was because of cleanliness. Then he says, "The scriptures state that in this millennium people will think that they are beautiful if they wear long hairs." Prabhupada smiled a little. The interviewer had bushy, long hair. Prabhupada said, "We are against this." The interviewer asked Prabhupada, "Why do the devotees always chant Hare Krsna?" Prabhupada answered very calmly and sedately. He said, "When the devotee chants Hare Krsna, it is a transcendental sound vibration. By chanting, they come into the presence of Krsna." The interviewer asked Prabhupada how many followers he had. Prabhupada answered, "In the West we have 10,000 followers. (This interview was taken long ago, in the 1970s. Now in 2023 there are much greater numbers of followers, especially in India, Russia and China. Business is booming.) It was wonderful seeing Prabhupada on video and appreciating his bold preaching. (Link to view this video: https://www.youtube.com/watch?v=4jZyikZ0j6Q)
Meeting with Muktavandya and Mohini
I met with Muktavandya and Mohini, who is a married young woman who sponsored Muktavandya's first trip to Mayapur. Mohini was very excited to show me her Jagannatha Deities. She bought them in Mayapur on a previous visit. They are ten inches high, but she carries them with her always. They have Their own traveling bag, and They are well taken care of. When she goes to Mayapur, she doesn't stay at the main temple but stays at the ISKCON Jagannatha temple nearby. The last time she went there she did a great deal of seva, as she volunteered for cleaning and painting. On her last visit to Mayapur, Mohini and Muktavandya had lunch with Niranjana Swami. That was a rare event because Niranjana Swami doesn't have guests that often, his health being fragile. She gave me a gift of many pens in a box. She had asked Baladeva what was a good gift for me, and he told her the exact pen I use, a Pilot G2 black "Fine Point" ballpoint. (It is good if people first ask Baladeva what I need before getting me a gift, so they can get the exact right gift.)
Mohini is a professional photographer, taking pictures at weddings, etc. She makes her living that way. Her living expenses are very low. She and her husband live in two simple 10 feet by 12 feet cottages in Maine. They live "off the grid," without any water or electricity. I asked Muktavandya if he was still doing counseling of devotees as his main service in Boston. He said yes. Mohini said he was a pillar of the Boston temple. I was impressed that Mohini is a real devotee of Krsna, especially Lord Jagannatha.
Earthing
In Trinidad, they call it "earthing." That's when someone is out and actually interacting with nature, breathing fresh air, going for walks, gardening, etc.
Baladeva was engaged in garden earthing for the past three days because the weather was cool. The spring weeds had quickly taken over the flower beds after the rain and sunshine in late April and May. So he tenaciously worked at it and cleared all the weeds. Now the beds have to be leveled out and a two-inch layer of mulch put over them to keep new weeds from coming up. Next comes planting flowers, mostly marigolds, for the Deities. The rose beds have been cleared up. Our across-the-street neighbor, Damodara Priya dasi, took down the burlap winter protection from the roses, and also pulled out the twelve inches of mulch which had been piled around the rose branches—that protected them from the winter cold. She then expertly pruned the roses, and now they are loaded with buds.
Book Excerpts from GN PRESS PUBLICATIONS
From Prabhupada Meditations, Volume 1
The best example of tolerance is Srila Prabhupada himself. He always did his service despite illness. Sometimes he was not able to sit up or speak into his dictaphone or talk with people, but the moment he was able to do so, he would resume his service. And at all times, he remained Krsna conscious with a strong desire to be active. Prabhupada never coddled himself. It might even be said that he shortened his life by so much work. One time when he met with Yogi Bhajana, the yogi asked, "How is your health?" Prabhupada replied, "I'm not feeling well." Yogi Bhajana said, "Yeah, you're carrying a very heavy load." I thought that was a nice recognition of what Prabhupada was doing and the reason why he had physical maladies. He was carrying a heavy load.
If any of us live until our eighties, we will have a better idea of what Prabhupada was going through. He used to mention in his lectures some of the pains of old age, "When you are an old man, there are so many complaints." He knew firsthand what the complaints were, rheumatism and so on, but they didn't stop him. Prabhupada endured the austerities personally, and recommended it for his disciples. He wrote to Yamuna dasi in 1968:
Physically and mentally we may be disturbed sometimes, but we have to stand erect on the spiritual platform. I may inform you in this connection that I am at the present moment physically unfit; I am having always a buzzing sound in my brain. I cannot sleep soundly at night, but still I am working because I try to be in my position of spiritual platform. I hope you shall try to understand me right, and do the needful.

—Letter, January 15, 1968
Request to Continue Prabhupada Meditations
It is the intention of Vyasadeva and Srila Prabhupada that everyone see themselves as one who is "just about to die." Srila Prabhupada writes, "Everyone is a dying man, either very shortly or after one hundred years. The duration of life is immaterial, but the duty of a dying man is important."
So by thinking of Krsna and remembering Srila Prabhupada, I'm sure to be protected from all forms of maya and even from death—if you will just sanction my request and grant me the strength to continue. The odds are actually in my favor if I turn to you, because Krsna is far more powerful than maya: "This divine energy of Mine, consisting of the three modes of material nature, is difficult to overcome. But those who have surrendered unto me can easily cross beyond it." (Bg. 7.14)
Why should I doubt that you will carry me through? Why should I fear that I will exhaust the telling of the pastimes and memories and teachings of Srila Prabhupada? Even when I seem to lose vigor, you pick me up and reveal to me new pastimes and interesting ways to remember Srila Prabhupada, and to speak for the pleasure of the devotees.
By writing this letter I wish to remain in the fight against all forces opposed to Krsna consciousness. But since I am not courageous or capable, I request you to give me the wherewithal to endure in spiritual consciousness. The way of the saints and sages is clearly marked by them by their triumphant teachings and writings. They have left the undoubtable conclusion that one should engage oneself in constant chanting and hearing of the Lord's activities, and this will assure one of the direct association of the Supreme Personality of Godhead, the killer of innumerable demons and the vanquisher of time.
We who come after the sages have only to follow their indications. The Lord has also provided a spiritual master to guide us. And because it is a very bad and dangerous age, Krsna has sent a glorious spiritual master, Srila Prabhupada, who is just like a Goloka cowherd boy, to gather up thousands of cows and calves and bring them easily and peacefully into Krsna's abode. Please bless us to follow you, and to know that your protection is always at hand.
From Prabhupada Meditations, Volume 2
Respectful in His Presence
Since Prabhupada's disappearance, one may meditate on what it was like to actually be with him. I think of sitting next to him in a car. His clothes are slightly wrinkled, his complexion is dark-golden, his physique is slight, but he is always commanding and grave. You speak up clearly when you address him, to be understood by him.
Prabhupada was perfectly conversant in English, but if you mumbled or spoke in American dialect or slang, Prabhupada might not know what you were saying. There was an art of communicating very clearly and straightforwardly with Prabhupada. Some of the Western devotees learned to speak with a crisp Indian-English accent. They would pronounce their t's very sharply, as in the word "Cal-cut-ta." If your thoughts were vague, or your words dribbled out in fragments, that wouldn't be good enough for Prabhupada. He would refuse to understand if you spoke like that, and so you had to rephrase it. Eventually you learned how to do it so that you did not have to repeat everything twice every time you spoke to him.
All these things come to mind as you meditate on Prabhupada now. You think of yourself sitting in the car beside him in his slightly wrinkled silk dhoti. You don't just sit and stare at him, and yet you are always aware. He is wearing slippers. He has his hand on his cane, and he holds his head back. Prabhupada's neck and head posture was just the opposite of a slouched, defeated person. He looked majestic. Another person might try to hold his head up and not be able to carry it off as a natural gesture. But for Prabhupada it was normal; he was regal. And the normal expression of his mouth was that the corners turned down slightly. He looked so serious that some people even thought he was sad.
And so when you wanted to speak to this grave person, Srila Prabhupada, you would always say his name first. You did not just start rapping as people usually do. Usually when we converse and there are several people in the room, we look in the direction of the person we want to address, and we start talking. We think, "He will catch on that I am actually talking to him; I won't use his name." And why don't we say his name? Perhaps because it is too respectful, or it is too tender to actually say his name. Saying a person's name can be a very heavy thing. But with Prabhupada, you said it frequently. You did not say it mechanically with every single sentence, but any time there was a pause of a few minutes, you readdressed him, "Prabhupada?" That was another measure of respect. In speaking to him, you began your sentence with the word, "Prabhupada," and then you spoke. It came from a natural respect that he commanded, not demanded. Prabhupada demanded very little. He did not demand that we wear dhotis or shave our heads, and he never said, "When you speak to me, say the word 'Prabhupada' first." But these things came naturally, and we also learned the Vaisnava etiquette and offered it.
Flying with Prabhupada
Srila Prabhupada tended to be withdrawn during the airplane trips. He did not feel at home with the karmis and their meat-eating and smoking. He was not like a businessman, who has a few drinks and then starts talking loudly or does a lot of office work in flight. Prabhupada, at least when I saw him, was mostly quiet, just waiting with infinite patience to get to the next place for spreading Krsna consciousness. But when an unexpected preaching opportunity came at the Fiji airport, he was smiling as he returned to the plane.
When our plane arrived in San Francisco, a very large group of devotees was waiting—it was just a couple of days before Ratha-yatra. The stewardess made an announcement to the passengers that there was a big crowd in the terminal, and if anyone wished to avoid it, they could take a special exit as soon as they got off the plane. I could guess that the "congestion" she spoke of was actually Prabhupada's devotees waiting to welcome him. What she should have said was, "Ladies and gentlemen, we are very honored on this flight to have the presence of His Divine Grace A.C. Bhaktivedanta Swami Prabhupada, the founder-acarya of the Krsna consciousness movement. He has sanctified our flight, and now many of his devotees are gathered in the airport. So let us allow His Divine Grace to exit first."
As soon as we entered the airport, it was a blissful rush of kirtana, smiling faces, and much shoving to get near Prabhupada. I got lost in the shuffle and had to catch up later.
From Prabhupada Meditations, Volume 4
Thinking of you
Tonight I want to report that to you. I want to present to you, please, all these devotees who are doing nicely. Anyone who is sincere is accepted by you. Most of us are more humble now, and probably a little more realistic about ourselves. Some-times that gives us the appearance of not doing much, but still we all beg for your acceptance and to be allowed to continue chanting Hare Krsna.
Prabhupada, am I talking too much? Where is my gravity? I remember coming to Mayapura with you. The lights would go out and the room would be lit only with a kerosene lantern. We would sit there with you, hearing immortal truth. Jananivasa still comes faithfully, bringing frankincense to discourage the mosquitoes. Prabhupada, I am just one disciple among many, scrunched up against the wall, hoping to catch your merciful glance.
One devotee told me he wouldn't dream of living anywhere in ISKCON except a rural community where he could help with the development. I thought, "He should be encouraged. He has chosen a project that is bona fide under Srila Prabhupada's direction. Let him work wholeheartedly for his goal." Then I thought, "I have my own angle on service, too. I write to encourage people in Krsna consciousness, even though I write in my own way." Do you remember me, Srila Prabhupada, as your disciple who, even from the beginning, had the inspiration to write? You encouraged me to write. You also told me not to accept less money for my books just because I was religious.
Prabhupada, as I sit in your room, it's hard for me not to imagine talking with you about myself and my service. I can see you listening, making me feel accepted, soothed, and then beginning to talk about your own plans for ISKCON, the new projects you want to see developed, how we can help. Then perhaps later, we would all relax as you preached to a group of us. I can imagine you talking about chanting and surrender and realizing the Lord in the heart, things that apply to all of us. I would ask my personal questions—how to be free of envy, how to chant with attention, how to surrender. You would probably answer strongly, especially the question about envy. Asking a question means risking your direct focus on us. You pounce on our nonsense and defeat it. Sometimes we try to escape this direct focus by couching the question like this: "Srila Prabhupada, the atheists say … " or, "Srila Prabhupada, someone else said … " But you turned to us as if we were nonsense personified asking a question. We squirmed under your gaze. But I see myself daring to ask a question again: "Srila Prabhupada, how can I give up my envy of my Godbrothers?"
"Why do you dare to be envious? Do not be an envious snake. What have you done that is any better?" That is a fact, Srila Prabhupada. What have I done?
From Passing Places, Eternal Truths
"Oh! Let us keep afar off from us all that glitters, let us love our littleness, and be satisfied to feel nothing. Then shall we be truly poor in spirit. Jesus will come to seek us how far so ever we may be, and he will transform us into flames of love." (Saint Therese of Lisieux)
The struggle in littleness is a good thing – to have a poor spirit and to feel the pinch of poverty. That's what I maintain in my writing. It doesn't have a handsome, well-built structure or keep to a theme, follow an outline, etc. It's not that I'm trying to write something slipshod; I just want to admit that I am poor and write from that poverty. Poverty is not despicable, and neither is the littleness of ordinary life if that life is offered to Krsna.
From He Lives Forever
Kṛṣṇa next tells Nārada, "I have left you just to increase your attachment to Me." And the same thing applies to the spiritual master. It should not be that after the spiritual master disappears the disciple's attachment for him gradually wanes, that the devotees are sustained when the spiritual master is present but in his absence their memory of him deteriorates. And don't think that if you did not have personal association with Śrīla Prabhupāda you did not know him. Even if that is a fact, the opportunity to approach him continues. Many who had personal association with Śrīla Prabhupāda feel that they did not take advantage of it. Yet they also have the opportunity, even now after he had left, to increase their attachment for him. This association is something each of us deliberately has to cultivate.
Everyone should desire intimate association with a pure devotee. If you don't desire that, then you're as good as dead, because by association with a pure devotee you can develop love of Kṛṣṇa but otherwise it's not possible. You can never know Kṛṣṇa by your own endeavor; you have to know Him through the spiritual master. And we all know that the spiritual master is present in his spiritual sound vibration. That is even more important than his physical presence. So we have the opportunity to become intimately associated with Śrīla Prabhupāda. And that intimate association means that you are serving and he is pleased by your service. Yasya prasādād bhagavat-prasādo yasyāprasādān na gatiḥ kuto 'pi. "By the mercy of the spiritual master one receives the benediction of Kṛṣṇa, and without the grace of the spiritual master one cannot make any advancement."
There are so many aspects in understanding the disappearance of the great personality, the pure devotee. Here we see that his disappearance is meant to increase our affection and our devotion and our meditation on him. This is what Kṛṣṇa says here to Nārada.
From Vaisnava Compassion
Preaching as Compassion
But there's a difference between surrendering to a particular form of preaching service and answering the question, "Do I have a vocation for this?" Each individual will have to examine him or herself to respond to that. For those who feel they do not have a career in front-line, outreach preaching, I would like to offer encouragement. There is a place for us in Prabhupada's movement. We should honor those devotees who can make a career of the types of front line preaching more timid devotees never feel comfortable doing, and we should be creative in our attempts to be compassionate and find a way to preach. What we shouldn't do is avoid Prabhupada's instruction that all his followers should preach.
Actually, even the not-so-timid devotees have to be creative in their preaching. Most of the devotees in the movement now are established grhasthas, and it's likely that the younger devotees will follow them into that asrama. ISKCON is not full of Brahmacaris the way it was twenty-five years ago. Therefore, the needs of our society have changed. It is romantic to think that we can take up six hours of harinama a day, because someone will still have to pay our bills. Neither are devotees inclined to move back into the communal situation of the 1970s.
Some devotees feel our usual methods of book distribution do not concentrate on encouraging people to read Prabhupada's books. From that concern, many other forms of book distribution have arisen. Some devotees spend time writing introductory booklets to help people better approach Prabhupada's books, others try to distribute the books in less active circumstances—going door to door or setting up tables on college lawns, for example. Other devotees become involved in nama-hatta meetings, and instead of constantly meeting strangers, try to get to know a smaller number of people. Some devotees cultivate their nondevotee acquaintances, sharing prasadam and being friendly. And there are those who preach to the devotees.
Thus he compiled the great historical narration called the Mahabharata for women, laborers and friends of the twice- born." (Bhag. 1.4.25) The sages lived a renounced life and wrote books. Srila Prabhupada also comments on the Six Gosvamis:
Because of their compassion for the poor fallen souls, the six Goswamis gave up their exalted positions as ministers and took vows as mendicants. Thus minimizing their bodily wants as far as possible, they each accepted only a loincloth and a begging bowl. Thus they remained in Vrndavana to execute the orders of Sri Caitanya Mahaprabhu by compiling and publishing various Vaisnava literatures.

—Bhag. 5.1.26, purport
Srila Prabhupada's books themselves are compassionate books, and devotees may also choose to express their compassion by writing books following in his footsteps.
… Then how does a devotee show compassion toward the nondevotees? Harinama, prasadam distribution, colorful festivals, and enough philosophy to attract them to Krsna.
Therefore, strictly speaking, everything in ISKCON can be called preaching—everything from the most direct forms of book distribution to our farm communities in the country, guest house construction, accounting and management, and public relations. As long as the devotees do not forget their compassionate purpose and do not seek name and fame, the preaching movement will go forward. Timid or bold, there is room in this wide variety of activities for every devotee.
Absolution for Accidental or Unavoidable Violence
IT'S INEVITABLE THAT NO MATTER HOW CONSCIENTIOUS we are not to commit violence toward other creatures, we will still be guilty of harming some of them. We unknowingly crush ants or other small insects when we walk; we accidentally crush a spider under our drinking glass; we throw wood in the stove, but it's full of hibernating beetles; we drive a vehicle, and hundreds of insects are smashed against our headlights and wind shield. In this society, we often have no choice but to participate in the violent acts of others—perhaps we have to buy milk that is produced in factory farms. Many of the products that we use regularly contain animal products—soaps and film, for example. We have to take responsibility for that violence.
Therefore, we devotees cannot call ourselves perfectly nonviolent, especially if we make little effort to avoid animal products. More and more people in the West are becoming aware of products that use animal ingredients, and although they may not have the deeper Krsna conscious motive, they are good at practicing nonviolence in a violent world. If we are making little endeavor in this regard, we shouldn't be proud of our nonviolence.
Still, devotees like to practice nonviolence, and we usually feel awful when we suddenly discover that the ingredients of something we have been using were acquired by violent means. What can we do to absolve ourselves?
The main thing is to be sure that we are fully engaged in Krsna consciousness. We should not risk acting in this world without the shelter of Krsna consciousness. When we travel, we should travel for a Krsna conscious purpose; when we eat, we should offer our food to Krsna. We will commit unintentional violence no matter what we do in this world– whether we travel or stay at home–but whatever we do will be purified when we offer our lives to Krsna. That is the meaning of yajna. The best yajna in this age is the sankirtana-yajna, which when considered in its broader context, includes all the services we render in order to give Krsna consciousness to others.
From the purport to Srimad-Bhagavatam 11.3.24:
Ahimsam indicates that one should not commit violence against any living entity…Ultimately the material world is full of violence, and the laws of nature, which impose old age, disease and death upon every living creature, are themselves filled with violence. Therefore, if somehow or other one can convince others to surrender to Krsna and thus release themselves from the violent laws of material nature, that is the perfection of ahimsa.
From The Wild Garden
"Digest, digest," I tell my innards, and they grump back, "Eat less, eat less." But I can't starve. Everyone can see how skinny I am.
A bird raises its foot and scratches its head. One coos. The crow caws. Others whistle. The mayuras (peacocks) call from the fields. The sun ball is now clear of that low building, round and orange in the rare moment before it turns to fire. Make your wish now as the moment passes: May I worship Govinda and transcend the lethargic and troublesome body. May I relate to others without regret and anxiety, being myself and trying to serve devotees and the Lord.
Loving God is not a process of denial but of affirmation. The sunrise is part of God's artistry. The eternal adventure is to respond to Krsna's call, "Come home."
"Cut the great ropes of misplaced hope, leave the poison forest of sense gratification, and fly, O bird of my heart, to the nectar forest of Vrndavana" (Vrndavana-mahimamrta, Sataka 14.3).
I was thinking this morning of Prabhupada's Vrndavana poem: "All that is left is a list of names." My mother rejected me; my father too. It is all a fruitless glory. No wife, sister, material career, few friends. Even my position as initiating guru and author—what are these? Their essence is only service to others. Without that essence, they are illusions, meaningless. It's funny, actually.
WRITINGS OF THE VAISNAVA ACARYAS
From Sri Caitanya Maha-Kavyam: An Epic Poem Describing Caitanya's Life by Kavi Karnapura, Translation by H.H. Bhanu Swami
Mahāprabhu, experienced the sorrow in the gopīs' hearts constantly. When the opportunity arose in this condition, He experienced transformations in His heart.
Gauracandra appeared to wear a necklace of constantly flowing tears on His chest. Becoming thin, present only by His name, He became despondent because of the long separation.
He became thinner by the day, sprinkling tears from His pink lotus eyes while exhaling hot wind in long sighs.
As the forest fire of sorrow doubled by not seeing Jagannātha, the Ocean Of Mercy attained some peace of mind on considering that the Lord would return.
The Lord, with a flute in His hand, mounting an attractive swing, viewed the artistic dancing of the best temple women at the three junctures of the day.
He enjoyed nicely with charming songs, while sweet mṛdaṅgas and other drums sounded. The floor of the room became white from the constant showers of flowers.
His heart despondent because of separation, Gauracandra passed His day crying loudly and incessantly and attained some relief by seeing His companions.
Gauracandra then decided to thoroughly clean the place known as Guṇḍicā along with the devotees dedicated to His lotus feet.
On the day previous to the cleaning, Mahāprabhu, engaging all the devotees, joyfully gathered brooms for cleaning the place.
Receiving the attractive brooms, like branches from the tree of happiness, from the lotus hands of the Lord, His dedicated devotees immediately felt great happiness.
Moving like a herd of mad elephants, like a mobile gold mountain, filled with sweetness, His heart bursting with joy, the Lord ran swiftly.
Running like a mad elephant suddenly released after being chained for a long time, He shook the ground with the heavy steps of His lotus feet.
Going quickly with anxious heart, He came to Guṇḍicā, which was like an ocean of happiness, and entered the place. The devotees arrived later.
Filled with great joy, He entered the place and, with His devotees, holding brooms, quickly cleaned the place bit by bit.
The devotees were enthusiastic to clean and to hear the Lord's kīrtana simultaneously. With the brooms they cleaned each room, each wall, each veranda and each upper room.
Joyful on seeing the Lord's face, some devotees in private, washing their bodies with torrents of tears, remained motionless for a long time, forgetting to sweep the rooms.
With hairs standing on end, some devotees, their minds absorbed in hearing the Lord's beautiful words, lost control of their limbs and, though cleaning the rooms, in bewilderment did not know what they were doing.
The Lord in great joy ordered the devotees, "You clean over there. You clean here. Clean nicely." This made them very happy.
Their joy doubled when the Lord gave directions on how to clean. They could not be fully satisfied however.
In anger and affection, with brooms He heavily beat on the back those who came late.
But these devotees felt happiness in the pain arising from being heavily beaten by the brooms. This is the effect of great affection. Great suffering gives pleasure.
The Lord himself cleaned joyfully for a short time. Sometimes He watched and sometimes He engaged others in actions by His orders.
Approaching all the devotees, He made them extremely blissful by His smiles, words, glances, and touch, which replaced all sorrow with joy.
---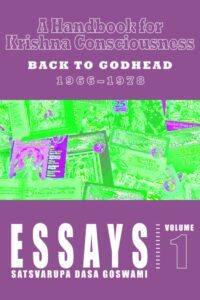 This collection of Satsvarūpa dāsa Goswami's writings is comprised of essays that were originally published in Back to Godhead magazine between 1966 and 1978, and compiled in 1979 by Gita Nagari Press as the volume A Handbook for Kṛṣṇa Consciousness.
---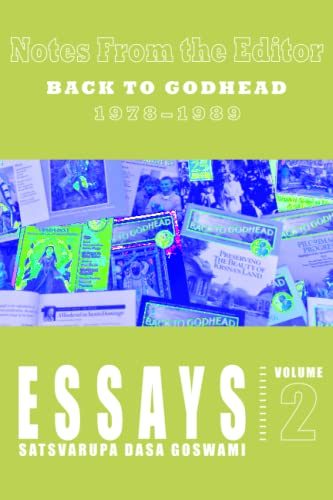 This second volume of Satsvarūpa dāsa Goswami's Back to Godhead essays encompasses the last 11 years of his 20-year tenure as Editor-in-Chief of Back to Godhead magazine. The essays in this book consist mostly of SDG's 'Notes from the Editor' column, which was typically featured towards the end of each issue starting in 1978 and running until Mahārāja retired from his duties as editor in 1989.
---

This collection of Satsvarupa dasa Goswami's writings is comprised of essays that were originally published in Back to Godhead magazine between 1991 and 2002, picking up where Volume 2 leaves off. The volume is supplemented by essays about devotional service from issues of Satsvarupa dasa Goswami's magazine, Among Friends, published in the 1990s.
---

Writing Sessions at Castlegregory, Ireland, 1993Start slowly, start fastly, offer your obeisances to your spiritual master, His Divine Grace A.C. Bhaktivedanta Swami Prabhupada. You just drew his picture with your pencils. He appears carved out of wood…
---
I found I had hit a stride in my search for theme in writing, then began to feel the structure limiting me. After all, I had given myself precious time to write full-time; I wanted to enter the experience as fully as possible. For me, this means free-writing—writing sessions with no predetermined shape, theme, or topic…
---
Daily Compositions
This volume is comprised of three parts: prose meditations, free-writes, and poems each of which will be discussed in turn. As an introduction, a brief essay by the author, On Genre, has also been included to provide contextual coordinates for the writing which follows…
---
Meditations & Poems
A comprehensive retrospective of poetic achievement and prose meditations, using a new trajectory described as "free-writing". This volume will offer to readers an experience of the creativity versatility which is a hallmark of this author's writing.
---
Kaleidoscope
Stream of consciousness poetry that moves with the shifting shapes and colors characteristic of a kaleidoscope itself around the themes of authenticity. This is a book will transport you to the far reaches of the author's heart and soul in daring ways and will move you to experience your own inner kaleidoscope.
Read more »
---

A narrative poem. challenging and profound, about the journey of an itinerant monk who pursues new means of self-

Seeking New Land

expression.The reader is invited to discover his or her own spiritual pilgrimage within these pages as the author pushes every literary boundary to boldly create something wholly new and inspiring.