Free Write Journal #258
August 18, 2023
NEWS  ITEMS
Health Update
Hari Hari! This week Satsvarupa Maharaja experienced another "roller-coaster" ride with his headaches, from "shadow" headaches to full-blown migraine headaches. The nausea remained practically full-time, with a few hours' respite after taking the medicine. The visit to the gastroenterologist turned out to be a bust. The doctor wasn't in, and his P.A. (physician's assistant) wasn't very focused on our case. She didn't order any tests but just doubled the nausea medicines and said come back in two weeks.
On the bright side, Satsvarupa Maharaja had the quarterly home visit from his Landmark nurse practitioner. It turns out she herself suffers from migraine headaches and has so for many years. She had a few new medicine combinations to try that had worked for her. She ordered an ultrasound of the abdomen and esophagus, thyroid, etc. These are all potential origins of nausea, and two of the doctors along the way had asked if he had his gall bladder removed, so I guess that is another suspect in the case. This is the second day of the new medicine trials, and so far today, no migraines. I guess we will find out more results this week, and if we have a winner with the headache department medicines, he will still have to rest and do exercises for any kind of real recovery.
Your servant,
Baladeva
"He Is All Right Now": An Incident In Hawaii
I just joined Prabhupada as his permanent servant in Los Angeles, and a few weeks later we traveled to Hawaii. The temple was too small to contain Prabhupada, and so he was given a room in a hotel. One day the phone rang and I answered it. On the other end was my Godbrother, Rupanuga. His voice was very emotional. He said something had just happened, and I had to tell Prabhupada about it. Rupanuga and a group of brahmacaris were doing harinama in the streets. That night at their hotel some men stopped nearby, and one of them threw a firebomb into the house. The bomb hit directly on the body of one of the brahmacaris, and his body went up in flames. He was brought as an emergency to the hospital. But he was burned too badly all over his body; because of his condition, he soon died in the emergency room. I told this ghastly story to Prabhupada. Prabhupada said that the hospital staff was very surprised to see that the young brahmacari was not expressing distress during this period in which he burned to death. Then Prabhupada asked me, "What was the brahmacari doing?" I answered to Prabhupada, "They say he was chanting Hare Krsna." Then Prabhupada replied to me, "Then he is all right."
Book Team Meeting
Today we had a book team meeting. It was at 11:45 A.M. I forget the time; I have been forgetting time recently. I finally woke up at 10:30 A.M., forgetting that the meeting was at 11:45. I felt a headache. B. gave me two tablets, and I went back to rest for an hour. I had a sweet dream of Hanuman. After the meeting was over and I rested again, I had an even sweeter Hanuman dream. Since I can't remember things well nowadays, I can't tell you what the dream was about. Then at 11:00 at night, I woke up from an even sweeter Hanuman dream. Where did this come from? I am not a great devotee of Hanuman. But here he came, from out of our sampradaya, and blessed my dream. I still have two hours before I have to wake up. All glories to Hanuman!
******
The book team meeting on Zoom was attended by Krsna-bhajana and his wife Satyasara in Alachua, Lal Krishna from Oxford, and Nitai from India (who is preparing a catalogue of my books for the Indian market). Krsna-bhajana was the facilitator for the meeting. He announced that the books they are working on are my inner Journals, Volumes Two through Four. I was very happy to hear that he is giving priority to the Journals. Lal Krishna has a great idea for the series of covers for the Journals also. So I'm very happy that things are moving in that direction and that they will be done for the Vyasa-puja festival. That is my desire.
Baladeva was there and made the announcement we all love to hear: that Manohara will be joining us here at Viraha Bhavan by the end of September.
The Heaviest Chastisement I Received From Srila Prabhupada
When I came to be Prabhupada's permanent secretary in 1974, he engaged me in a number of tasks, really too many, and I couldn't handle them all. One of my tasks was to type up his mail, which he dictated. One day, after I had typed up some mail (and this was only a short time after I had come to join him as servant), he casually asked me, "Where is the letter I wrote to Guru Dasa?" His question frightened me. I knew I was in trouble because I hadn't found a letter from Guru Dasa to reply to.
I told Prabhupada the truth: I had looked in the cardboard folder in which all the letters were kept by the previous secretary, and I had not found any letter to Guru Dasa from Prabhupada, so therefore I didn't enclose it. But this simple or "simplistic" answer didn't satisfy Prabhupada, but only made him angry. He said to me, "What do you mean you couldn't find it?" I answered that the previous secretary did not keep his records very well, and so there was no letter there from Guru Dasa. Prabhupada then got very angry at me, and he said, "Why in your letter did you say you enclosed the letter to Guru Dasa if there wasn't one?" I got even more frightened at Prabhupada, because I saw he was growing more angry. I said to him, "I'm sorry, Prabhupada, that I couldn't find the letter, but it just wasn't there." He answered, "This is childish! Why did you say there was a letter when there was none?" Prabhupada said, "What are you going to do about this?" Then I began to cry. Tears poured down my cheeks. I couldn't think of a proper answer. I became more emotional and said to Prabhupada, "I guess this means I am not sincere in my service. I don't love you; I don't do my service as a sincere devotee." Prabhupada just got more angry. He didn't appreciate my tears or show me any sympathy. He just kept asking me, "What are you going to do about this?" "It will make me look foolish that I say there is a letter enclosed, but there is no letter enclosed." I begged Prabhupada to please forgive me.
Then instead of constantly pouring teards down my cheeks, I finally used my intelligence. I said to Prabhupada, "I will write my own letter to Guru Dasa and tell him I found no letter in the files, so there was none enclosed." When Prabhupada heard that I would write to Guru Dasa on my own, he seemed satisfied but abrupt, and he said, "Then do it!" He didn't ask me any further question about how I wouldn't be able to send a letter to Guru Dasa because there was none in the files. But at least because I showed my intelligence that I would do something, he let me off without any further transaction or chastisement.
Tamal Krishna Goswami on Satsvarupa Maharaja
My exalted Godbrother, Tamal Krishna Goswami, held his very last Vyasa-puja ceremony in Texas in the year 2001. He passed away a few short months afterwards in March 2002, in a tragic accident. At the time he was 55 years old and living in Mayapur dhama. Vicaru is now staying with me and doing service at Viraha Bhavan, New York. He played a recording for me of TKG's last Vyasa-puja speech. It was a remarkable talk. The lecture was entirely dedicated to praising the gurus of ISKCON, as well as giving general blessings and praise to all devotees present. Vicaru dasa noted the praise he gave to the following gurus:
Vicaru: So Rtadvaja Maharaja was very close to Gurudeva, Tamal Krishna Goswami. When Gurudeva was in the hospital for a prostate operation, he gave full time to being with Tamal Krishna Goswami in the hospital. So he was present there in Vyasa-puja, last Vyasa-puja, final Vyasa-puja, and then Giriraja Maharaja was very close, he was also there, and Giridhari Swami, who preaches in Phillipines and China, he was also there, and Caitanya Chandra Prabhu, a Prabhupada disciple, Gurudeva's Godbrother, he was also there at the Vyasa-puja in 2001. It was the last Vyasa-puja.
SDG: TKG, in his own words, praised each of the many gurus in elaborate words. He also spoke of me.
Vicaru: So Gurudeva, when he was giving the lecture, systematically he glorified all the gurus, taking from different names of different gurus who were standing gurus, and also he glorified the gurus who left also, at the last of the lecture. So in a sequence he was glorifying, and at one point he came to, the sequence was from A to Z, like number, alphabet, so when it comes to Satsvarupa Goswami Maharaja, Gurudeva said that Satsvarupa Goswami Maharaja is one of the most reclusive and most humble monks. He really demonstrated the quality of a monk and very reclusive, and he's a prolific writer, and he doesn't need to think he needs to do any other preaching, traveling, preaching, or whatever. But his writing is his greatest preaching. He just only needs to keep writing, and that's his devotional service to Prabhupada and Krsna. And he is most humble sannyasi. Although TKG said that Satsvarupa Maharaja is very, is a sadhu and very humble, but there is no better than this, Satsvarupa Maharaja is a genuine sadhu, he tolerates all the bodily pains, writing, just keep on writing books about Prabhupada, and Krsna consciousness book, he don't need to think of any other service. He is a real sadhu of ISKCON, and I offer my respectful obeisances to him today. We offer our Guru pranam-puja to Satsvarupa Maharaja. (That's what he said, actually.)
SDG: At the end of his talking about me, TKG ended his talk, saying, "And he is a recluse."
I was not hurt by these words as if they were a criticism. TKG speaks the truth. He does not give merely opinions, but statements of fact. So I accepted his words that I was a recluse and did not see wrong in it. He acknowledged that I was preaching by my writing, and this was sufficient preaching to please Srila Prabhupada and the devotees. I was happy to hear this talk, and I am sad that he is no longer with us in hids vapuh form. But his disciples and Godbrothers who love him are carrying on his spirit all over the world.
A New Life
At the 1978 GBC meeting (the first one after Srila Prabhupada departed), I was officially appointed as an initiating guru and given Gita Nagari with little Baltimore to manage as my GBC zone. I was also given the nectarean task of writing the official biography of Prabhupada— the Srila Prabhupada-lilamrta. In Mayapur, a swami brought his two best men forward and asked me to initiate them. They became Hari Bhakti Vilasa dasa and Murali Manohara dasa. A small group of devotees who were initiated by Srila Prabhupada (including Samika Rsi Prabhu and his wife Anartha devi dasi) also came forward for brahminical initiation.
After Mayapur, I stopped in Hawaii and did a small initiation, then on to Dallas for another. Navigating this new terrain was difficult at first, but I could feel the presence of Srila Prabhupada at every step. The next stop was a grand gathering for the installation of Srila Prabhupada's murti in Potomac, Maryland, attended by many devotees from the northeast and by the Radha-Damodara sankirtana party with some of its many buses. There was an initiation for twenty-one devotees from the northeast, and a lone man from San Francisco. When things settled down, I left for my first visit to Gita Nagari farm, the new home for Gita Nagari Press and my base for writing the Lilamrta. Since he didn't appear to be tied down by any particular authority at his Berkeley temple, I asked him to join me for several weeks, first Gita Nagari, and then on to Dallas.
During our first private meeting, Baladeva Vidyabhusana dasa explained how he had been very disappointed with relationships and "so-called friends" in his life. He then asked me sincerely if I could be that one friend in his life that he could always turn to and not be disappointed by. I explained that a disciple was safer in a master-servant relationship because as a friend, he's not so likely to see his guru in an absolute way. Apparently he did not take my advice so seriously, because today we are the best of friends, and I hope it doesn't get him in trouble by forgetting the master-servant part.
A Question from the Chiropractor
Today my chiropractor, Dr. Robert Rugen, came to Viraha Bhavan to work on my stiff and painful neck. He's quite a talkative fellow, navigating over many subjects with great ease during his forty-five minute workout. Today, for example, he spoke about human anatomy, family history, home projects he's working on, and baseball. At one point, completely by surprise and in a slightly challenging mood, he asked, "What do the Hare Krishna people think about evolution?" Fortunately he had my head cradled in his hands and was pulling on my neck, so I could not speak.
Baladeva, on the other hand, was left to deal with the full force of the challenge, and he started waffling. He said something about accepting the precept of reincarnation, the fact that God had already created the 8,400,000 species we can evolve through, dependent on our behavior—and a few other miscellaneous theological tidbits. The bottom line was that the good doctor wanted to share his excitement about some TV show he had seen several nights ago. A study (starting with 300 Siberian wolves) was made by selectively breeding the "good" wolves over six generations and coming up with a group that was primed for domestication . . . thus proving that all species of dogs came from wolves. Dr. Robert shied away from any conversation that included God, or Krsna, and stuck to his "quick evolution" theory. So we will have to rely on homemade cookies, bread and trail mix prasadam to soften his heart for the next round of "ecumenical" talks.
Spending Money
In the early days of ISKCON under Prabhupada's direction, devotees were very frugal. They ate lean diets just to save a few dollars for book distribution. Prabhupada was personally frugal, and he used to reuse an envelope mailed to him by writing on it. He became angry when devotees misspent. One of his managers in India stayed in an expensive hotel and rationalized it by saying that his father was paying for it. Prabhupada thought this kind of reasoning was nonsense. In 1966, when the devotees allowed themselves to be tricked by a realtor and lost $5000, Swamiji became disgusted and withdrew, saying it was their money, so what could he do? But then he returned to New York City and threatened the realtor with legal action and got most of the money back. He saw his devotees as being unintelligent and innocent in worldly dealings, and he kept warning them to be alert and not to be cheated by the outside world.
Swamiji's early disciple Stryadhisa was eccentric. He went one day to his spiritual master and asked for money to buy five gallons of gasoline. He said he wanted to burn himself up the way the Buddhists were doing in Vietnam. Prabhupada called for Brahmananda. He told Brahmananda what Stryadhisa wanted. Brahmananda said, "Five gallons? You don't need that much to burn yourself up." That was how they determined that Stryadhisa was crazy, because he asked for so much gasoline for his suicide attempt. Swamiji denied the request on the plea that it was too expensive.
One year, a few of Prabhupada's disciples convinced him that he should visit St. Moritz, Switzerland for a vacation. When Prabhupada arrived there, he found that it was covered with snow. He said that this not St. Moritz but "St. Hellish." He wanted to leave. In the short time they were there, the devotees were going to the stockbroker and reading the changing prices for gold. They were trying to calculate the buying of gold at a low price and then watching it change to a high price and then selling it. When Prabhupada heard what they were doing, he said their speculation was gambling, and he forbade them to do it.
Life with Headaches
Today I scanned an introduction to a new book and made adjustments, but with the headache syndrome could not do too much. Sometimes I hear a letter of mine read to me, make a few corrections to them, but then have to back off because of a headache starting up. The headaches have to be immediately addressed, or they quickly blow up into a migraine. I'm not supposed to write letters while I am ill, but sometimes I will dictate one that seems particularly important. This may bring on a headache before I finish the letter, and I have to dictate it again from the beginning when the headache subsides.
Vicaru's Art
Vicaru has taken up art. His first effort, painted with markers on a piece of cardboard, shows Goloka Vrndavana at the top. Krsna and a cowherd boy are dancing. Cintamani is in evidence.
Below Goloka is the abode of Narayana. Vicaru's art is just beginning, but he expects to get better. He wants to read about the spiritual world and then draw it with his colored pencils. He was not shy to show us his first drawing. He says he will show us a new drawing every day.
A Letter from Srila Prabhupada
"Bhaktivedanta Manor
28 August 1973
"My Dear Satsvarupa,
Please accept my blessings. I beg to acknowledge receipt of your letter dated August 22, 1973.
"You are the only one sending in reports, so I thank you very much for your diligence.
"If you can arrange for meetings with Professor Dimock and other professors, then do it for the month of October and I shall come.
"Krishna is very kind upon you because he has given you so many responsible tasks. So always think of the Lotus Feet of Sri Krishna and you will find no difficulties in executing the tasks allotted to you by Krishna. Bhaktivinoda Thakura used to say all difficult tasks he had to execute for Krishna were considered as great pleasure for him.
"Regarding the criticism from others, that may be there but we have to follow our own principles. Syamasundara was too attached to his daughter and therefore he took her back, but it is not good.
"Kindly see that the principles are being followed, Deity worship, sankirtana, chanting, etc. If we maintain these principles rigidly, there is no question of falldown and without any difficulty our progressive march will advance.
"I hope this letter meets you in good health.
"Your ever well wisher,
"A.C. Bhaktivedanta Swami"
Comment: Prabhupada thanks me for being the only one to send him monthly GBC reports. I don't know why the others didn't do so, but they were doing many things in his service, and I thought it was the least I could do to send him the monthy reports he required. Without these reports, how could he be in close contact with all the GBCs?
There is talk of possible meetings with Professor Dimock (of the Department of Oriental Studies at the University of Chicago) and other professors. The professor's interest was not that strong, and the meetings never came about. Among the professors of religion, Professor Thomas Hopkins was the most interested and had several private meetings with Prabhupada in which he asked him many interesting and submissive questions.
Prabhupada says I have been given so many responsible tasks, and this is Krsna's kindness. I believe at this time I had a Midwest USA GBC zone, and there were many temples to visit and to see that the standards were being kept up. Prabhupada says if I always think of the lotus feet of Krsna, I will find no difficulty in executing the many tasks.
I don't remember what Prabhupada means about criticism from others. He seems to refer to Syamasundara taking his daughter out of the gurukula, of which he doesn't approve. Perhaps Syamasundara had some disagreement about how the gurukula was run, for Prabhupada says, "There may be criticisms, but we have to follow our own principles." Finally, he orders me to see that the principles are being followed in all departments. "If we follow them rigidly, there will be no falldown, and our progressive march will advance."
Book Excerpts from GN PRESS PUBLICATIONS
From Prabhupada Meditations, Volume Five
pp.158-59
"81. Prabhupada Was Convinced
"Prabhupada was convinced. It's not just a matter of remembering his conviction from the times we spent with him; we can hear it in his voice in his lectures today. He said so many things that would astound the Western mind. Scientists could rarely accept what he said. Who knows if they ever will? That his Westerner followers believed him is amazing in itself.
"Imagine the cause of all causes being a bluish cowherd boy with a completely spiritual, transcendental body. Not only that, but this cowherd boy pervades the entire universe with His energies, yet always remains Krsna in Vrndavana, holding a flute and playing with His friends.
"Prabhupada is so matter-of-fact about all this that we feel sectarian if we don't see the truth in it. He doesn't require that anyone convert to Vaisnavism; he insists only on concentration on bhakti.
"We could find no reason not to believe him. But he was convinced. He never allowed us (or anyone else) to relegate Krsna to the realm of 'Hindu religion.' He cut us off at every corner. Therefore, we've simply become soldiers, philosophers, teachers, writers, all for his cause, and no one expects us to speak otherwise. We're brainwashed in the best sense.
"Sometimes we remember the stream of doubt. That stream, by Prabhupada's grace, became a rivulet, a stream so thin we can barely find it anymore. Yes, it's inconceivable to think, with our material backgrounds, that we now want to go to the specific person Krsna, or that Krsna, out of all the world's cultural figures, messiahs, and prophets, is the topmost expression of God. Why Krsna? And why should we believe it? But we do, and that's proof of Prabhupada's mercy—that his conviction stemmed the tide of Western existentialism and materialistic thought and taught us to repose our faith in the Absolute Truth."
From Write and Die
pp.52-53
"We're in the rainy season. The artist Andy Goldworthy works with found objects. He said he's been living in the same house in a neighborhood in Scotland for seventeen years. He and his wife have raised four children. He likes seeing the same children waiting for the school bus, and then he notices some of them are growing older, brothers and sisters growing up and people living and dying, the men growing older, and all in the same neighborhood. Everyone knows everyone else. And he too will die there. He goes out every day and by intuition works with the river and the tides, placing rocks and trying to make something that will not be washed away. Sometimes his work is destroyed by the tide, but sometimes it stays permanent, like a cairn or mound, like a beehive. It stays all year, solid and beautiful. Sometimes covered with water, but sometimes covered by tall weeds, like free love, like legends. He doesn't like to look at it after it's done, but he takes pictures of it and it becomes part of the landscape, part of the life of the land. He adds to God's creation. As he speaks on the film, he seems to be a very sensitive man, but what is he doing?
"The images were lovely, and so was he a lovely man, but the thing that grabbed me the most was his incidental remark that he liked living in the same place for most of his life. It struck me and made me think that maybe I would live here in Philo for the rest of my life. Of course, I have to visit Vrndavana sometimes if I get well, but to see the seasons change in the same place, and the same few people, getting to know them, and the same animals, seeing them grow up and die, and the changes, and the things that stay the same. Disciples, and your painting, getting better in the same place. Defying the idea that you have to go to different places to get 'material.' Emily Dickinson stayed upstairs and wrote universally with more experience than a ship captain who circled the world. She didn't have to mix with some celebrities and publishers and big-timers in order to get recognition and learn how to write to suit the world's taste. She remained a barefoot writer, and actually came to please more people than almost any other poet with her letters to the world that never wrote to her.
"And for a life of prayer I think it would be good to stay here, gradually, gradually reading books of prayer, relating them, I might get a tiny inkling of what it's all about. I might learn to chant japa and get rid of a headache by resting. It might really be best if you don't get agitated or bored, smile at fate, greet the few people in your life with warmth, get new life and write nice. Hmm. What do you think?
"Living in One Place—Benefits
You may live in this one room, it's called
house rest, they all know if you ever
step one foot out, just Krsna never leaves.
No I won't aprakrta, appear to leave
but he does go rain or shine
nothing like that.
He must be in this small space, and the
heart or everywhere you'll find Him and
you'll find Him smiling or He'll turn away."
From From Imperfection, Purity Will Come About
pp.34-35
"In Song Four, Bhaktivinoda Thakura confesses, 'I am a sinner. I caused others pain.' He doesn't commit sins anymore, but his karma weighs heavily on him. (My karma weighs on me too. During japa this morning, I roamed back to 1964 when I was confused, helpless, and sinful—a welfare worker, marijuana-smoker . . . Are these the thoughts fit to accompany japa? It's bad enough that I lived those things, but do I have to remember them while I am chanting the holy name? Prabhupada saved me just in time.) Srila Bhaktivinoda Thakura does not describe the details, but he lays it on the line—a sense-gratifier hurts others, but he doesn't care. Therefore he hurts and ruins himself.
"Most of Srila Bhaktivinoda Thakura's statements seem so extreme that we don't quite know what to do with them. It's almost hard to believe him when he says, 'I am remorseful seeing others happy.' But I experience this all the time. 'I'm a perpetual liar.' That's not true of me. I am honest. But wait a minute, you can't face the truth. You don't even know what the truth is. Isn't that a form of lying?
"'The misery of others is a source of great pleasure for me.' Now that's an exaggeration as far as I'm concerned. That sounds like a sadist. Do I think like that? But isn't a holier-than-thou attitude the same thing? Seeing the nondevotees unhappy is proof of my own righteousness. I tell you, I haven't faced the truth; I have no idea what it is. I know neither the evil in me nor the good. I know neither the love nor the pain. I don't know separation from Krsna at all. I am a vaidhi-bhakta, fingering my beads by candlelight and reminiscing about 1964.
"I am easily disturbed. I don't feel deep emotion. I can't confess. I remember going to confession as a child. The nun told us to prepare ourselves to tell the priest our sins, but all I could think of was that I talked back to my mother and told a lie. We were looking for the cracks in the sidewalk instead of the chasms in our souls. Why? Because the main thing was to stay as calm as possible. It was the middle of the war.
"Don't look at the chasms. Don't wake up the sleeping beasts. 'The material desires within the core of my heart are unlimited.' Again I wonder if he is calling up the worst possible condition to describe an Everyman. But any one of us can fall to the lowest depths of depravity. 'There, but for the grace of God, go I.' We generously ascribe all possible weaknesses to ourselves, even though we don't believe we have them, but Bhaktivinoda Thakura says that kama, material lust, is in the core of his heart. He speaks the truth even for you. Admit it.
"No, I'm not such a bad guy. I used to be bad, but I'm okay now. I'm a sadhu traveling in a Renault van.
"Ah, but in the core, the secret core of your heart . . .
"Dhruva Maharaja disowned all his desires when he saw the Lord, but Lord Visnu said, 'That's very nice, Dhruva, that you say svamin krtartho'smi varam na yace. But I know you still harbor one desire. Therefore, I am going to give you the Pole Star and a fabulously long duration as king. After that, you can come back to Me in the spiritual world.'
"It's in the heart. You dream of surrendering yourself to . . . you dream . . .
"My Krsna consciousness is only a covering. At the ultimate core, I am spirit soul. Then there are lumps of filth around that, then an outer layer of devotional service in ISKCON, and finally, most recently added, a thin powdery covering of real hope.
"Hey man, where are you at? Do you even know?"
From The Wild Garden
pp. 69-70
"Other Places #3
"I have been brought here. This is pilgrimage. I have my spec­ific duties. We are all serving our spiritual master in the dhama. My specialization is a detail—the main thing is that whatever I do, there is something rendered as service to the pure devotee. Srila Prabhupada advised us to taste the rasa of preaching. He said the quickest way to attract Krsna is to bring other people to Krsna consciousness. Spread the word, 'make' devotees. Whoever does so is the dearest servant of the Lord and there will never be one more dear.
"Preaching can be intense. The preacher has to constantly qualify himself. His audience demands the real thing. If he preaches surrender, then the preacher must surrender. If he preaches love of Krsna, then he must love and serve and wor­ship Krsna. Just as a doctor or professor has to attend so many intensive seminars throughout his career to keep abreast of de­velopments in his field, a preacher has to stay in touch with the japa of the holy name and with the pastimes of the Lord. He also has to stay in touch with his own honest self. He has to ask himself, 'Am I a devotee? Why am I practicing Krsna consciousness? What benefit am I deriving from it?' Greed (lobha) is the price of love of God. It is also called laulyam, in­tense desire to serve the Lord.
"O Krsna, do you need another writer of poems? I know You don't need me, but can I develop myself to help one of Your poets? Can I learn to compose poems for You? Or, if it is not to be my service, then what can I do for You eternally?
"I think if I serve my spiritual master in this world, that will be sufficient qualification to guarantee me some service in my next life and to gain eternal service. It's best to bet on a sure thing. The stakes—life and death—are too high to take a wild chance on a dark horse. Go with the strong one, the lover, the teacher, the revealer of the dhama.
"And if I do not desire to enter Radha-Krsna's pastimes—because I do not possess the strong greed to do so—at least I can return in my next life to associate with Srila Prabhupada ano his movement, to live with Prabhupada in this world. Hi: movement will increase for the next ten thousand years. There is time enough to return and qualify myself.
"But what am I waiting for? Bhaktisiddhanta Sarasvati Thakura prods us, 'Finish up your business in this life.' We have to give up whatever exploitative mentality we have and live in this spiritual movement, which is meant not for fulfilling someone's personal motive, but to benefit people all over the world."
From Prabhupada Appreciation
pp. 106-8
"Srila Prabhupada was the first to spread Krsna consciousness all over the world. The mission that Prabhupada carried out was predicted by different prophecies, both in the Bhagavatam and by other Vaisnavas. For example, in the Tenth Canto of Srimad-Bhagavatam, the Personified Vedas request the Lord to be merciful and deliver His message to the living entities in maya. The Personified Vedas state that of all His glories, the most important one is His compassion on the living beings. Therefore, the Lord easily dispenses His mercy by empowering His surrendered devotee. Srila Prabhupada was the person predicted by sastra to deliver love of God to everyone in maya.
"Jagadisa Goswami once pointed out that Srimad-Bhagavatam 1.5.11 is also prophetic of Srila Prabhupada's preaching. The verse describes how literature that is full of the descriptions of the name, form, pastimes, etc., of the Supreme Lord is capable of bringing about a revolution in the 'impious lives of this world's misdirected civilization. Such transcendental literatures, even though imperfectly composed, are heard, sung and accepted by purified men who are thoroughly honest.' In his discussion on this verse, Jagadisa Goswami states that Srila Vyasadeva compiled this literature to spark a revolution, but there had been no Bhagavatam revolution until Srila Prabhupada's presentation of it in the Western languages. 'The revolution being described in this verse is a world revolution, so there's no doubt that this cannot but be applied to the present Krsna consciousness movement.'
"This verse also says, 'Such transcendental literatures, even though imperfectly composed . . .' Anyone who has read the first volumes of the Bhagavatam that Prabhupada produced in India knows that they were imperfectly composed, but because their message is perfect, they will be appreciated by thoroughly honest people. Jagadisa Goswami goes on to say that Srila Prabhupada has been described as a saktyavesa-avatara, and that generally, avataras are predicted in the sastra. 'So here we find a genuine confirmation that Srila Prabhupada is the saktyavesa-avatara of Lord Krsna who was deputed by the Lord to accomplish the purpose described in this verse—to create a worldwide revolution in the misdirected lives of an impious civilization.'
"There are other prophetic statements in the scriptures that can be reasonably applied to Srila Prabhupada. The Caitanya-bhagavata predicted that 'In every town and village, My [Krsna 's] Name will be sung,' and Bhaktivinoda Thakura also envisioned that many devotees from all nationalities would assemble at Mayapur to sing the holy names of Lord Krsna and Lord Caitanya. He predicted that a great acarya would come to create a worldwide movement to propagate the sankirtana mission. In 1975 in Mayapur, before a large congregation of devotees, Srila Prabhupada stated that all this had come true."
From Dear Sky: Letters from a Sannyasi
pp. 78-79
"March 25
West Coast Demerara
"Dear person who will never visit the Uitvlugt center,
"I'm writing this letter in the last moments of my candle's life. It has burned down in two days to its very bottom.
"It's flickering in front of a picture of the Six Gosvamis and the other pictures I have on my altar in my room. This is not a romantic luxury; there is no electricity. In a few minutes I'll have to go down to mangala-arati, which will probably be held by kerosene lamp.
"I think the main purpose in writing this letter is that I want to describe the temple room. There's a unique flavor to it that somehow seems worth describing to you who will never come here.
"The devotees have very little money in Guyana. The only reason they have a house like this is that one of the senior devotees, Bhutadi Prabhu, was given it by his father. It's a big three-story house. The temple room is quite large, and it seems like two rooms without a divider. It has high ceilings, and everything is made of wood—the floor, the ceiling, the walls. Everything is stained the same dark lacquer. This makes the room dark no matter what time of day it is. Even in bright sunlight the corners of the room are dark. There is only one fluorescent light high on the ceiling; even when there is electricity, the whole room is still cast in shadows. To me, being in that dark room will always embody the Guyanese experience, especially at mangala-arati.
"The devotees are lucky to have had this place now for about ten years. As with other ISKCON buildings, it's been the scene of continual devotional service. One of the outstanding features of this temple room is that as soon as somebody starts to dance, the whole building shakes. Even a passing car makes the building shake. You tend to think the whole house could shake apart, but somehow, just like the fragile devotional service of the devotees themselves—fragile because they're always prone to listen to their minds and fall into maya—this house is somehow holding together. It is only Krsna's grace. On a Sunday, when the many guests start dancing, you just pray to Krsna that the floor doesn't fall through then and there. Last Sunday we had just started to dance when the pujari stopped us because Nitai Chaitanya Chandra were shaking.
"There are many other things I could say, but I'm in the last moments of the candlelight, and also the last moments before mangala-arati."
From Japa Transformations
pp. 25-26
"Chanting is shelter, like
living in a house. You're
with the Lord in private
meditation. It is cozy and
intimate, and warms the
heart. It is better than a
fireplace on a winter day.
"I long to spend many hours with
the hari-nama mantra, improving
the performance, getting closer to
the Lord.
"This simple, personal practice is
better than pompous displays
and can carry you back to
Godhead.
"When you are actually chanting, it's not laborious. Sometimes thinking about chanting and how many rounds you have to chant gets laborious or worrisome. Procrastination or panic become negative factors. But actual chanting is smooth riding, and it's actually fun and enjoyable. You just have to keep moving along and take the responsibility for the larger number of rounds still to do. As you chant, they always gradually diminish, and quickly, too. The absolute necessity of chanting should not be a burden but just a given factor. I actually like to chant and shouldn't forget that. I just get bothered when I run into conflict with other things on my schedule and the quality of the chanting is disturbed. On days when you are behind in your schedule, you may have to sacrifice other activities, and you should do that willingly. Quality chanting always comes first.
"Chanting behind, I
control my mind and
assure myself there is
nothing to fret.
"You'll reach the goal before
the day is out, so what's to
worry? You have to do it so
you might as well enjoy the
easiest practice of the day.
"Oh well, let's admit it's not always
so easy and you are not always so
willing but it's do or die so rest
with that."
From Obstacles on the Path of Devotional Service
pp. 45-47
"Physical Illness
"My Story
"I would like to share some of my experiences of a prolonged illness. It came as a shock to me when suddenly I could not do my normal duties. At first you do not want to accept it. You keep trying to act normally, but the material nature forces you to the floor and you have to submit.
"As you lie in your sickbed, you worry that perhaps you are not actually sick. Maybe you are a malingerer. You have heard that most diseases are psychosomatic, and you wonder exactly what that means. Maybe you are not being sincere enough. You try again to get up and disregard your illness, but you are rudely thrown down. After going through this struggle for a while, you accept the fact that you are sincere about wanting to be well. You wish to serve your spiritual master's mission, but the fact is, you cannot do it now. You have to deal with your physical illness and not feel guilty about it. This is a mental problem that comes along with physical disease.
"The fear of being seen as a malingerer is related to a social image. You make heroic efforts to act as if you are not ill because you're afraid of what others will think or say about you. Srila Prabhupada said that devotees should be sympathetic, but we cannot expect everyone to be preoccupied with our disease. We have to take care of ourselves.
"With the aid of close friends, we take to medical treatment and a health regimen. But while we rest in bed, we worry that some devotees are expecting us to be active and they are disappointed in us. Someone may even think that we are 'in maya.' If anyone inquires from us with an unsympathetic attitude, we have to tolerate this and inform them politely that we are not in maya; we are simply taking care of our illness. This is an extra burden for the ill: to live in a society of people who are active and who cannot always understand and sympathize.
"The ill person has to accept the fact that he may be losing his popularity. The book distributor who becomes ill is no longer praised daily for his record-breaking feats. People begin to forget about you. You no longer feel the satisfaction that you are doing something worthwhile in Lord Caitanya's mission. Of course, the truth goes deeper than this, and yet a diseased person sometimes suffers disappointments because of these changes in his life.
"Next comes the humbling realization that you are not that much needed. You may have been a leading preacher, but Krsna will send someone else to do your work. Everything does not collapse just because you are not on the scene. On the one hand it is a solace to learn that your work is being covered by others. But it is also humiliating. You had thought that many people were depending on you, but new people are coming forward and taking your place. Although a few visitors give you flowers, you are not terribly missed. But to dwell on these things is a needless worry that does not help your physical illness."
"While I was ill, I wrote this little poem:
"My list of things to do
falls to the side.
All I do is rest.
But one cry to Krsna
is worth a hundred steps
of marching in pride."
From ISKCON in the 1970s: Diaries
pp. 338-39
"November 20
"New idea: those who are now initiating disciples should make their main activity traveling and preaching. I could con­centrate on the thrilling adventure of always talking about Krsna and looking for the opportunity to preach, managing BTG through agents, getting the manuscript in the mail, and visiting once a month. Travel in the Northwest U.S., any zone, with maybe two assistants in a van. The work in L.A. will go on without me.
"But what kind of preaching can I do? I remember Trivikrama Swami once said to Srila Prabhupada that he wanted to leave the Orient and go to the West because he hadn't preached in two years. Srila Prabhupada replied, 'That means you can't preach. Therefore, you should stay here.' But although I say I want to preach, today I walked past three young, American col­lege boys who had come all the way to India and the Krishna-Balaram Mandir, and I didn't stop to talk to them. I was afraid. I couldn't get into it. But I think it is because I am completely out of the mood. If I were preaching like that, then I would do it, talking to people about the philosophy day and night, just like Srila Prabhupada showed us. I also want to go out door-to- door and preach. I could even give up my plans to create some kind of literature and rather concentrate on chanting and hearing and studying and writing, only purely about Krsna. Yeah, I sure would like to have the courage to go out and preach like that with no management, but only speaking and trying to convince people about the philosophy, willing to talk with anyone, but not attached to whether they accept it.
"As for writing, I could write simply. I have one assignment yet to do—the editorial. Write it as it comes to mind. Now peo­ple are thinking, 'What will happen to Hare Krsna?' They think of us as a cult sustained by the charisma of our leader. Are they still thinking we are brainwashed? Maybe they think our brainwashing will come undone and we will be brain-dirtied again. Anyway, we will continue with our spiritual master through the medium of separation.
"Don't let Srila Prabhupada deteriorate. Read his books. Don't let yourself  deteriorate.
"I had an idea to live as a sannyasi should, to get myself a car and a servant and perhaps commit myself to no other service but speaking to people, holding programs at which I would give a talk, a kirtana, and prasadam. Surely, engagements would come up. I would get invited somewhere—probably mostly by young people—and preach to them. I don't know what it would be, but it would be a case of throwing myself into an element where I would sink or swim. Hamsaduta Maharaja used the expression that we were like students graduating from high school; we were popular in school, but now we are on our own. We would have to prove ourselves in the real world, show what we could achieve (say, graduating from college). Simply being liked would not be enough, we would have to prove ourselves on our own and we would be judged by what we could do. So he said that what we had to do, especially those who are making dis­ciples, was to go off from managing the institution—let the institution manage itself, or rather be managed by up-and-coming new men. We should go off and preach. For him this also meant making new disciples, as he has been asked to do."
---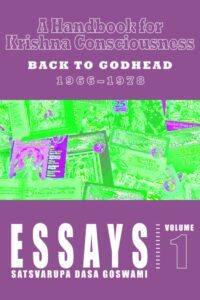 This collection of Satsvarūpa dāsa Goswami's writings is comprised of essays that were originally published in Back to Godhead magazine between 1966 and 1978, and compiled in 1979 by Gita Nagari Press as the volume A Handbook for Kṛṣṇa Consciousness.
---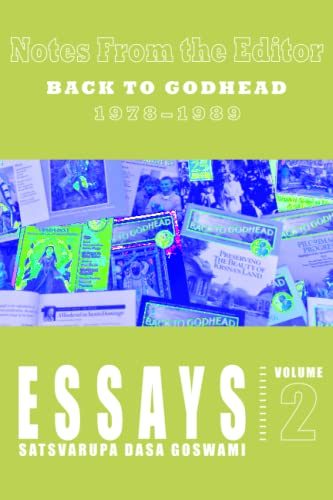 This second volume of Satsvarūpa dāsa Goswami's Back to Godhead essays encompasses the last 11 years of his 20-year tenure as Editor-in-Chief of Back to Godhead magazine. The essays in this book consist mostly of SDG's 'Notes from the Editor' column, which was typically featured towards the end of each issue starting in 1978 and running until Mahārāja retired from his duties as editor in 1989.
---

This collection of Satsvarupa dasa Goswami's writings is comprised of essays that were originally published in Back to Godhead magazine between 1991 and 2002, picking up where Volume 2 leaves off. The volume is supplemented by essays about devotional service from issues of Satsvarupa dasa Goswami's magazine, Among Friends, published in the 1990s.
---

Writing Sessions at Castlegregory, Ireland, 1993Start slowly, start fastly, offer your obeisances to your spiritual master, His Divine Grace A.C. Bhaktivedanta Swami Prabhupada. You just drew his picture with your pencils. He appears carved out of wood…
---
I found I had hit a stride in my search for theme in writing, then began to feel the structure limiting me. After all, I had given myself precious time to write full-time; I wanted to enter the experience as fully as possible. For me, this means free-writing—writing sessions with no predetermined shape, theme, or topic…
---
Daily Compositions
This volume is comprised of three parts: prose meditations, free-writes, and poems each of which will be discussed in turn. As an introduction, a brief essay by the author, On Genre, has also been included to provide contextual coordinates for the writing which follows…
---
Meditations & Poems
A comprehensive retrospective of poetic achievement and prose meditations, using a new trajectory described as "free-writing". This volume will offer to readers an experience of the creativity versatility which is a hallmark of this author's writing.
---
Kaleidoscope
Stream of consciousness poetry that moves with the shifting shapes and colors characteristic of a kaleidoscope itself around the themes of authenticity. This is a book will transport you to the far reaches of the author's heart and soul in daring ways and will move you to experience your own inner kaleidoscope.
Read more »
---

A narrative poem. challenging and profound, about the journey of an itinerant monk who pursues new means of self-

Seeking New Land

expression.The reader is invited to discover his or her own spiritual pilgrimage within these pages as the author pushes every literary boundary to boldly create something wholly new and inspiring.