A Message From SDG
DEAR DEVOTEES: A MESSAGE FROM SATSVARUPA MAHARAJA.
I was very disappointed that our July gathering was cancelled. But I earnestly ask my disciples to order Meditations and Poems and Daily Compositions. 
The price is $10 for the former and $12 for the latter. Please be aware that Daily Compositions must be ordered from Amazon.
To order Meditations and Poems, please send your home address and a check for $10 made out to "GNP" to Baladeva Vidyabhusana dasa, PO Box 233, Stuyvesant Falls, NY 12174. John Endler will mail the book to you.
This will bring us close together as guru and disciples. These are new books and I expect a big response from my disciples to make up for the cancelled summer meeting. Please don't disappoint me—order these books."
An excerpt from Meditations and Poems: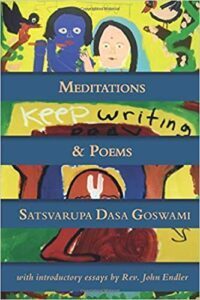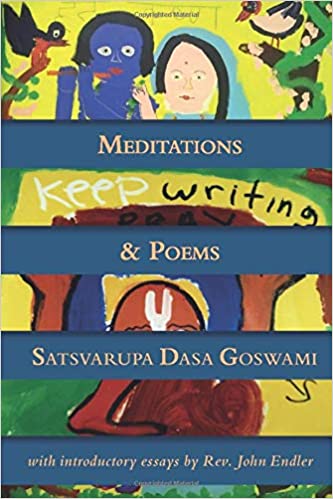 "The life force of my words is Krishna. Krishna is the life force
of everything. I say 'my words,' but I don't
own them. They pass through me. By
convention we say my house, my head, my
soul. But a pure devotee thinks that whatever
he has actually belongs to Krsna. Hrisikena
hrisikesa . . . Krishna is the controller of the
senses, and the senses should be used in His
service. My words should be used in His service.
He gives the power. If you take the power but don't
serve Him with it, you are a thief. You will be punished.
You will cheat only yourself. I like this thought and feeling
that Krishna is the life force (prana) of my words. Whether
you acknowledge it or not, your source of strength is Krishna."
An excerpt from Daily Compositions: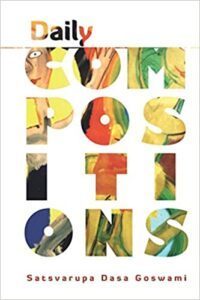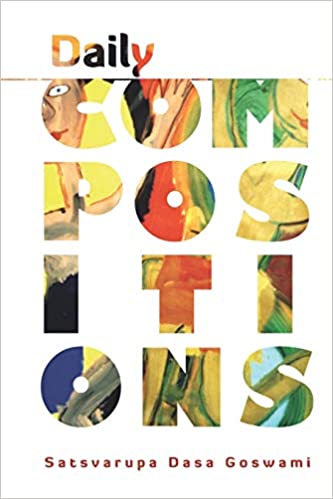 "Chestnuts, stories, what's
true for me now—orthodox
touchstone, Krishna conscious nerve
brushing death and rebirth
but they say there are too many books
for people to read
but I guess that's all right
because the main thing is process;
going-to-America plans,
staying-in-Ireland plans
having lunch in the here and now
walking to the shed while
touching base with Srimad-Bhagavatam
and prayer and discovering whether it's all true
and your own dedication
to what the Swami taught . . ."