Why: To keep a bond of love between Satsvarupa dasa Goswami and his spiritual family.
Where:
The Veterans of Foreign Wars Hall
845 Hudson Avenue
Stuyvesant Falls, New York 12173
[Plenty of parking near the Hall. The facility is just a few minutes' walk from SDG's home at 909 Albany Ave.]
When: Saturday, July 03, 2021
What:
10:00 – 10:45 A.M. Opening Kirtana
10:45  – 11:30 A.M. Lecture by SDG and presentation of two new books
11:30 – 01:00 P.M. Deity arati and kirtana
01:00 – … P.M. Prasadam feast
Contact
Baladeva Vidyabhusana [email protected]
IMPORTANT NOTICE TO ALL FESTIVAL ATTENDEES
The devotees who attend the July 3 meeting should all have had their first and second-anti COVID vaccines. There is time for you to do this.
If you plan to come but you don't have the vaccinations, then you must wear a mask.
Yours in service,
SDG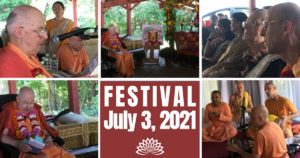 *******
Satsvarupa Dasa Goswami: "I request as many devotees as possible to attend so we can feel the family spirit strongly.  I become very satisfied when we are all gathered together."
*******
Srila Prabhupāda:  "Therefore, our Society is association.  If we keep good association, then we don't touch the darkness.  What is the association?  There is a song, sat-saṅga chāḍi' kainu asate vilāsa, te-kāraṇe lāgila mora karma-bandha-phāṅsa (Gaurā Pahū, verse 3).  Sat-saṅga.  Sat-saṅga means association with the devotees.  So the one poet, Vaiṣṇava poet, is regretting that, "I did not keep association with the devotees, and I wanted to enjoy life with the nondevotees.  Therefore I'm being entangled in the fruitive activities."  Karma bandha phāṅsa.  Entanglement."

[Conversation with David Wynne, July 9, 1973, London]